Subaru Outback Wilderness Edition: Is it the right tool for the job?
Ever since the new Subaru Outback Wilderness Edition was unveiled last week, I have had countless inquiries from my subscribers and members asking me for my opinion on the new model edition. And, since I don't like to do anything half-heartedly, I decided to take my time in releasing this article. I wanted to ensure that I understood as well as possible what Subaru of America is offering to adventurers like me and my followers. I wanted to know what was new and different from their current lineup.
Warning: this isn't a "get on the bandwagon" article by a car magazine that repeats almost verbatim what the next car magazine said. This is a real article. It is thorough and thoughtful. It is based on experience, not hearsay.
As the social media world has become well aware, in 2017 I purchased my first Subaru Outback. In fact, it was the first Subaru I have ever owned. What became affectionately known as the 4XPEDITION Subaru Outback Overland Road Warrior, was my next off-road capable vehicle in a long line of vehicles I've owned over the years from Land Rovers and Jeep Wrangler Rubicons, to Toyota 4Runners, Jeep Cherokees, and 4×4 pickup trucks. So, to say the least, I am by no means green in the world of vehicles built for adventuring into the remote backcountry and using them specifically for that job.
As those who watch my YouTube Channel are well aware, I strongly believe in utilizing the right tool for whatever job. I have spent a great deal of time in my life trying to complete tasks with tools that weren't designed to do what I was asking of them, only to walk away with frustration. It took me a long time to realize how simple a task can be if you select the right tool. When it comes to vehicles, I see things no differently.
Vehicle selection is personal to just about everyone. First, you have your brand evangelists, those who are die-hard and even fanatical followers of a brand. I am definitely NOT one of those kinds of people when it comes to vehicles. I don't join vehicle brand clubs and I don't participate in brand model gatherings. So, it should be said that I am by no means a Subaru fanatic, nor am I a Subaru Ambassador. I would call myself an influencer of whatever tool I use to complete the task at hand.
Next, you have the egomaniacs who believe what you drive should be what they drive and anything else is, in their words, well… stupid. As a YouTuber, you get all sorts of these kinds of people sharing their opinions. It's all well and good, but I may not agree that a truck with a 6-inch lift and 40-inch tires with a center differential that is only a foot off the ground is a better tool for the job than the one I have chosen to use.
Then you have your minimalists. I am somewhat of a minimalist myself. These folks believe you don't need much to get the job done and anything else is a waste of money. I understand this philosophy but am by no means extreme. I like my creature comforts and I welcome innovation and the evolution of a tool to improve its ability to complete a task. And, thus, I appreciate it when a manufacturer not only adds a few bells and whistles, but takes a good hard look at their product to truly expand and improve the capabilities.
I spent eight years of my career as Director of Product Development and designed toys for big brands like Dreamworks, Disney, NASCAR, and many others. My team and I were tasked with truly understanding our customers. In this case, parents and their children. There were many factors at play in making decisions on product design. Often the factors that shaped the product took time to uncover through testing, customer feedback, cost analysis, liability risk, manufacturing complexity, durability, and more. I learned along the way that no matter how big or small the product–from paper clips to automobiles–many of the same factors shape the final product that finally gets released.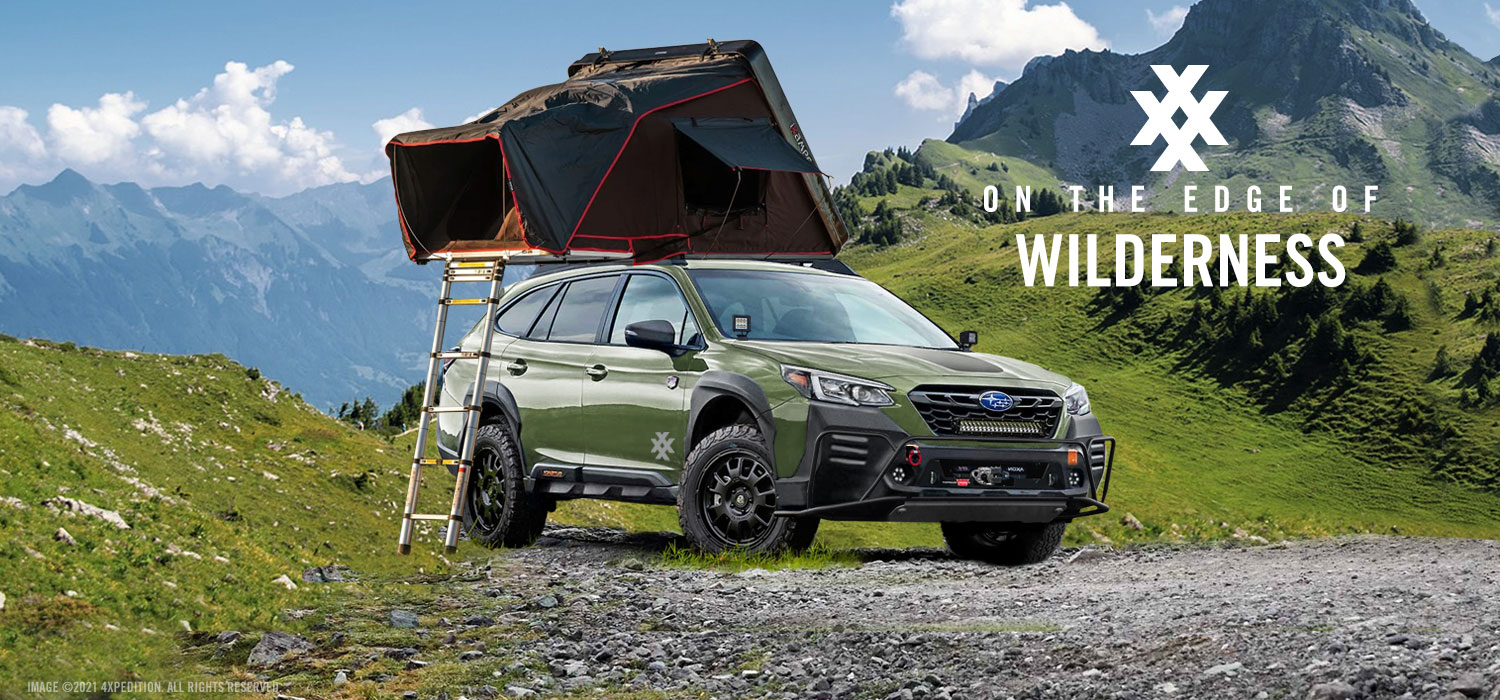 Rendering of the 4XPEDITION Subaru Outback Wilderness Overland Vehicle.

So, when a manufacturer like Subaru releases a new edition like the Subaru Outback Wilderness, you won't see me complain and criticize, nor will you necessarily see me praise. The public can often be unforgiving with first impression response without truly taking the time to understand the factors that resulted in the evolution of a model vehicle. I spent 16 years running a brand agency. Our job was to shape public impression and perception. It is true science. This is why brands like Subaru control their new product releases. They aren't about to allow the millions of dollars and countless man-hours invested to bring a product to market to vanish in a day. And that can and has happened in the past to billion-dollar corporations. No company is immune. Trying to improve on something people already love can be a huge risk. Take the BMW trademark front grill design. When BMW decided to update the shape of the grill, they suffered a huge backlash. It takes time for consumers to get comfortable with change, and manufacturers are very much aware of this and take great caution.
In my last article about the new Wilderness Edition, I stated: "The truth is, the Outback is not the ideal Overland vehicle. What it is, however, is a wagon that screams "Take me on an adventure".
Even with the new Outback Wilderness now released, my position has not changed. And, frankly, that is due to a variety of factors such as unibody construction as opposed to body-on-frame, no locking differential, CVT as opposed to a manual transmission, the complexity of repair in the field, ease of getting spare parts, and more. The Subaru Outback is not the ideal Overland vehicle. This article, however, is not about uncovering the best Overlander. Rather, it is to determine if the Outback, with the new Wilderness edition, is still–or now even more so–the right tool for the tasks that I face in my life. And, along the way, I hope to help you decide if it is right for you. So, let's take a look at what Subaru of America has brought to the table.

The truth is, the Outback is not the ideal Overland vehicle. What it is, however, is a wagon that screams "Take me on an adventure."

America is trending toward the outdoors, vehicles to help create outdoor experiences, and getting back to the basics. At the same time, consumers want better gas mileage, lower impact on the environment, more creature comforts, integrated, familiar, and seamless technology, enhanced style, better ergonomics, improved performance, and the list goes on, and on, and on… But, with the new Wilderness Edition, I have to say that I think Subaru has lived up to the challenge. It isn't easy to take the best-selling wagon in America and make it not only better but more appealing to new market segments and age groups. The only way is to listen to what consumers want, roll up your sleeves, and integrate. It seems Subaru listened and, even if a bit conservatively, integrated what most of us said was needed to complete the job.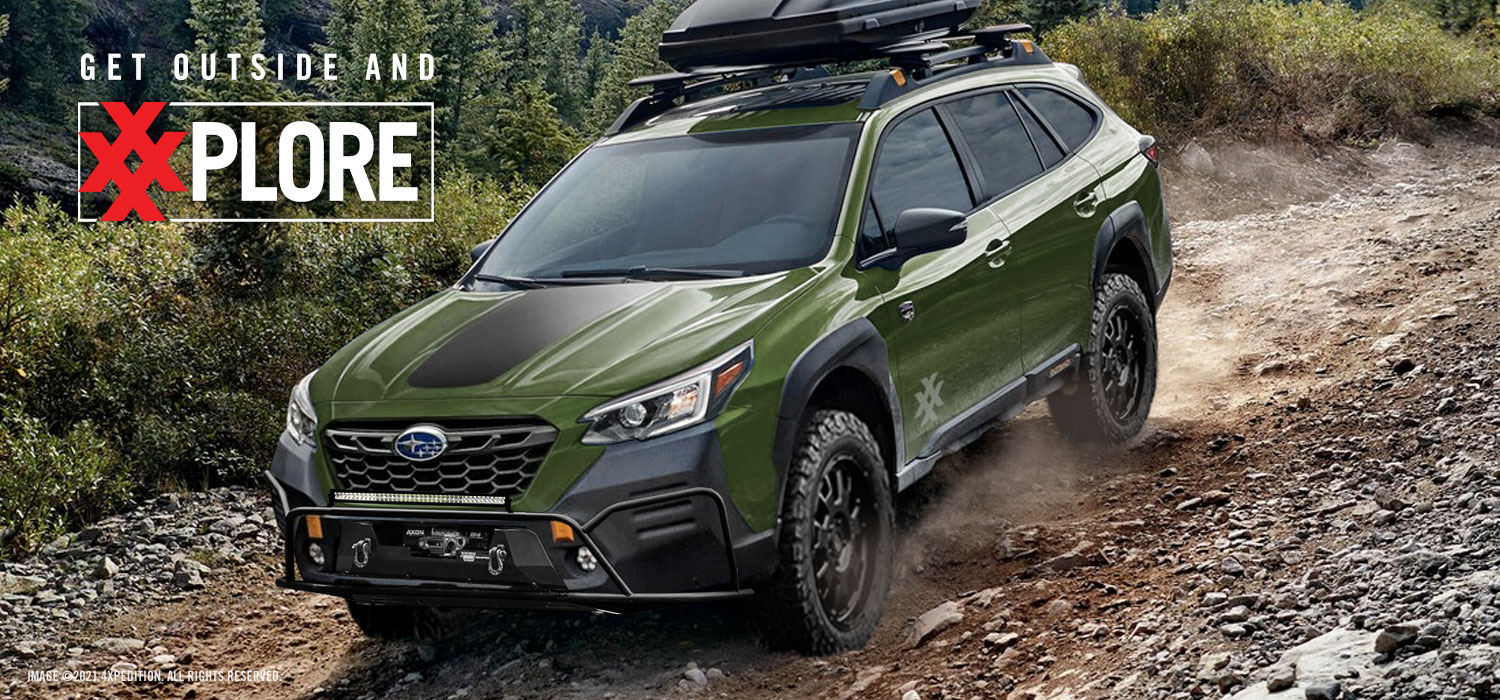 Rendering of the 4XPEDITION Subaru Outback Wilderness Overland vehicle.

As a consumer that modified a Subaru Outback into a soft-road Overland vehicle, I am going to share my opinion from that particular vantage point. Then, I will share with you if I think a new Outback is still the right tool for the job…for me.
The new Wilderness Edition package seems to include some of the aftermarket upgrades I have made to the Road Warrior. The difference being they are now standard features or upgrades right from the factory. This can be a big benefit in a couple of ways: First, factory OEM parts and installations are warrantied. Second, when you purchase the vehicle from the factory with these parts as standard, you may likely not need to pay extra to your insurance company for coverage as they are part of the vehicle you purchased from the dealer.
Another benefit is the notion that releasing a vehicle like the Wilderness Edition can open the door to many other aftermarket parts becoming available for even further modifications. The Jeep Wrangler, for instance, has the largest aftermarket parts offering in the world. Why? Because Jeep has deigned their vehicle to easily add parts. Companies like Subaru, and Ford with the new Bronco, have taken things a bit further by offering many of the common aftermarket modifications as standard features. This is smart.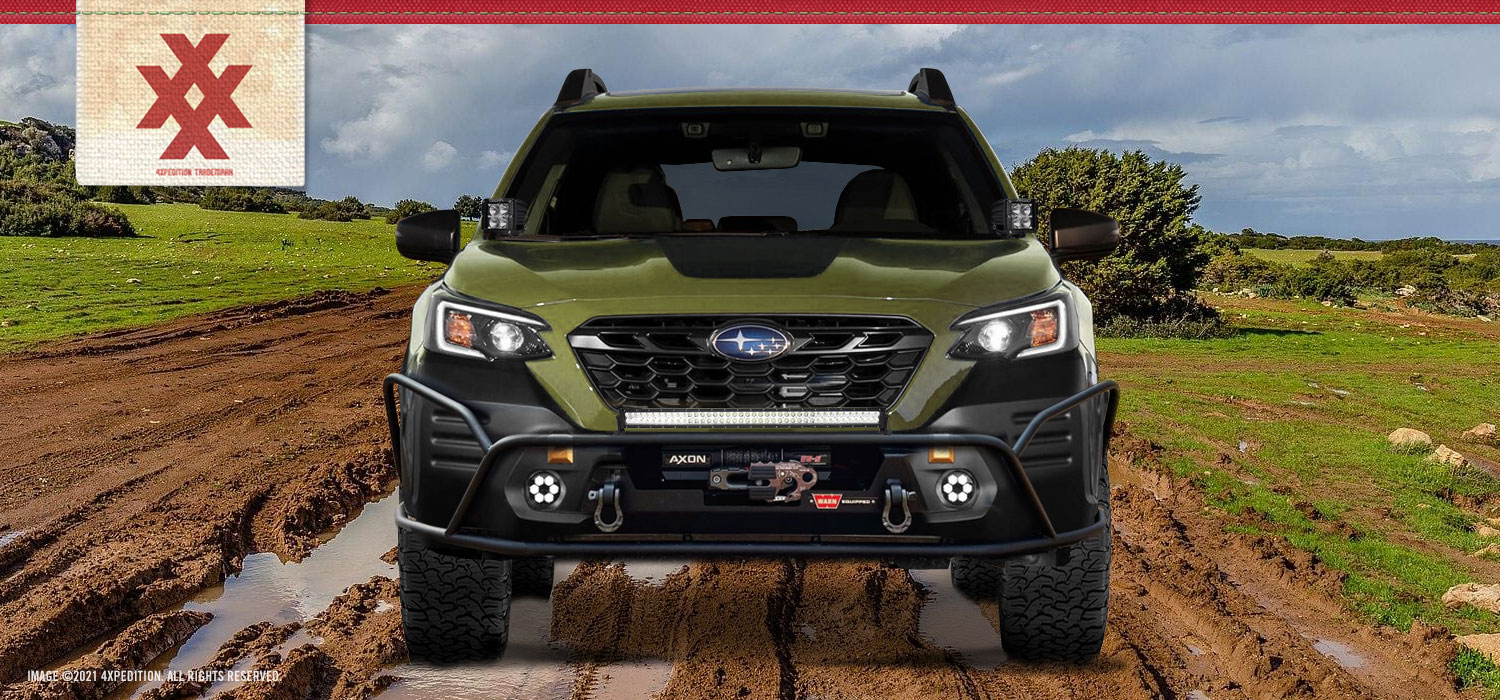 Tires
The new Subaru Outback Wilderness comes standard with 225/65R-17 Yokohama Geolandar All-Terrain tires. Although in my opinion, this was a conservative decision on the part of Subaru, I totally get it. I have traveled thousands of miles on my two sets of BFG KO2s and, even when they are brand new, there is plenty of cabin noise. This is because the knobby meat on the KO2 vibrates throughout the unibody of the vehicle. The noise just is what it is. I gather that Subaru took both capability and comfort into consideration when choosing a factory-provided tire.
Most people that ride in my Subaru complain about the road noise caused by the KO2s. Add to that some uneven wear on them and it gets significantly worse. I think the Geolandar was a great choice and one that provides both comfort and capability. Would I keep the Geolandars on if I bought a new Wilderness Edition? Nope. I would still go with the KO2, but that's me. I desire to have the most off-road capable tire and I still feel the KO2 meets that requirement.
I owned three Jeep Wranglers, and even though the wheels and tires that came from the factory were completely capable, I immediately changed them out to aftermarket sets on all three vehicles. Not everyone who decides to buy a Wilderness Edition is like me. Many consumers just want to use their Subaru to get to a trailhead or to their favorite fishing hole down a rougher dirt road. The Geolandar will prove to be a capable tire for that job. I should also note that Subaru decided to widen the front and rear tracks by 0.2 inches. This helps with handling and stance and increases stability.
Clearance
The factory suspension increases the already capable clearance of a standard Outback by 0.8 inches to position the vehicle at 9.5 inches of ground clearance. This improves the approach angle to 20.0, the ramp break-over angle goes from 19.4 to 21.2 degrees, and the departure angle rises from 21.7 to 23.6 degrees.
The 2017 4XPEDITION Outback Road Warrior was lifted via a 2″ strut spacer lift by LP Adventure. This kind of lift doesn't raise the undercarriage, just the body. Lifting the body allows for larger tires to be mounted without cutting any plastic or metal to fit and, once mounted, drivers generally experience no rubbing. The addition of larger tires is what increases the clearance in this case.
The new factory suspension lift from Subaru isn't a body lift. It offers upgraded shocks with longer suspension travel that have been tuned to excel on loose surfaces. It is yet to be understood if an aftermarket body lift can be added or if even longer shocks and stiffer springs can replace what the factory is providing. It is probably safe to say, though, that doing so may void the factory warranty. Having said that, if a longer travel shock or a body lift can be added, this may increase the clearance another inch or more than the factory provides. It is still unclear if a larger tire will fit inside the Wilderness Edition wheel well. If so, an additional lift may not be necessary.
In any case, however, rarely have I scraped my skid plates with the body lift and larger tires. Generally, the only scraping was on the front-facing skid plate (entry angle) and on the rear tire carrier mount (departure angle). Nevertheless, I would never complain about having more clearance.
Full-sized Spare Tire
While we are on the subject of tires, I think one of the things I can appreciate about the new design is the inclusion of a full-sized spare tire. Those of you that watch my channel know that I have used for some time an aftermarket rear swing-out tire carrier with a full-sized spare and matching mounted wheel. And, because so, I was able to remove the spare tire from inside the vehicle and open up that space for gear storage. This was a huge boon when I realized I could do this because it provided a significant amount of additional storage space. I even considered putting an auxiliary battery in that compartment. And, removing the factory spare marginally offset the weight of the rear tire and carrier I added.
With the Wilderness Edition offering a full-sized spare inside the vehicle, I would no longer need to carry one on the back end. Now, it's important to point out that the spare that the factory includes will be a 225/65/17 Geolandar. If I were to mount larger 245/65/17 KO2s, it is yet to be determined if I could fit that size tire in the spare compartment. If not, then at least having a Geolandar in the trunk as opposed to a doughnut would be significantly better equipped to get out of a remote location and back to a service station for tire repair.
In the later part of 2020, I removed the swing-out tire carrier and full-sized spare I had on my 2017 Outback. I determined that the additional weight was just not good for the unibody structure. I would not add a tire carrier to the rear of a new Wilderness Edition if I were to own one. If it turned out that the spare storage compartment wasn't spacious enough to house a 245 KO2, and if I was hell-bent on having one as my spare, I think I would then remove the Geolandar and use the spare compartment for storage and design a tire carrier and mount it inside the vehicle with the tire inside a canvas storage bag. That way the heavy KO2 tire would sit over or in front of the rear axle and more evenly distribute the weight. Not using a swing-out tire carrier would reduce the weight on the vehicle by more than 50 pounds. And, as you likely already know, there isn't enough room on the roof for a tire and a rooftop tent.
Roof Rack System
Speaking of rooftop tents, the new Subaru Outback Wilderness Edition comes standard with a newly designed and more robust ladder-style roof rack system. Ok, so this has my attention.
I have been quite vocal in the past about my distaste for the standard factory roof rack of the Outback. In my opinion, the front-to-back rails are, shall we say "underqualified" for the job and the crossbars are even worse. I've strongly advised many people over the past several years NOT to mount a rooftop tent to the factory crossbars. Instead, I opted at first for a Yakima roof rack mounted to Yakima "Landing Pads" that were then mounted to the Subaru factory front-to-back rails. This worked. It was quite solid. After thousands of miles at high speeds in windy conditions, I never experienced any issues.
However, I did have an issue with the height. Because the Yakima towers and crossbars were sitting on top of the already tall Subaru factory front-to-back rails, I could no longer fit my vehicle with the tent mounted on the roof in any residential or public parking garage. Because so, I removed this entire setup and embarked on the arduous task of replacing the factory rails with a Prinsu Design Studio aftermarket rack system. The Prinsu rack installation was a tremendous undertaking and not something for the faint-at-heart. This successfully lowered the height of my vehicle mounted with the tent by about four inches, which was enough to pull into a standard garage door opening without interference.
When I learned that Subaru had brought out the Wilderness Edition with a robust roof rack I was rather giddy. After all, this was a significant confirmation by Subaru that rooftop tent mounting is approved by the manufacturer (at least on this particular model and edition). I cannot tell you how many people have reached out to me over the past three years concerned about mounting a rooftop tent. Having Subaru on board with the trend of Overlanding is a major and important move for the company. After all, younger people are entering the market and many are interested in Overlanding and spending time in the outdoors with Overland style builds. Why wouldn't the company want to capitalize on the trend?
The new Subaru Outback Wilderness Edition comes standard with a robust ladder style roof rack system that can support up to 700 pounds (318 kg) of static load weight. It's difficult to tell by the photos, but it appears that the rack is a bit stealthier as well. It may also be lower in height, which would make a lot of sense. We can only hope. But, with a strong factory rack there is no need for an aftermarket Yakima or Thule, nor is there a need for an aftermarket fully-integrated rack like the Prinsu I installed.
The iKamper Skycamp Mini rooftop tent that I have mounted to the 2017 Outback weighs in at about 125 pounds. It is a two-person tent. If you include two large people and sleeping gear, you can estimate another 450 pounds. Together at 575 pounds, you are well under the load weight of the rack on the roof.
Even with my iKamper Skycamp four-person tent that weighed around 150 pounds, plus two large adults and two children and gear, you would still likely come in under the weight limit. Again…giddy.
And, it appears they have a better attachment system accented in copper coloring.

Transmission
Like the Subaru Outback Onyx, the Wilderness Edition features a 2.4-liter, turbocharged boxer engine making 260 horsepower and 277 pound-feet of torque. The Continuously Variable Transmission (CVT) provides an increased final drive ratio for more low-end wheel torque.
The transmission is the standard CVT automatic capable of simulating a stepped-gear transmission when selecting the manual mode. The boxer-four cylinder provides the power for Subaru's renowned all-wheel-drive system. Subaru did, however, shorten the final-drive ratio from the regular Outback's 4.11:1 to 4.44:1.
The expanded X-Mode system consists of Snow/Dirt and Deep Snow/Mud driving modes. However, the Outback Wilderness Edition X-Mode takes things a bit further by allowing the vehicle to switch automatically from low-speed managed driving to speeds over 25 mph without impeding power or performance. The new X-Mode also comes with a new roll-angle indicator. Drivers will be able to see their vehicle's roll angle in real-time on the instrument cluster display. This is something I always liked about my old Land Rover that you just don't see as often in modern vehicles.
Another thing that caught my attention was Subaru's claim that the Wilderness Edition can climb a 40 percent grade. Traction controls and the anti-lock braking system have also been recalibrated to get through more challenging terrain with less difficulty. It will be interesting to see what kind of "traction action" occurs in tests at that steeper angle.
EyeSight ADAS
As with other Subaru models, buyers will find symmetrical all-wheel drive onboard as well as EyeSight Advanced Driver-Assistance System (ADAS). My excitement with the EyeSight system wavers. The technology is definitely improving. I personally don't prefer driver-assist technology. Others may like the conveniences that it provides. I do like it when the system lets me know that the person sitting in front of me at a stoplight has moved forward in the event I am not looking ahead. And, I enjoy at times allowing the vehicle to pace behind others on the freeway with the variable cruise control thereby maintaining my speed with the traffic flow. I don't care much for the chime every time I cross over a line or change lanes without a signal.
Towing Capacity
Towing capacity comes in at 3,500 pounds. Generally speaking, Subarus are not equipped with a Class 3, two-inch receiver hitch. The typical hitch is a Class 1, or, 1 1/4 inch receiver with a towing capacity of 1,500 pounds and a tongue weight of 176 pounds. I find it interesting that the towing capacity is 3,500 pounds suggesting they may include a larger, more robust receiver. Or, at least I hope it's an option.
My 2017 Subaru came with the Class 1 hitch. I removed it and added a Curt Class 3 hitch to be able to mount the rear tire carrier.
Body Armor
I can appreciate that the new Subaru Outback Wilderness Edition comes standard with a front skid plate. I have also heard that they have an upgrade option for a different model skid plate. It is yet to be determined if that means it is larger, more robust, or if it includes the differential cover. In any case, a factory skid plate is a really nice edition. Especially for those who might not have the funds to do aftermarket upgrades. To me, the first improvement to any Subaru is skid plates. Even before wheels and tires. Adding a skid plate as standard equipment is a brilliant move on the part of Subaru.
Other Features and Accessories
The inclusion of an anti-glare decal on the hood is pretty irrelevant. Yet, if you have a roof-mounted LED lightbar, anti-glare can be a real annoyance. It is yet to be determined if the decal would make any difference with that issue and from the looks of it, the decal only covers the middle of the hood so, glare for the driver from a rooftop LED wouldn't really be mitigated as designed.
The only other available options for the Wilderness Edition are included in an upgrade package that includes navigation, a sunroof, and reverse automated emergency braking. I love sunroofs. However, with a rooftop tent mounted they have little use other than to look up and see that your tent is still there.
If Subaru is on top of their game, they will offer a brief catalog of OEM accessories available this fall. Heck, maybe they will even offer their own rooftop tent or partner with a maker to allow buyers to purchase a factory-approved rooftop tent from the dealer included in their financing and warranty. Wouldn't that be interesting? What a way to penetrate the segment and bring on new soft-road Overlanding (and car camping) enthusiasts.
Final Words
Ok, so it's time to get to the grit. Is the new Subaru Outback Wilderness Edition the right tool for the job? Well, that question can only be answered by you. For me, it goes back to why I purchased an Outback to begin with. After owning three Jeep Wranglers and pulling behind an Adventure Trailer Horizon Overland camping trailer, I sold it all off to build a 4×4 camper van. I had also been driving the Jeep as a daily driver and had just started a new job that required distance commuting. The Jeep was far from a comfortable commuter. After selling the Jeep and trailer to build the camper van, I decided to purchase the Outback to have a commuter vehicle that would have great gas mileage, great acceleration, comfortable ride, and still be a capable off-road weekend adventure vehicle. It proved to be the perfect tool for the job. However, my life has since changed.
I no longer commute for work. I don't need a vehicle for that purpose. I now also (as of writing this article) own a 4×4 RAM 1500 truck as well as a Sprinter RV. I recently passed the 4XPEDITION Subaru Outback 3.6R on to my son along with the iKamper Mini rooftop tent. To be honest, I really don't need a Subaru for the job at hand. Yet, the Outback has proven to me to be a formidable tool for soft-road and–now with the Wilderness–more challenging trails on weekend Overland adventures. The trouble is, I fell in love with my Outback and the new Wilderness Edition seems to tug at my desire to build one out and explore with it. If I were to purchase a Wilderness Edition , it would be for the love of the vehicle more than the tool for the job. That says a lot about the Outback and in my opinion, is the best compliment I could offer Subaru.
I think my next move is to talk to a few dealers. Or, maybe have a conversation with Subaru of America. If I move forward with a Wilderness Edition, I think it would be advantageous to establish a partnership to allow my TEAM 4X members to get special access to Subaru Wilderness Edition vehicles as well. I can assure you that if I move in that direction, the new Wilderness in my driveway will be a work-horse utility tool that will be put to the challenge in the same way Subaru was challenged to please the masses with the Wilderness Edition. In the world of product development, winning over consumers is a significant and challenging job. To succeed is a tremendous feat and for that, I applaud you Subaru.
We are currently seeking a strategic partnership for Subaru Wilderness purchases for TEAM 4X members. If you are a dealership or a member of Subaru of America staff and would like to partner to offer special incentives to our team members and channel subscribers, please complete the form below.