Introducing the 4XPEDITION Subaru Outback 3.6R Overland Road Warrior. The ultimate soft-road adventure vehicle for the everyman.
The 4XPEDITION Subaru Outback 3.6R Overland Road Warrior has been an influential vehicle in the soft road overland and car camping movement. With significant media exposure of this lifted Subaru Outback and extensively proven adventure excursions filmed and shared on YouTube, this vehicle has fans around the globe.
We've taken great care to build an off-road Subaru that we believe is an ideal soft road extended travel overland rig for everyone. Having built and driven many vehicles from JK Rubicons to Land Rovers and lifted pickup trucks, we have come to determine what is most necessary for the average vehicle adventurer.
Watch videos of our off-road vehicles in action on 4XPEDITION Adventurer. >
Make/Model:
2017 Subaru Outback 3.6R Limited
Powertrain: 3.6-liter Boxer engine; 256-hp; 247 lb-ft torque
Drive Train: Symmetrical AWD CVT
Factory MPG: 20/27
Fully Loaded MPG: 19/21
Stock Clearance: 8 inches
Modified Clearance: 9 – 11 inches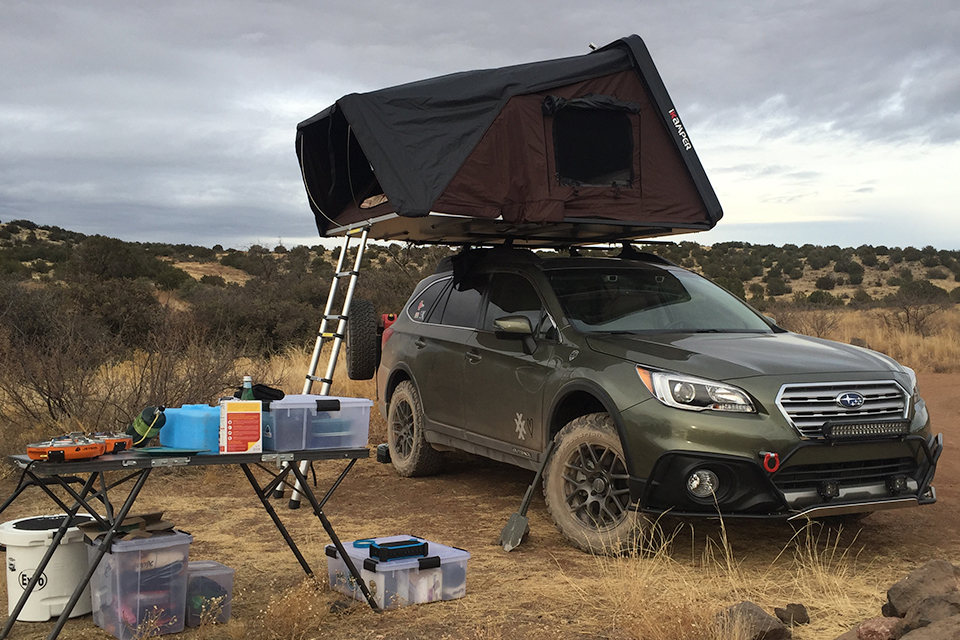 One of the things most notable about the lifted Subaru Outback as an overland and car camping adventure vehicle is the size of the wagon. With significant roof area and interior cargo space, this vehicle allows for a full-sized rooftop tent that sleeps four and boasts an additional interior sleeping space for two 6-foot tall individuals.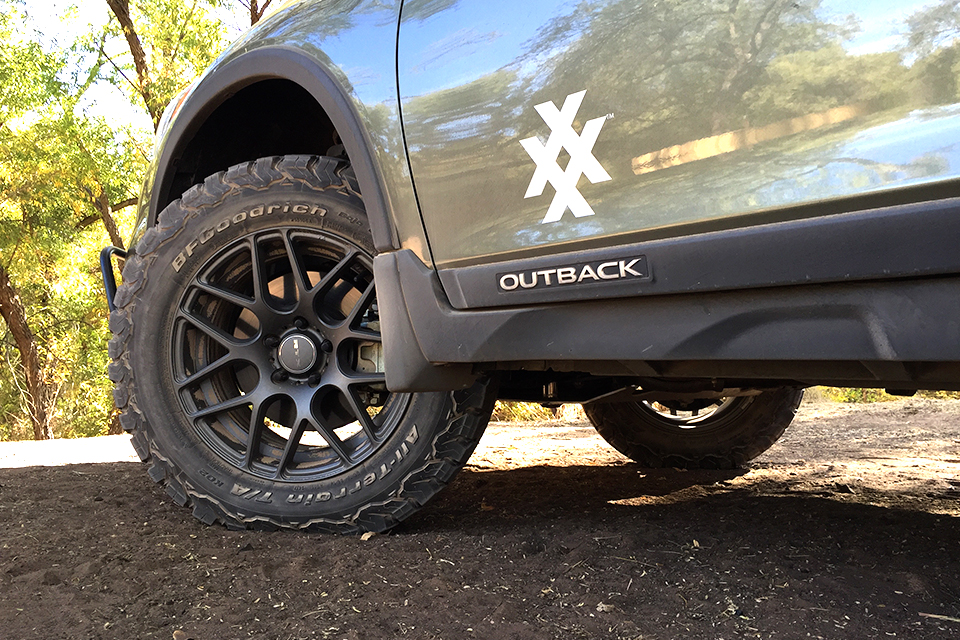 If vehicle clearance is your concern, you need not worry with a 2.5-inch lift from LP Aventure that allows for a 245 65R 17 inch All Terrain tire to fit in the wheel well without rubbing. This brings the underside up to between 9.5 inches at the lowest clearance point under the front skid plate and 11 inches at its highest point along the side rails.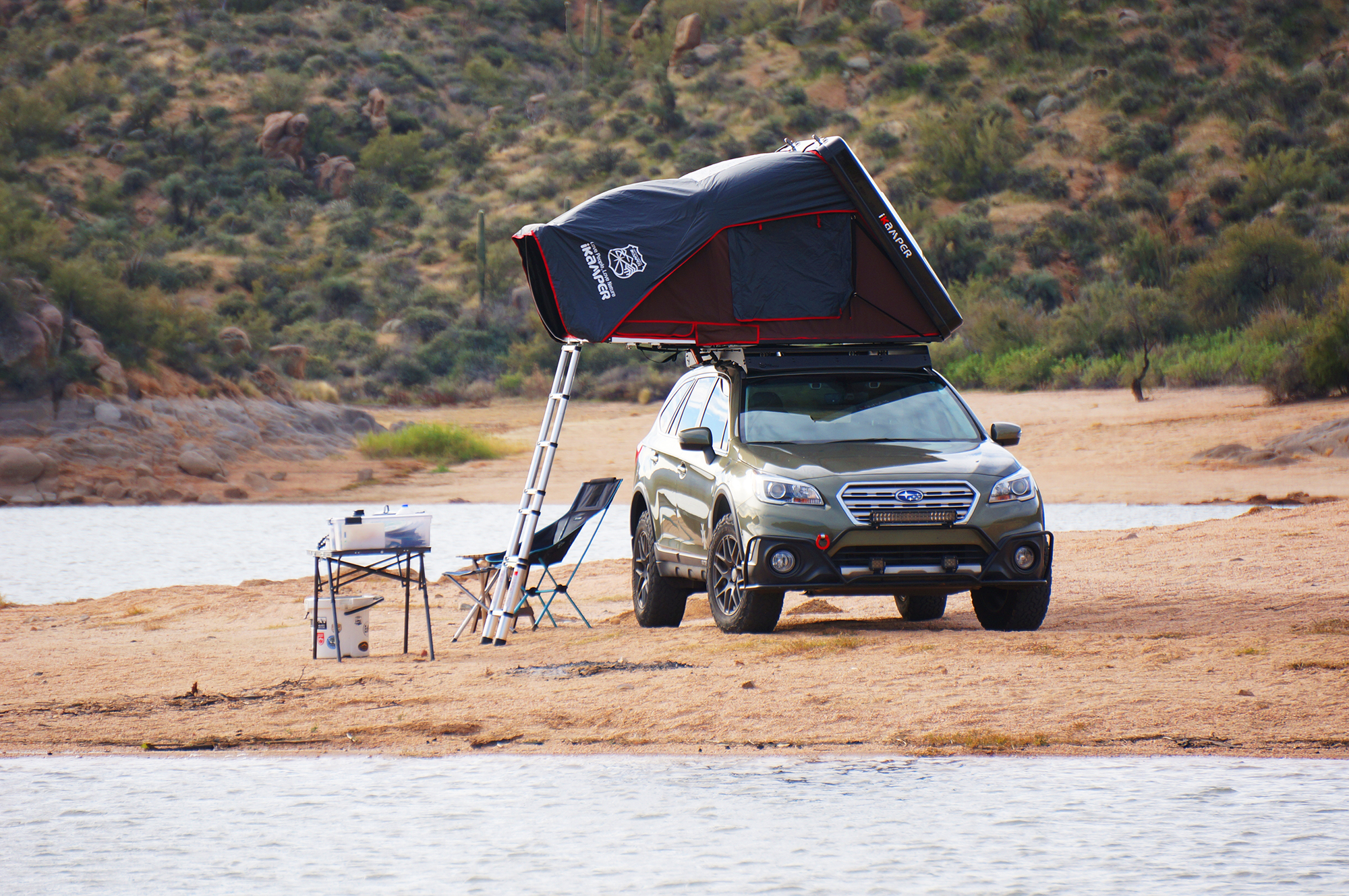 The 4XPEDITION Subaru Outback 3.6R Overland Road Warrior is ever-evolving with new parts and accessories. Below is the latest equipment we've outfitted on the vehicle.
LP Aventure Canister Filter Bypass (Required)
LP Aventure Front Plate Big Bumper Guard
LP Aventure Full Armor Option
LP Aventure Rear Differential Skid Plate
LP Aventure Front Sub Support Frame Guards
LP Aventure Rally Washers
LP Aventure Big Bumper Guard
Heretic Studio Fog Lights
Heretic Studio 20 Inch Light Bar
Heretic Studio 40 Inch Light Bar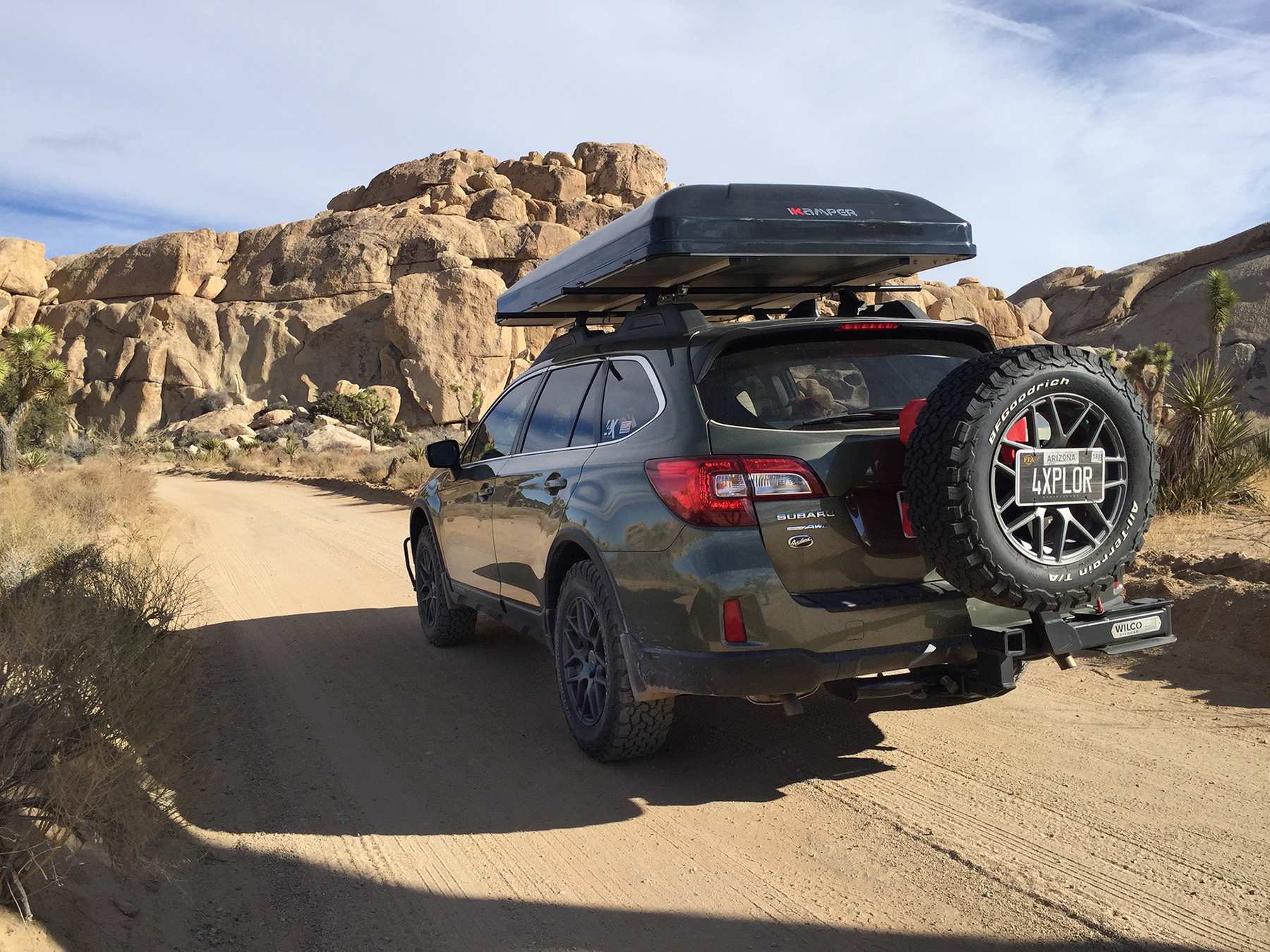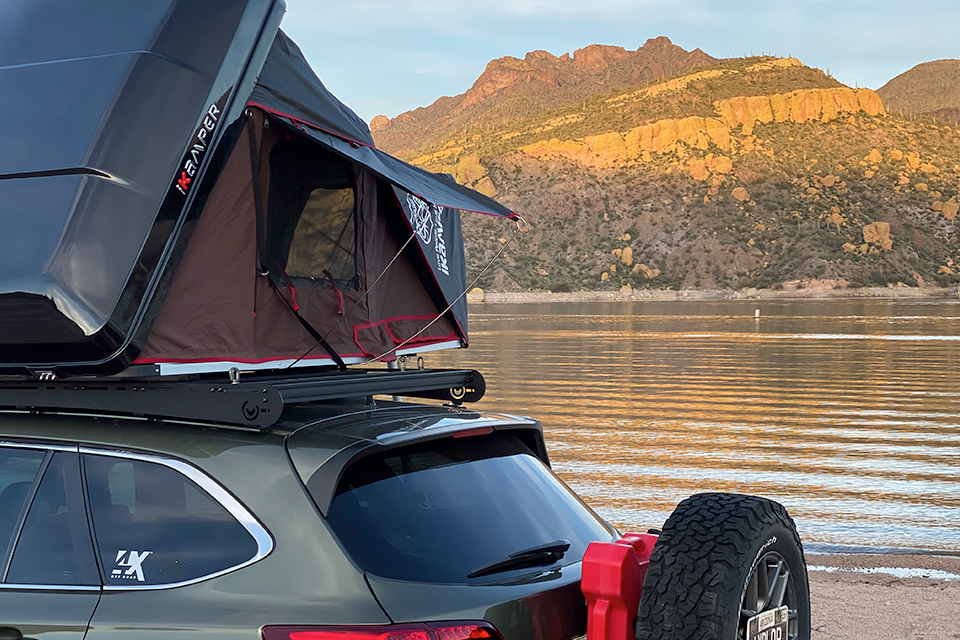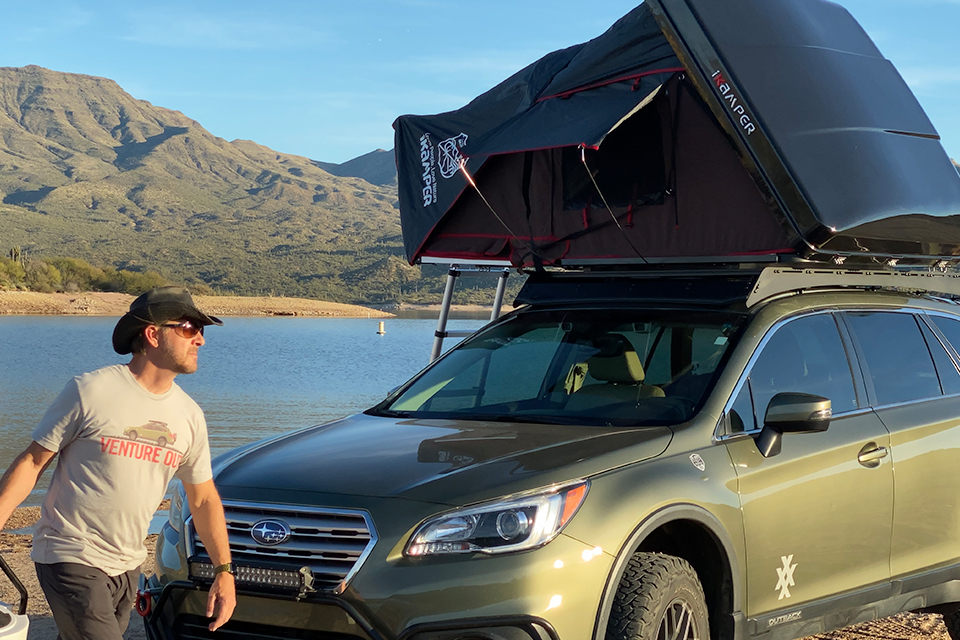 We have field-tested the 4XPEDITION Overland Road Warrior extensively. From the high alpine tundra of Colorado's Engineer's Pass to the sandy low lands of Arizona's Sonoran Desert canyons, we've discovered just how capable the lifted Subaru Outback can be. This following 10 years of off-road adventure in lifted Jeep Rubicons that boast stellar off-road capabilities.
We have come to believe that the off-road Subaru Outback is the overland vehicle for the civilian whose head is in the city but who's heart pulls them toward the wilds of nature. This vehicle serves both and is one that is ideal for a family wagon and outdoor adventurer alike.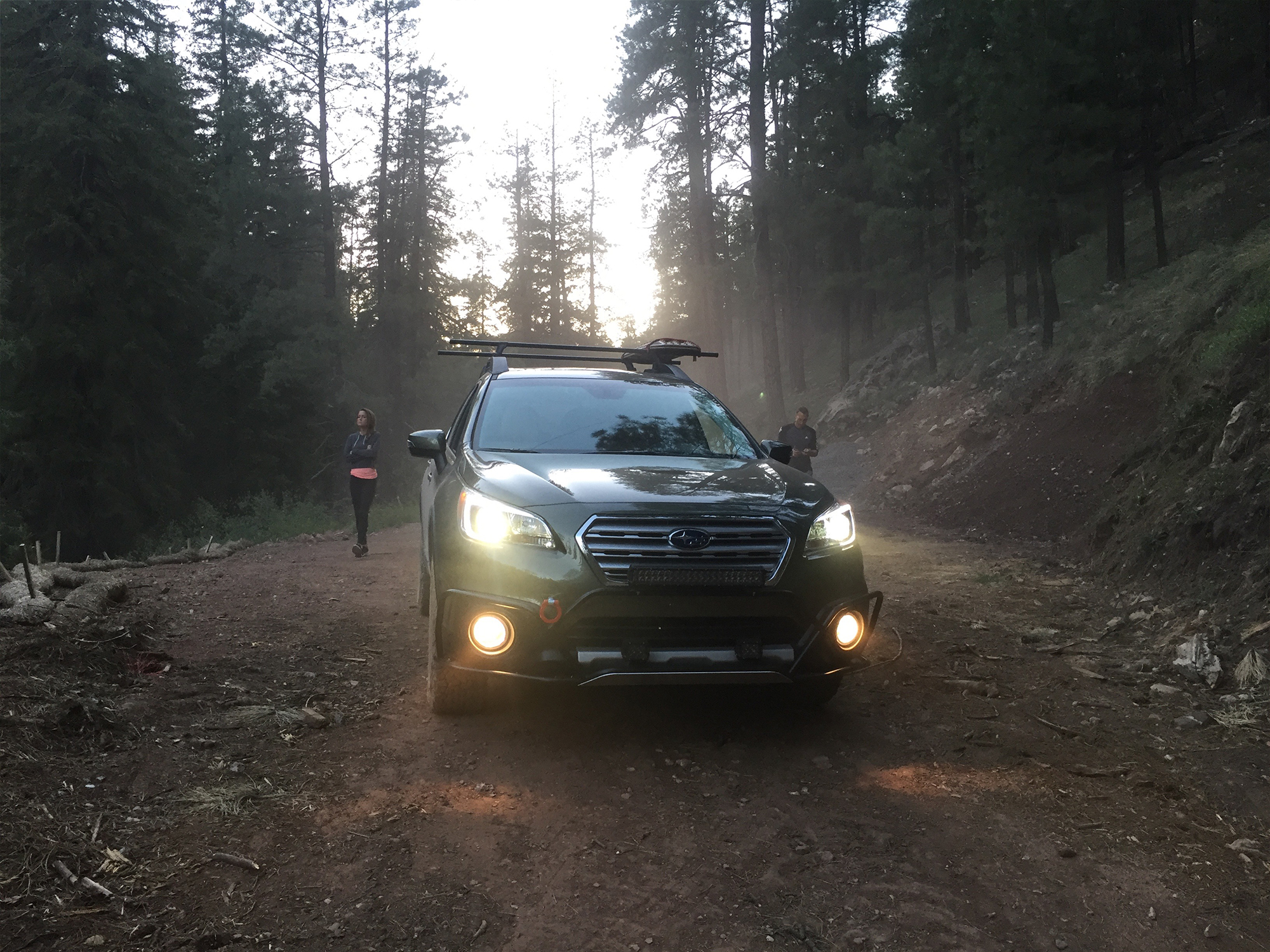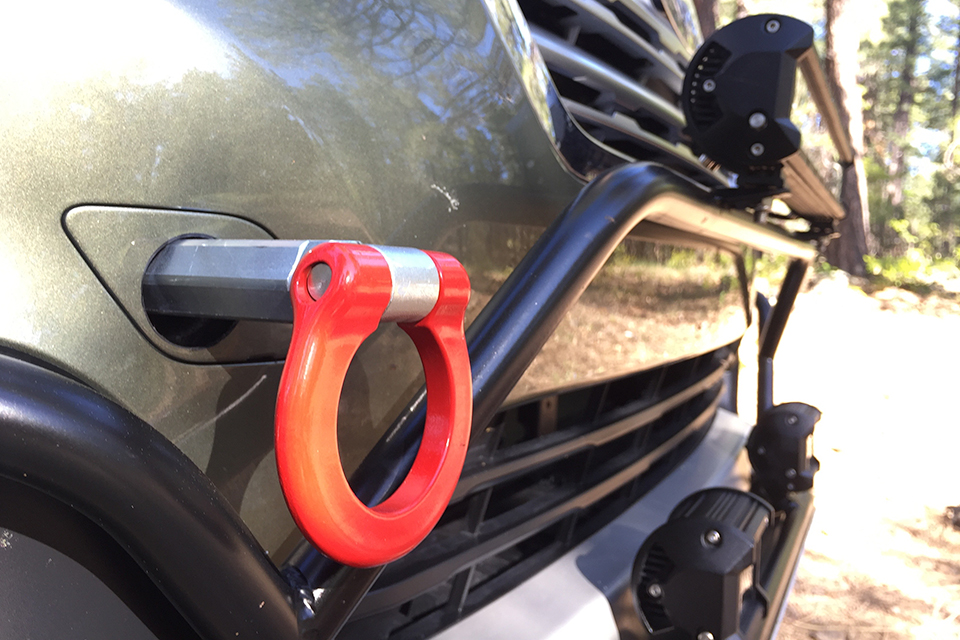 Adding capability and function to your Subaru Outback is very easy with a variety of aftermarket parts and accessories. Shown here is the Cusco safety recovery tow hook mounted to the frame of the vehicle as well as an aftermarket brush guard by LP Aventure.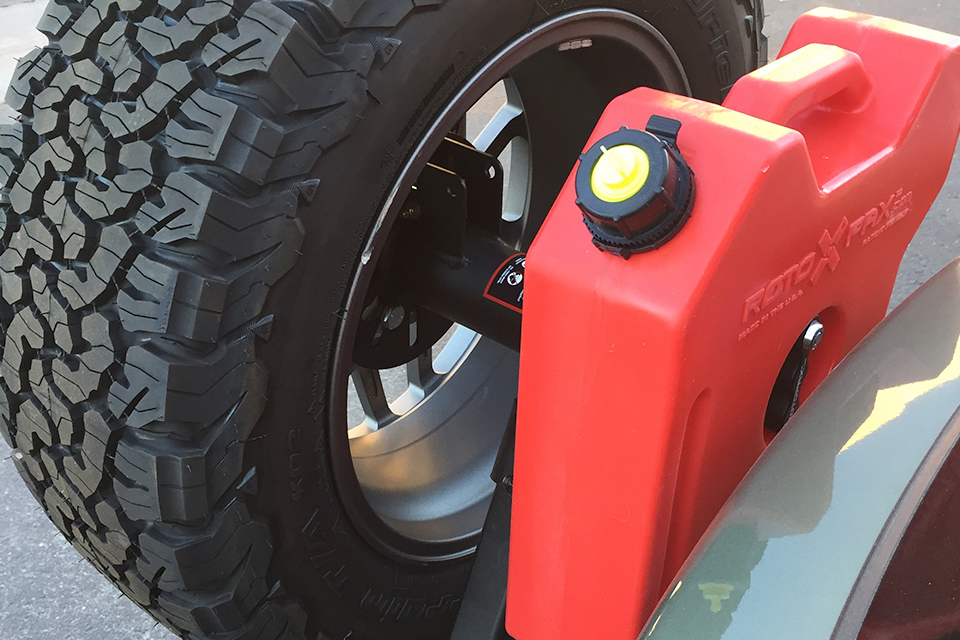 To add safety and range to the Overland Road Warrior we outfitted with a Curt Class 3 hitch, a Wilco Offroad High Clearance Hitchgate Solo swing out tire carrier and a Rotopax 3 Gallon gasoline container.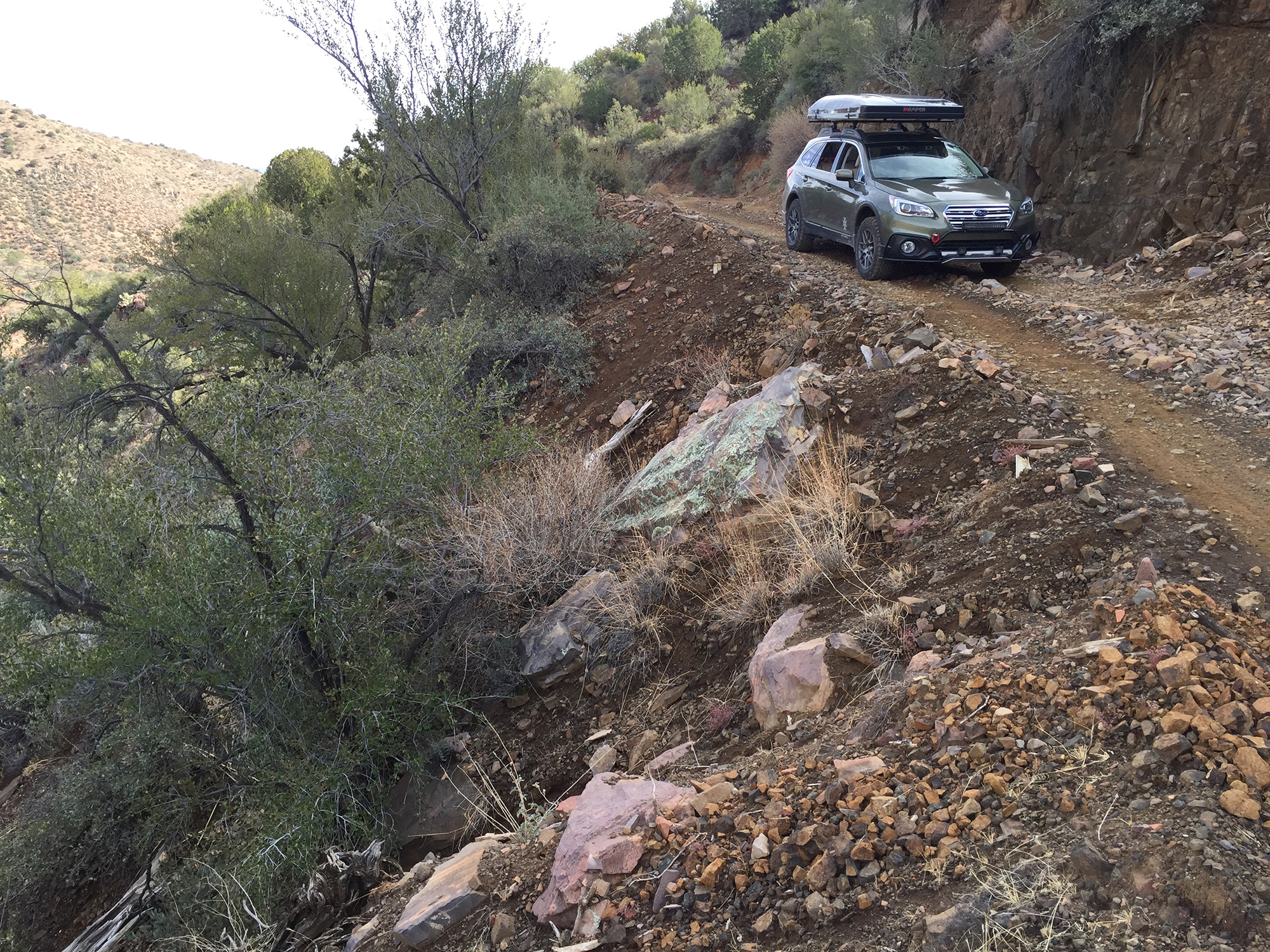 Expedition Portal
Expedition Portal is an online forum and magazine owned and operated by Overland Journal based in Prescott, Arizona. The 4XPEDITION Subaru was featured in their online magazine. View Article >
Subaru of Russia Magazine
Subaru of Russia Magazine is the official magazine for Subaru in that country. Their staff requested a photoshoot on location in Arizona for an article featuring the 4XPEDITION Subaru.  View Article >
Fly Lords Magazine
Fly Lords Magazine is a premier magazine for the sport of fly fishing. The magazine featured the 4XPEDITION Subaru in their article disclosing their picks for the top fly fishing vehicles. View Article >
TREAD Magazine
TREAD Magazine posted a link to our popular 4XPEDITION Subaru Outback Overland Road Warrior walk around video in their online magazine. The post saw close to one thousand click-throughs. View Article >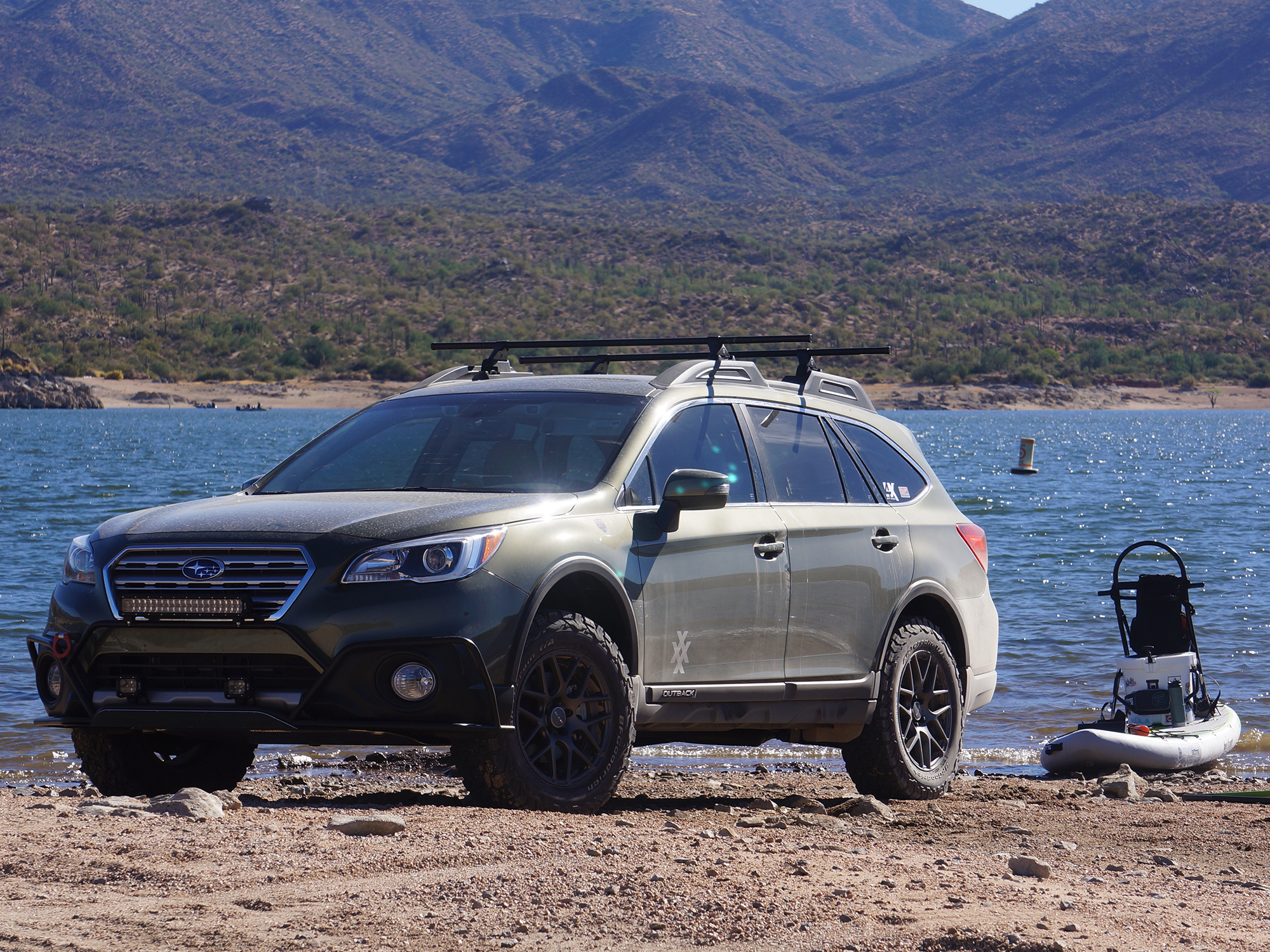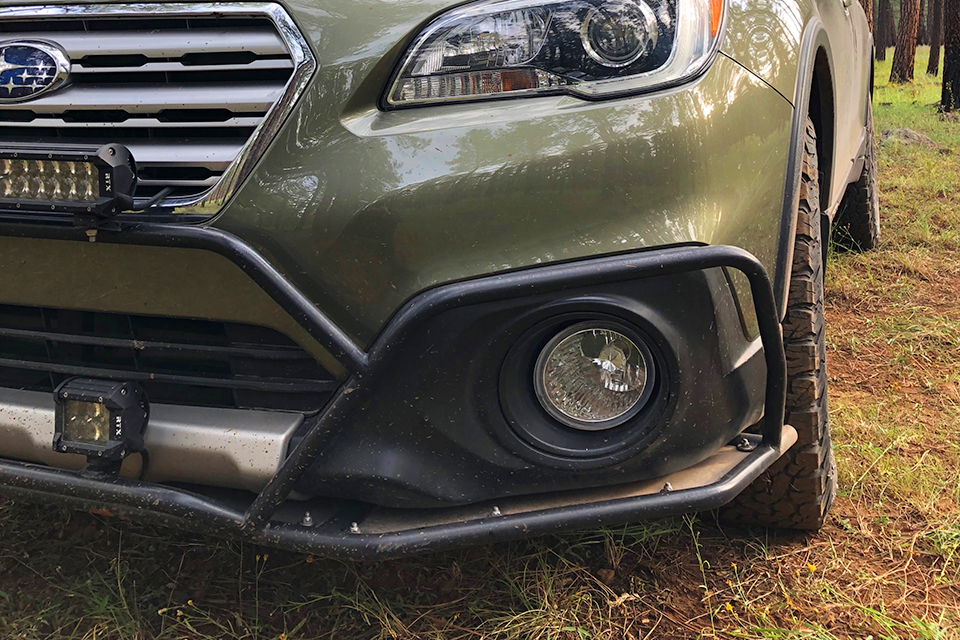 The full bumper brush guard by LP Aventure is a quality welded wrap-around guard that we powder coated in black. The guard includes convenient mount points for LED Light bars and fog lamps as well as a forward skid plate for maximum protection.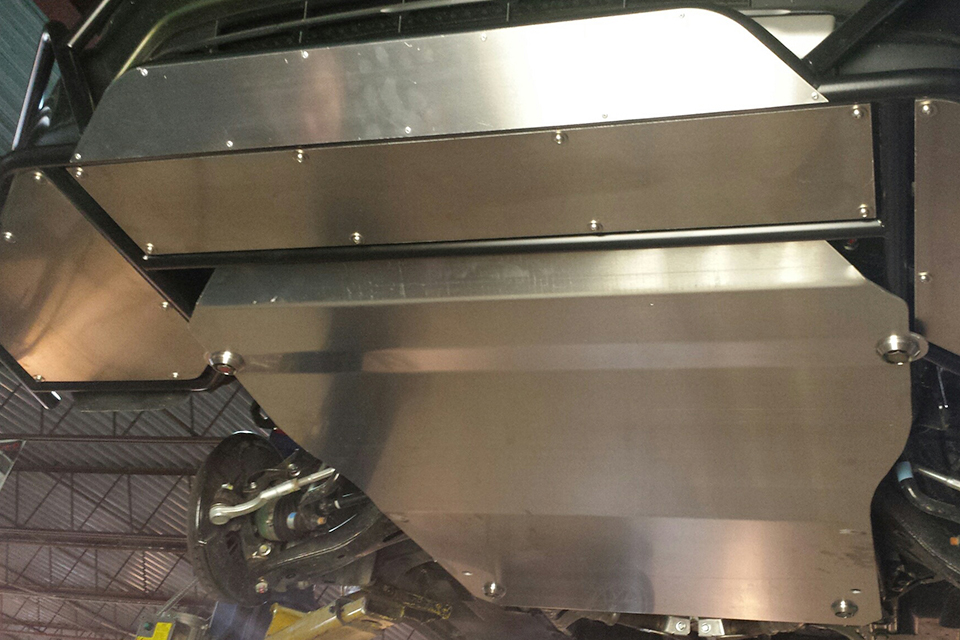 We selected LP Aventure's Full Armor option which provides maximum underside protection with full front skid plate, rally washers to protect fasteners, subframe support plate covers, differential skid plate and more.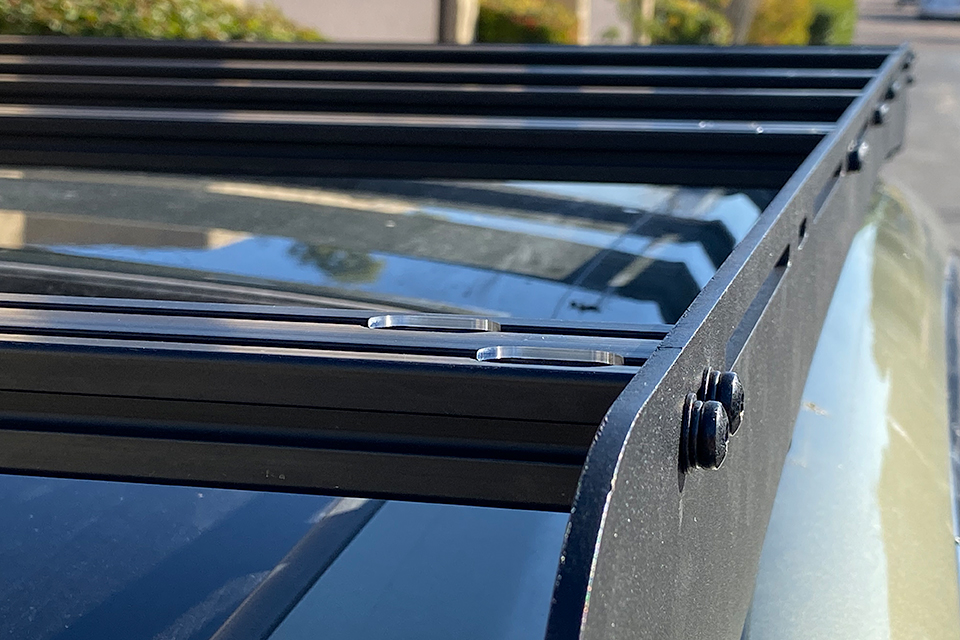 In 2019 we replaced the factory roof rails and Yakima roof rack system we had been using to mount the iKamper Skycamp rooftop tent to the vehicle. Though that system was stable and secure we were looking for a lower profile option that would offer better aerodynamics and even greater stability.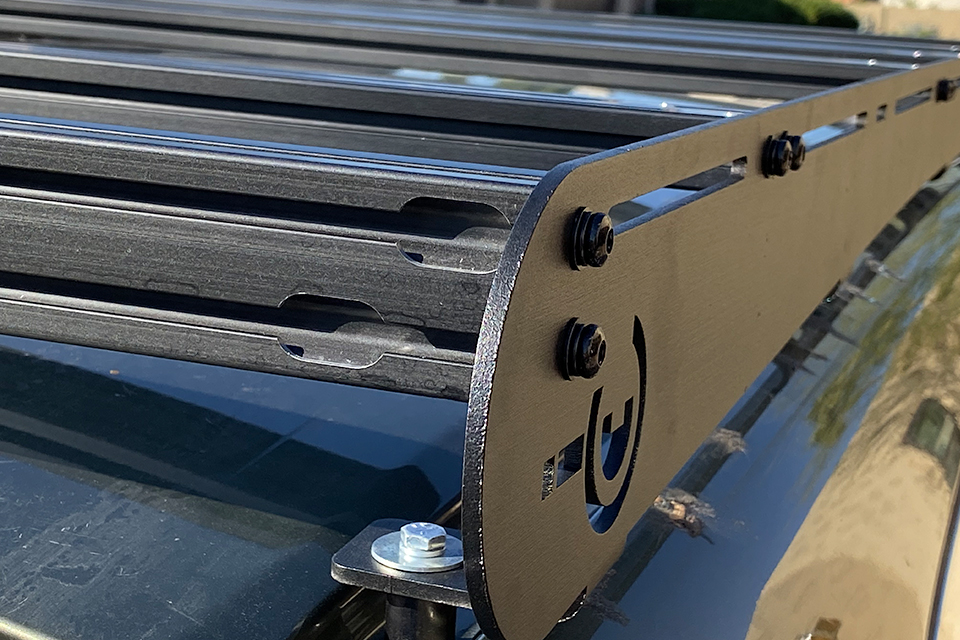 We opted for the Prinsu Design Studio Performance roof rack system by CBI Offroad Fabrication. This required removal of the ceiling panel and removing the factory rails to secure the new rack. We've since mounted a new iKamper Skycamp Mini to this rack offering more room for other accessories.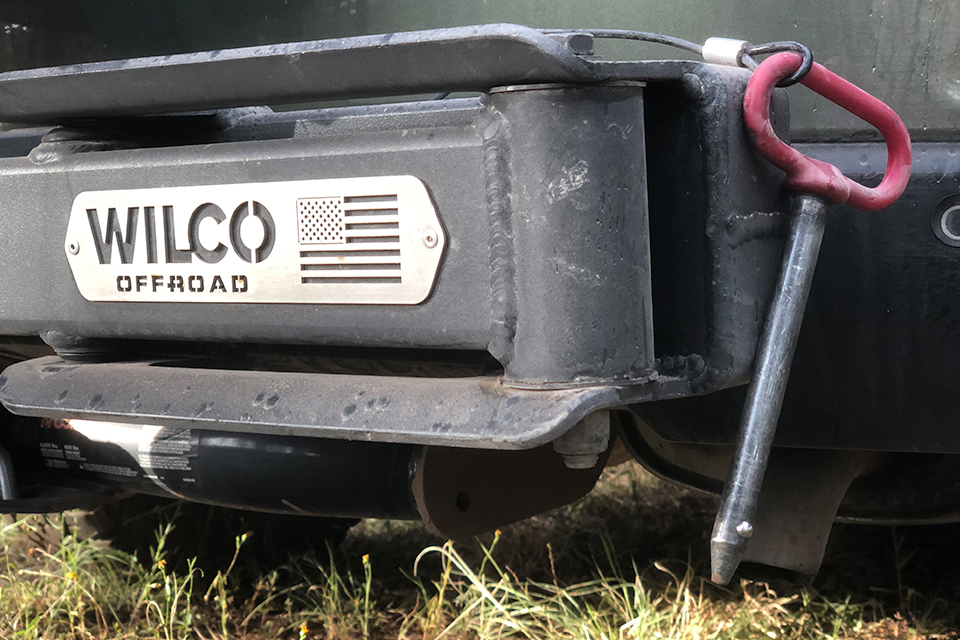 To extend the storage space within the vehicle, we removed the spare tire from the storage compartment and mounted a full-sized spare on the rear of the vehicle using a Wilco Offroad High Clearance Hitchgate Solo. This swing-out tire carrier allows for easy access to the cargo area while providing a reasonable departure angle for exiting deep ravines.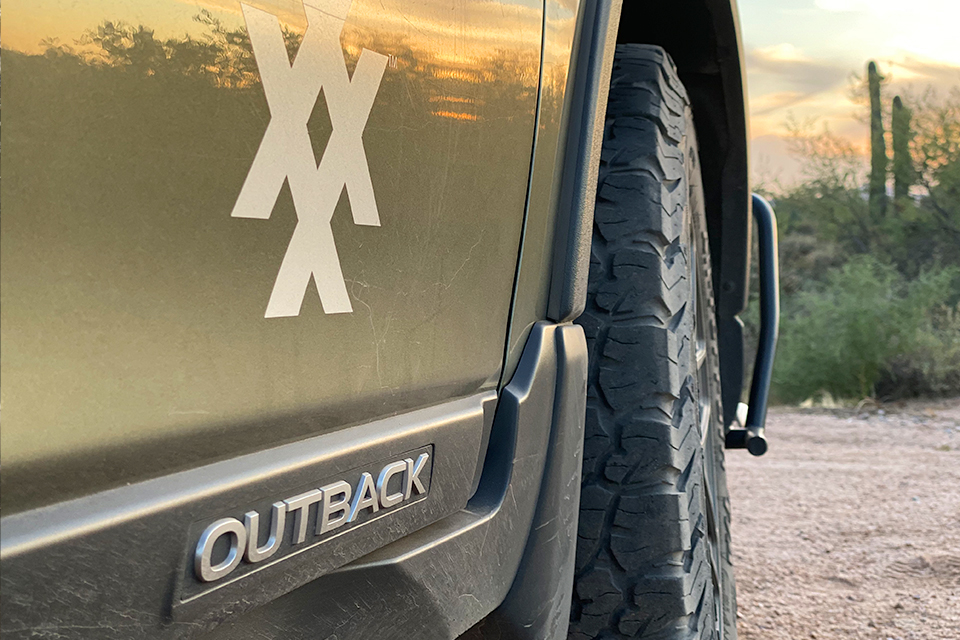 The off-road capabilities are maximized with oversized BG Goodrich KO2 All-Terrain tires on 17 inch RTX Envy wheels. This increased tire sidewall durability affords greater confidence in rocky situations and the added clearance allows for as high as 11 inches on the side rails with a minimum of 9.5 inches under the front skid plate.