There isn't a single term that is more iconic in the USA to describe vehicle excursions than the 'Road Trip'.
Ever since the countless miles of pavement were laid on Route 66 from Chicago to the Pacific Ocean, long-distance travel by car has captivated the hearts and minds of North Americans.
Although campground camping has been a favorite pastime in North America since William H. H. Murray published the popular book 'Adventures in the Wilderness' in the late 1800s where he popularized the pastime, it wasn't until the opening of the 2,448 mile long Route 66 that road-tripping literally took off. Along with the iconic road trip came modern-day car camping. This great American pastime sparked expansive growth for outdoor brands such as Coleman Company and The Eureka Tent and Awning Company, both of which have been around since the late 1800s.
A Brief History of the Road Trip
According to Wikipedia, the world's first recorded long-distance road trip by automobile took place in Germany in August 1888 when Bertha Benz, the wife of Karl Benz, the inventor of the first patented motor car (the Benz Patent-Motorwagen), traveled from Mannheim to Pforzheim (a distance of 106 km (66 mi)) in the third experimental Benz motor car (which had a maximum speed of 10 miles per hour (16 km/h)) and back, with her two teenage sons Richard and Eugen, but without the consent and knowledge of her husband.
Wikipedia goes on to say that the first successful North American transcontinental trip by automobile took place in 1903 and was piloted by H. Nelson Jackson and Sewall K. Crocker, accompanied by a dog named Bud. The trip was completed using a 1903 Winton Touring Car, dubbed "Vermont" by Jackson.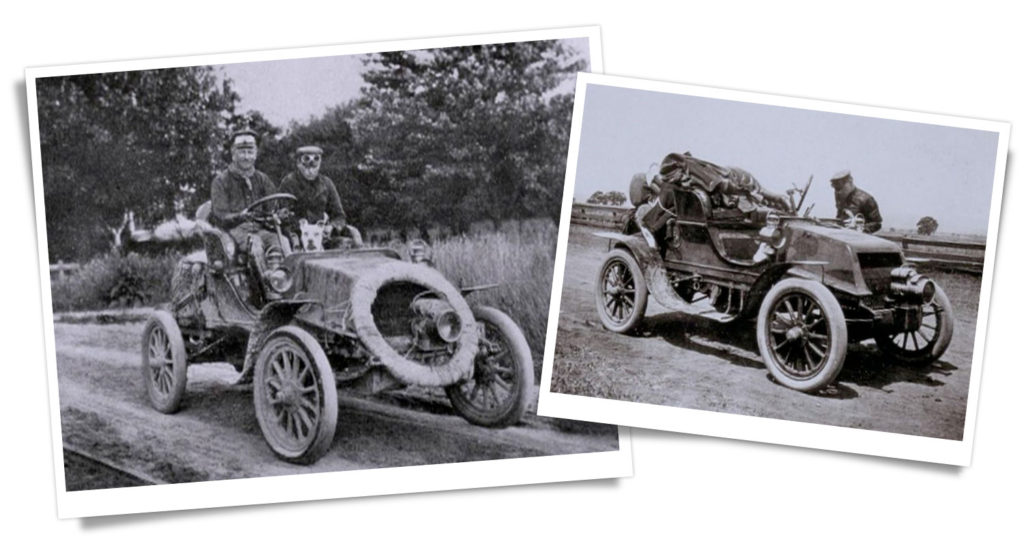 New highways in the early 20th century helped propel automobile travel in the United States, primarily cross-country travel. Commissioned in 1926, and completely paved near the end of the 1930s, U.S. Route 66 is a living icon of early modern road tripping. (Wikipedia)
Reserve America, a popular website for camping reservations, reports that today more than 42 million Americans turn to the wilderness seeking escape, however temporary, from the drudgery and stress of everyday life. They go [car] camping. Fortunately, not all at the same time.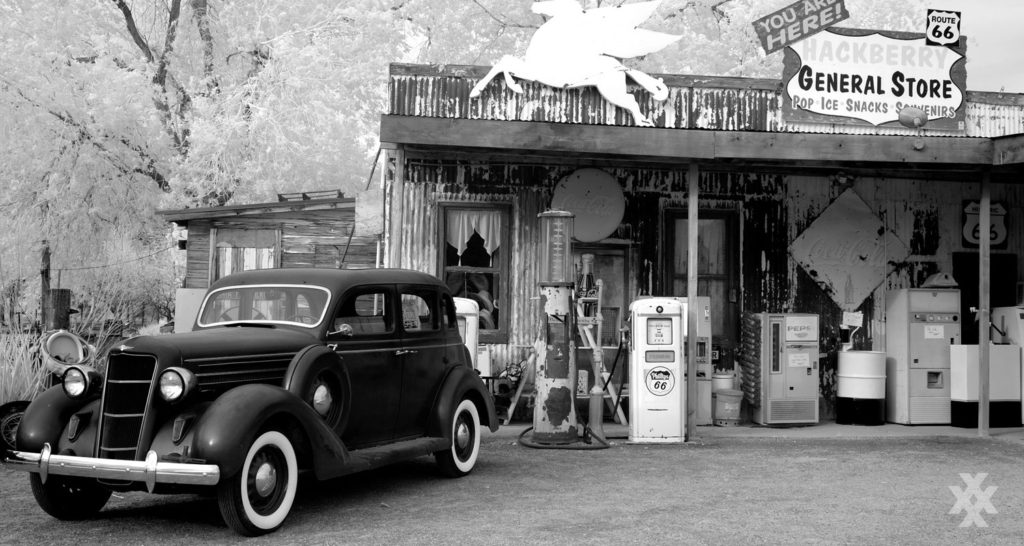 What is Overlanding?
Overlanding is [basically defined as] self-reliant overland travel to remote destinations where the journey is the principal goal. Typically, but not exclusively, it is accomplished with mechanized off-road capable transport (from bicycles to trucks) where the principal form of lodging is camping, often lasting for extended lengths of time (months to years) and spanning international boundaries. Overlanding is an Australian term to denote the droving of livestock over very long distances to open up new country or to take livestock to market far from grazing grounds. Overlanding in its most modern form with the use of mechanized transport began in the middle of the last century with the advent of commercially available four-wheel-drive trucks. (Wikipedia)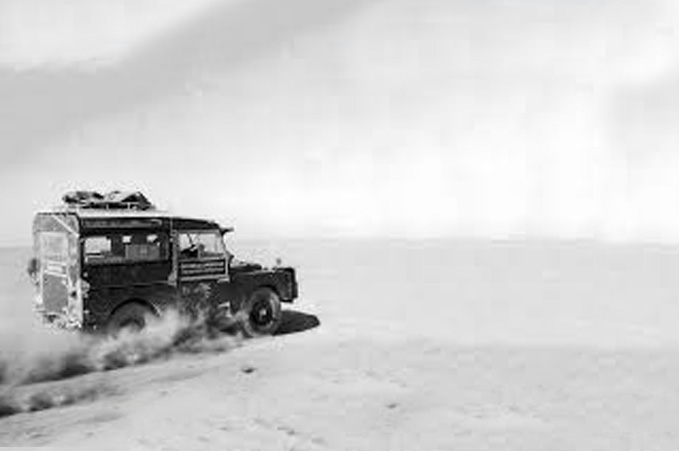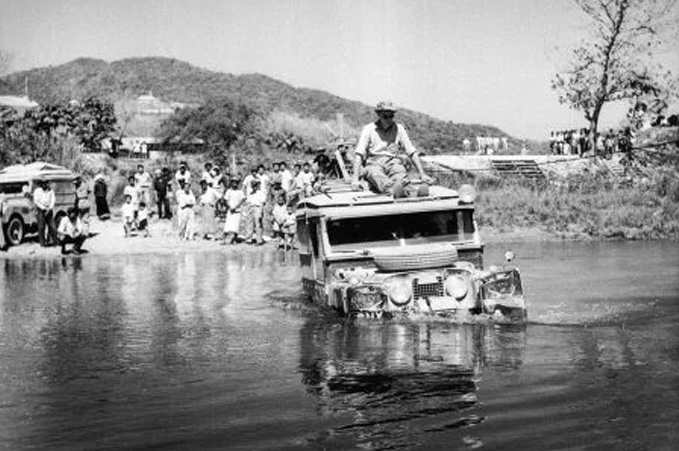 A Brief History of Overlanding
As far back as the 1920s, excursions have been documented that are widely recognized as modern Overlanding. Specifically, a British man named John Weston transported his family on a round trip from Britain to Greece driving a converted United States Commerce 1 truck. Eventually, Weston relocated his family back to his homeland in South Africa taking the truck with him. In the early 1930s, Weston set out from the tip of South Africa in that same truck destined for Britain through Cairo.
By the late 1940s came the release of the Land Rover brand. A gentleman named Colonel Leblanc was instrumental in establishing the unique association between Series Land Rovers and overland expeditions. In 1949, only one year into the Land Rover brand, Leblanc took an 80 inch model to Ethiopia. His exploits with early production models in the Middle East lead Land Rover, in 1951, to offer him a post as a travelling salesman. Over a period of years, Leblanc was able to set up the basis for a framework of Land Rover dealerships in far off locations. Sales really took off in the Middle East as a result of his countless Series of Land Rover expeditions in the area.
The Iconic Camel Trophy
The Camel Trophy was a vehicle-oriented competition that was held annually between 1980 and 2000 requiring competitors to drive Land Rover vehicles over challenging terrain along mapped routes. The name of the event was derived from its title sponsor, Camel cigarettes.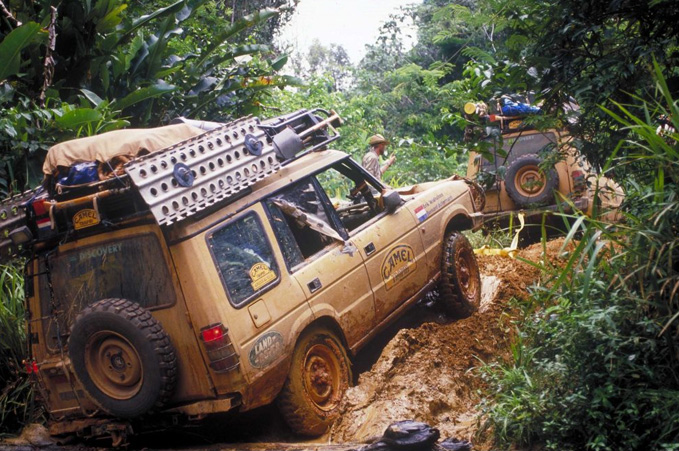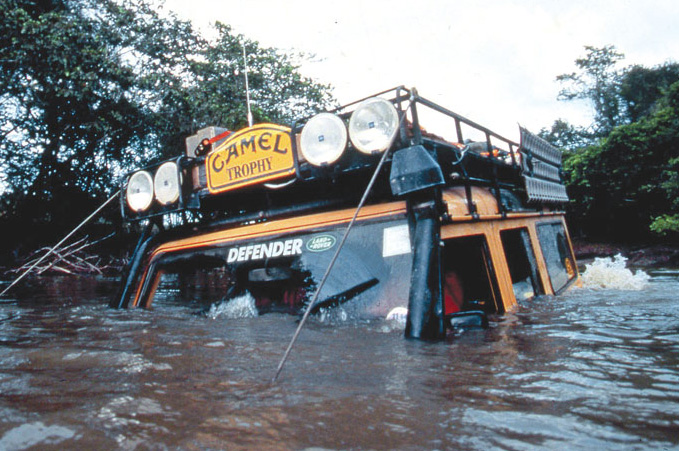 The Camel Trophy originated in 1980 with three German teams exploring the Amazon Basin in Jeep equipped vehicles. Following the first event, the organizers were able to obtain support from Land Rover and over the next 20 years, Land Rover vehicles were commonplace. The vehicles used in Camel Trophy featured, the now iconic, LRC361 yellow.
Camel Trophy was significant in shaping the sport of Overlanding as it captured the passion for vehicular supported expeditions. The adventurous-at-heart followed the event throughout the years the event was held and because so, many of the iconic yellow vehicles have become exceedingly collectible.
4XPEDITION Land Rover Discovery 1
In 2014, we decided to set out to build our own overland ready Land Rover Discovery 1. Locating a stock vehicle in Northern California, I flew up, bought the rig and returned back to Arizona down the Pacific Coast Highway and across the Mojave through Joshua Tree National Park.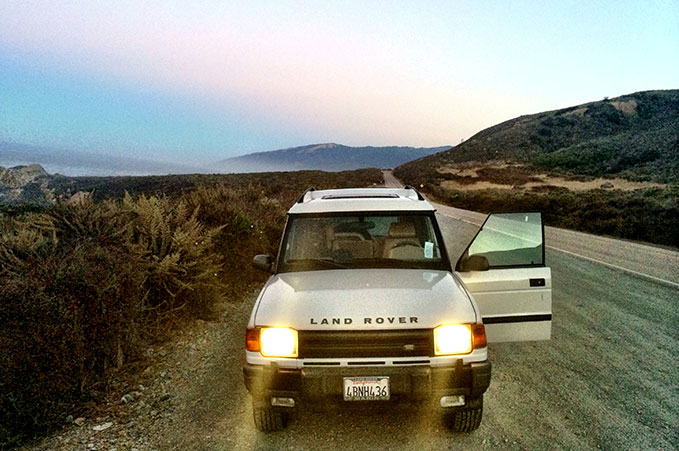 The Disco along the Pacific Coast Highway.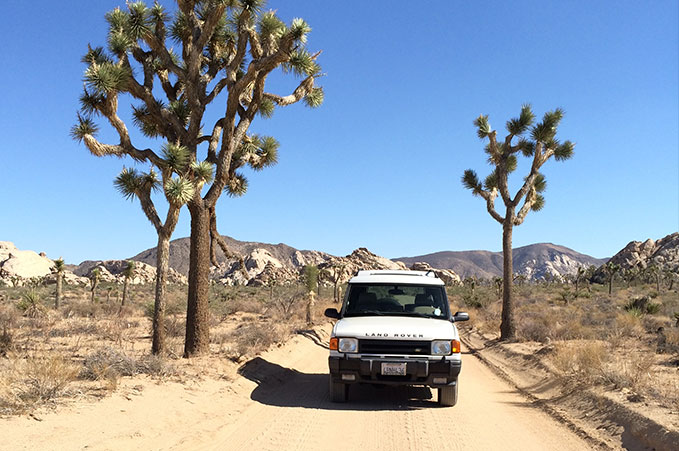 On the soft roads within Joshua Tree National Park.

Upon my return, I engaged the help of Dan Cronin, founder of Northwest Overland. Dan and I had met a few years earlier at Overland Expo where Dan had been a participant in one of my talks. Dan, being an expert Land Rover mechanic that had built up two of his own overland Discovery vehicles, agreed to help and set out for Arizona within a few weeks.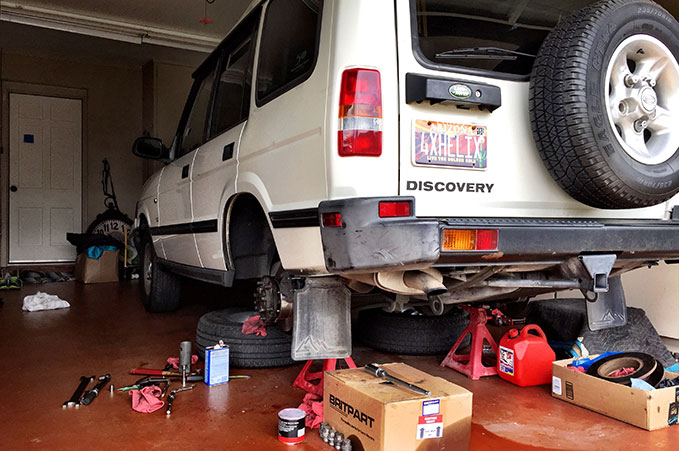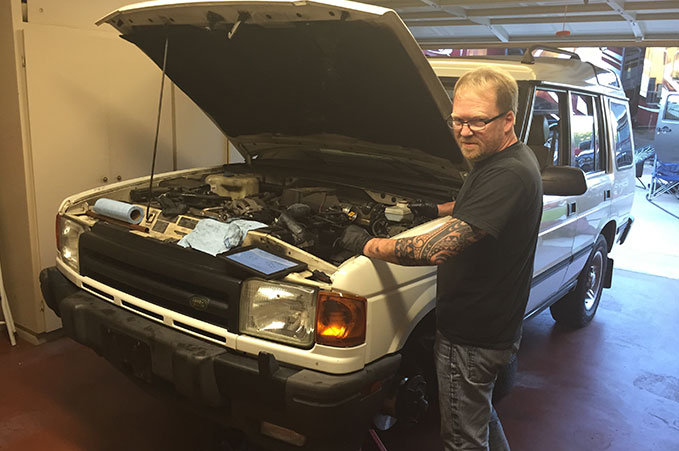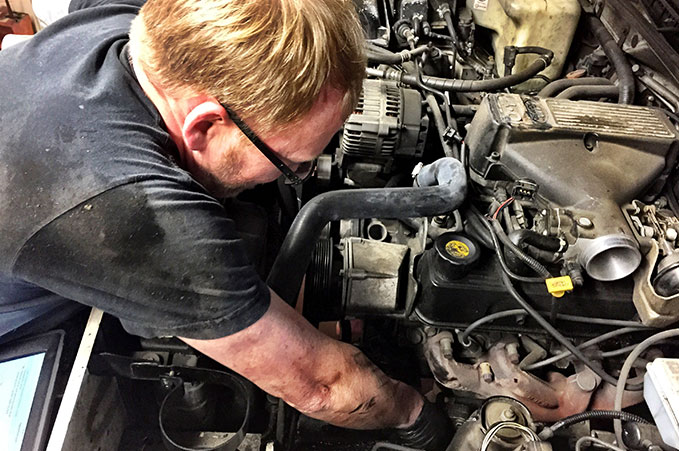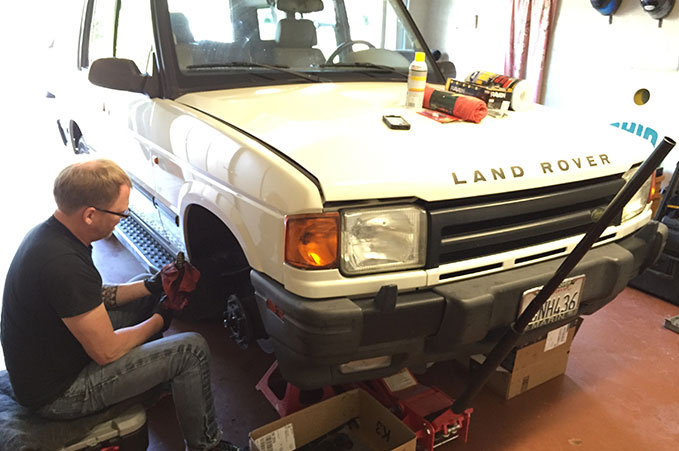 Overlanding Popularized in North America
Although North Americans have been traveling overland with modified off-road trucks for generations and a select few even with overland equipped vehicles, it wasn't until 2007 [the same year Jeep released the 4-door JK Rubicon and 4XPEDITION was founded] that Overland Journal magazine, published by Scott Brady, started to popularize the sport. Yet, when in 2009, a global guide and journalist named Roseann Hanson, founded Overland Expo, the sport quickly began to shift away from being considered a "gentleman's sport" into a mainstream, viable consumer market.
The first Overland Expo was held in Prescott, Arizona in 2009. For the next two years, the event was held at Amado Territory Ranch located in southern Arizona. In 2012 the event moved to Mormon Lake, Arizona. This was the first year that I attended Overland Expo. In 2013, I was selected as a guest speaker at the event speaking to more than 80 attendees about how to become a digital nomad to financially support yourself while on a long-range overland excursion.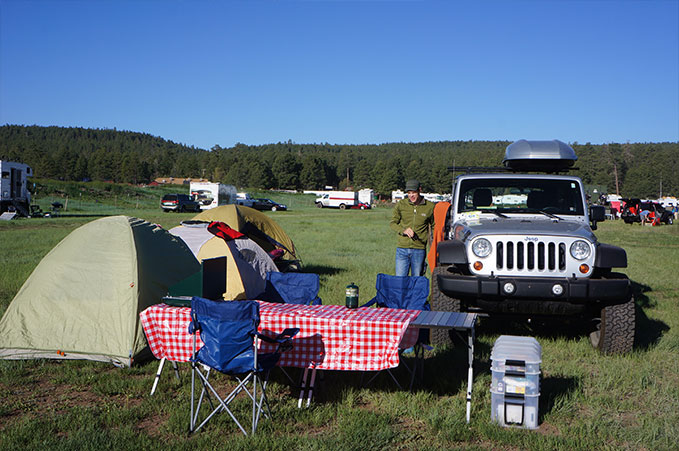 Camp at Overland Expo 2012 in Mormon Lake, Arizona.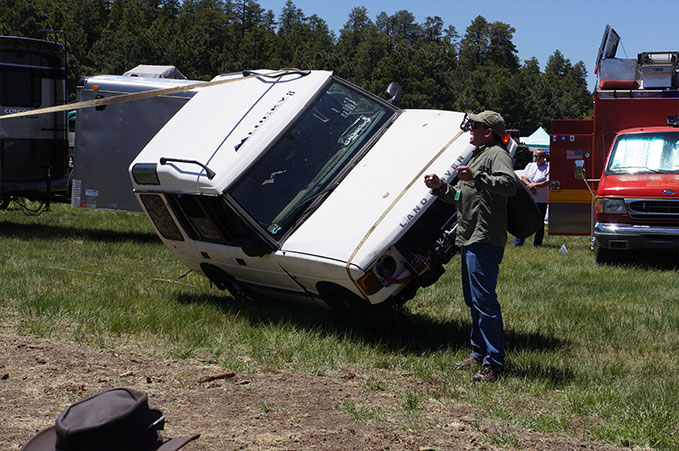 Demonstration: how to right a vehicle with a winch.
Overland Expo was held at Mormon Lake until 2016 when the event was literally flooded out causing significant difficulty to campers who became seriously stuck in the soft, normally dry lake bed. Many recall being pulled out of the mud by Unimog vehicles. It was a disasterous mess that forced the event hosts to consider other locations.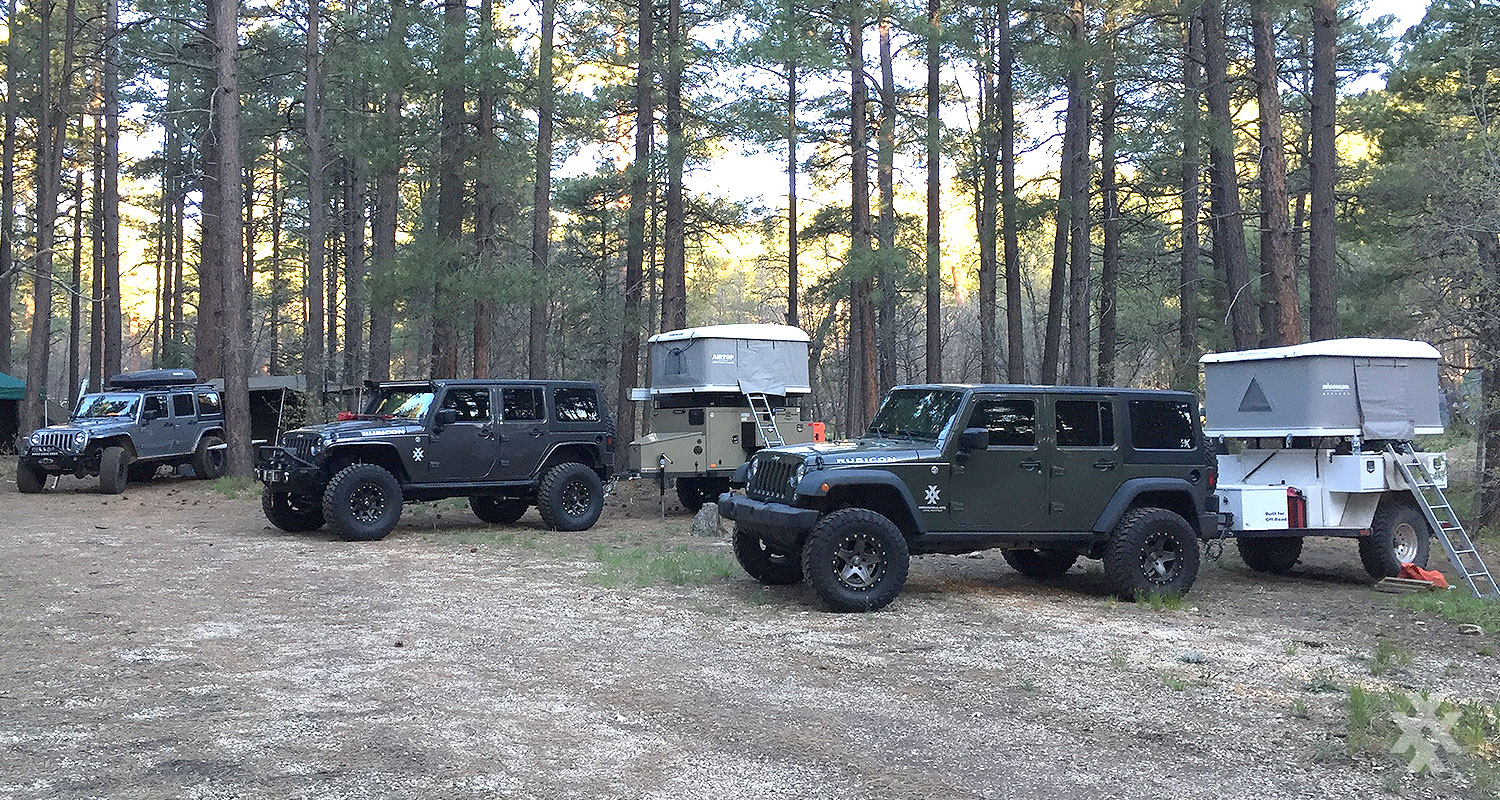 The 4XPEDITION Jeep Rubicons, pulling a Turtleback Trailer and a Horizon Adventure Trailer, camp at Overland Expo, Mormon Lake in 2016.

The next year the event was moved to Fort Tuthill Recreation Area outside of Flagstaff, Arizona where Overland Expo West still takes place today. Since that time, new locations have been added. In 2014 the first east coast event was held at Taylor Ranch in North Carolina near Ashville and in 2020 a new location was added in Loveland, Colorado.  These events afford a national reach for sponsors and trade show merchants. In 2018, Roseann sold Overland Expo to Lodestone Events, a professional event production company that has worked to expand the sport.
Soft Road Vehicle Overland Build
With a long-range goal of building a 4×4 adventure camper, I decided to sell off the 4XPEDITION Rubicon and Horizon Adventure Trailer. In 2017, I opted for a vehicle that would achieve better gas mileage, be a more comfortable ride than a Jeep, and still be able to handle rougher soft road travel which is most typical with overland adventures North America. Enter the 4XPEDITION Subaru Outback 3.6R Overland Road Warrior.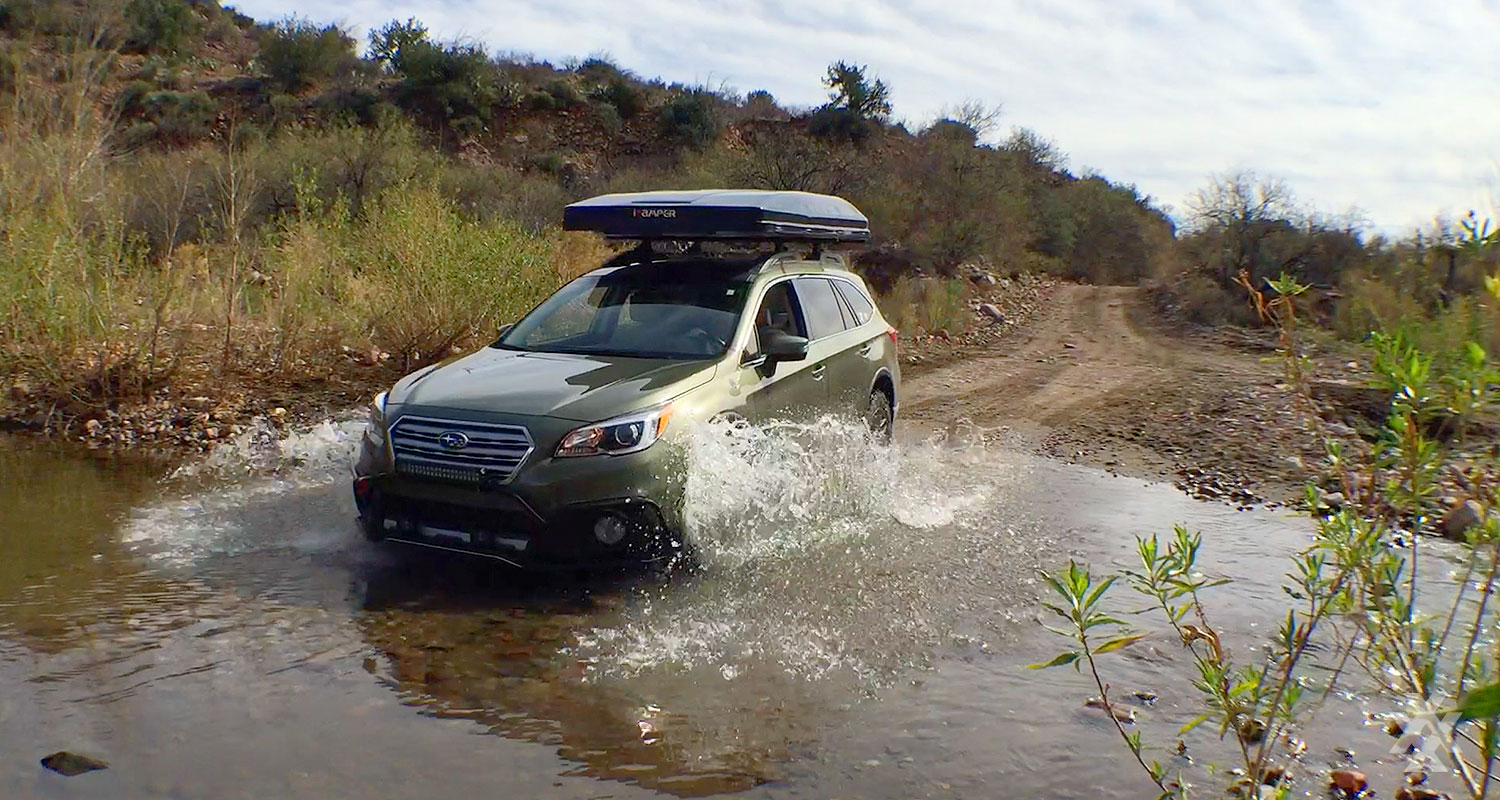 Creek crossing on Cherry Creek Road in the Sierra Ancha Range.

The Subaru proved to be a viable overland platform with capabilities to handle about 85% of the typical overland adventure terrain. Another 5% was found to be achievable with a lift kit, skid plates, a set of traction boards for getting out of stuck positions and for crossing deep ruts to avoid bottom out, and a set of tow straps. The remaining 10%, the terrain we'd typically traversed with the 3-inch lifted Rubicon with 35-inch mud terrain tires, was determined to be exceedingly difficult or not achievable.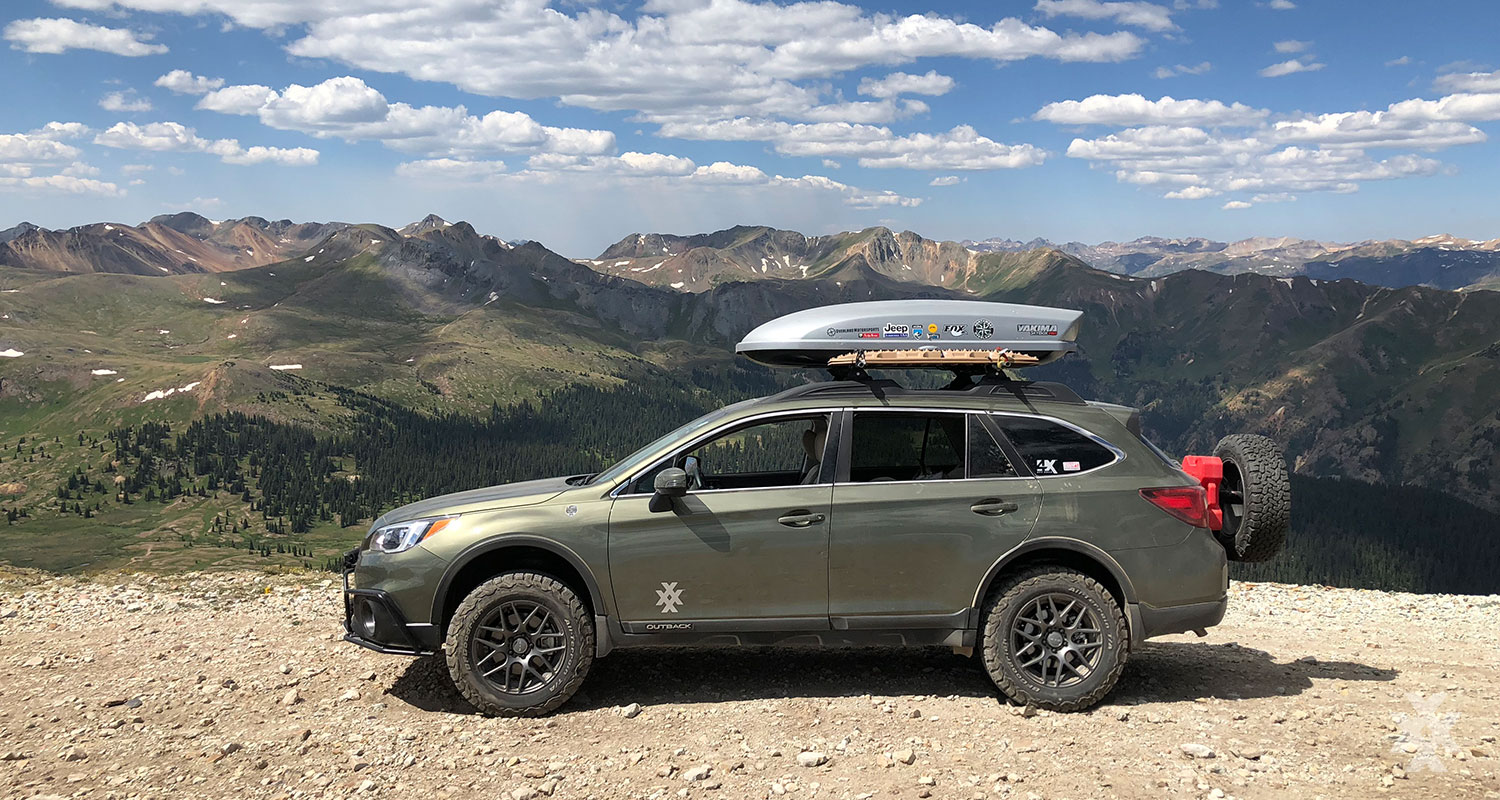 The 4XPEDITION Subaru Outback 3.6R Overland Road Warrior posing for a shot on top of Engineer's Pass, Colorado.

Looking to push the Subaru Outback to its limits off road, I successfully executed an overland trip over Engineer's Pass in the San Juan Range of Colorado and descended down CR18 to Ouray. The descent required build-up of boulder areas in order to proceed without significant underside scraping. This was the most difficult route taken so far in the Outback. View this route on the 4XPEDITION YouTube channel by watching Subaru Outback Offroad Engineer's Pass Colorado.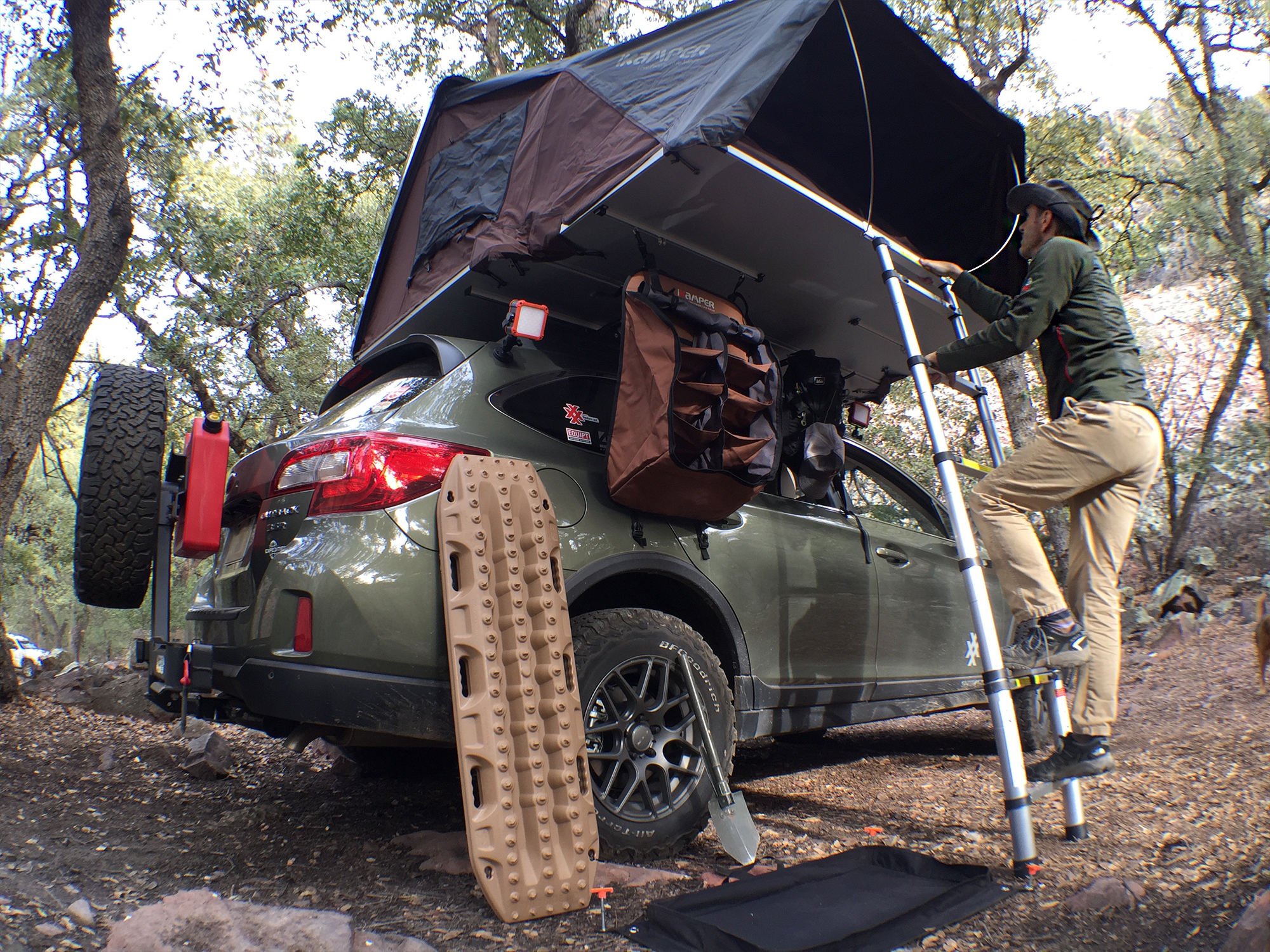 Preparing camp in the Sierra Ancha Range, Arizona.

4XPEDITION has become a strong influence for the Outback as an overland platform and as such, has been instrumental in popularizing the vehicle in the USA for equipping the vehicle for the sport. The 4XPEDITION Subaru Outback 3.6R Overland Road Warrior has been reviewed in a number of magazines internationally and is regularly referred to as the overland setup of choice among enthusiasts.
Join the Fun
If you are interested in participating on a overland or car camping excursion, from time to time we schedule trips and allow a small group of participants to join in. If you do not have your own gear, we can assist you with rentals in the local area where we embark. If you have a pet and would like to bring them, we require that your dog remain leashed at camp, has all of their vaccinations, and plays well with people and other dogs.
To find out more about our upcoming excursions click below.