Keep the wheels turnin' and discover new places, great people, and a strength and fortitude you didn't know you had.
I spent a great deal of my youth as an avid cyclist. In my teens I traversed thousands of miles on my 21-speed Raleigh Olympian. I rode RAGBRAI (The Register Annual Great Bicycle Ride Across Iowa) three seasons in a row. The ride is generally about 800 miles over the course of 7 days. I've also been an avid mountain biker most of my adult life and have owned both a Bianchi and a GT. Having also been an avid backpacker, I am no stranger to lugging my gear with me on adventures. Bikepacking just made sense. So, I gave it a go.
My first mountain bikepacking adventure debuted in February of 2021 with a 60+ mile single-track adventure from my home town of Carefree, Arizona to Fountain Hills, Arizona, and back. It was a three-day excursion that likely could have been completed in two strenuous days. I opted to make it more enjoyable with an overnight camp out within McDowell Mountain Regional Park which is a very large area of beautiful Sonoran Desert between the two towns and alongside the McDowell Mountain Range. You can watch the adventure on my channel here.
With my first adventure under my tires, it is time to start planning my next adventure. The next bikepacking trip will likely be further from home and more epic. Stay tuned for that coming soon. In the meantime, scroll down and check out the list of bikepacking gear I am currently using for trips.
Watch our adventures on wheels videos on 4XPEDITION Adventurer. >
Bicycle:
TREK 1120 29er
Bars: Jones H Loop
Saddle: Ergon SMC Sport Gel
Pedals: FUNN Mamba
Rear Cargo: Marchway Drybags
Front Cargo: DOM Drybags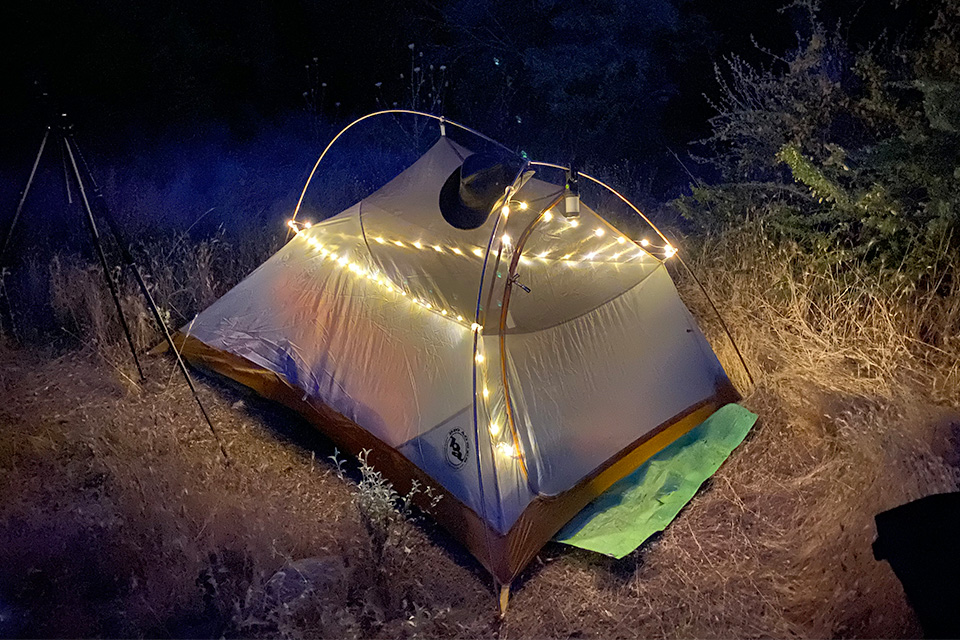 There are several different shelter options when it comes to bikepacking including an enclosed hammock, a bivy, tarp, a backpacker tent or nothing at all if you so please. Each one has its pros and cons. Any way you slice it you have to go with something that weighs as little as possible. When I do sleep in a tent, I opt for the Big Agnes Fly Creek two-person UL tent that weighs under 2 pounds including fly.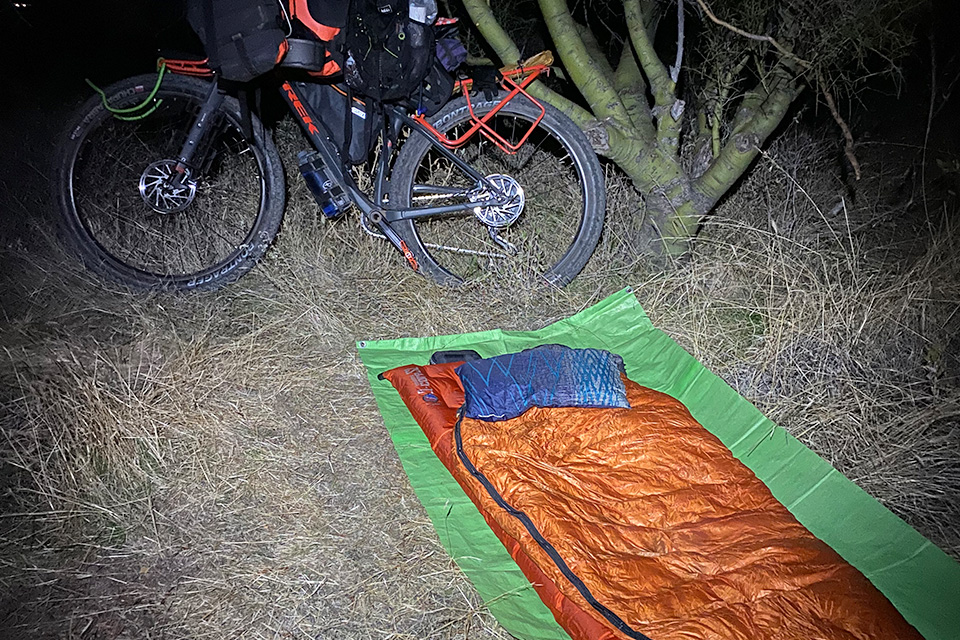 If I do opt to sleep on the ground without a shelter, you will note that I utilize the green tarp (cut to fit) for a clean place to lay my Big Agnes Q Core Sleeping Pad and GoLite Zero Degree down sleeping bag. If I get extra cold, I use a silk liner by Cocoon that lowers the temp by almost ten degrees. I rest my head on a Wenzel Camp pillow. Then, there's nothing that obstructs your view of the stars…unless, of course, a wild animal tries to snuggle.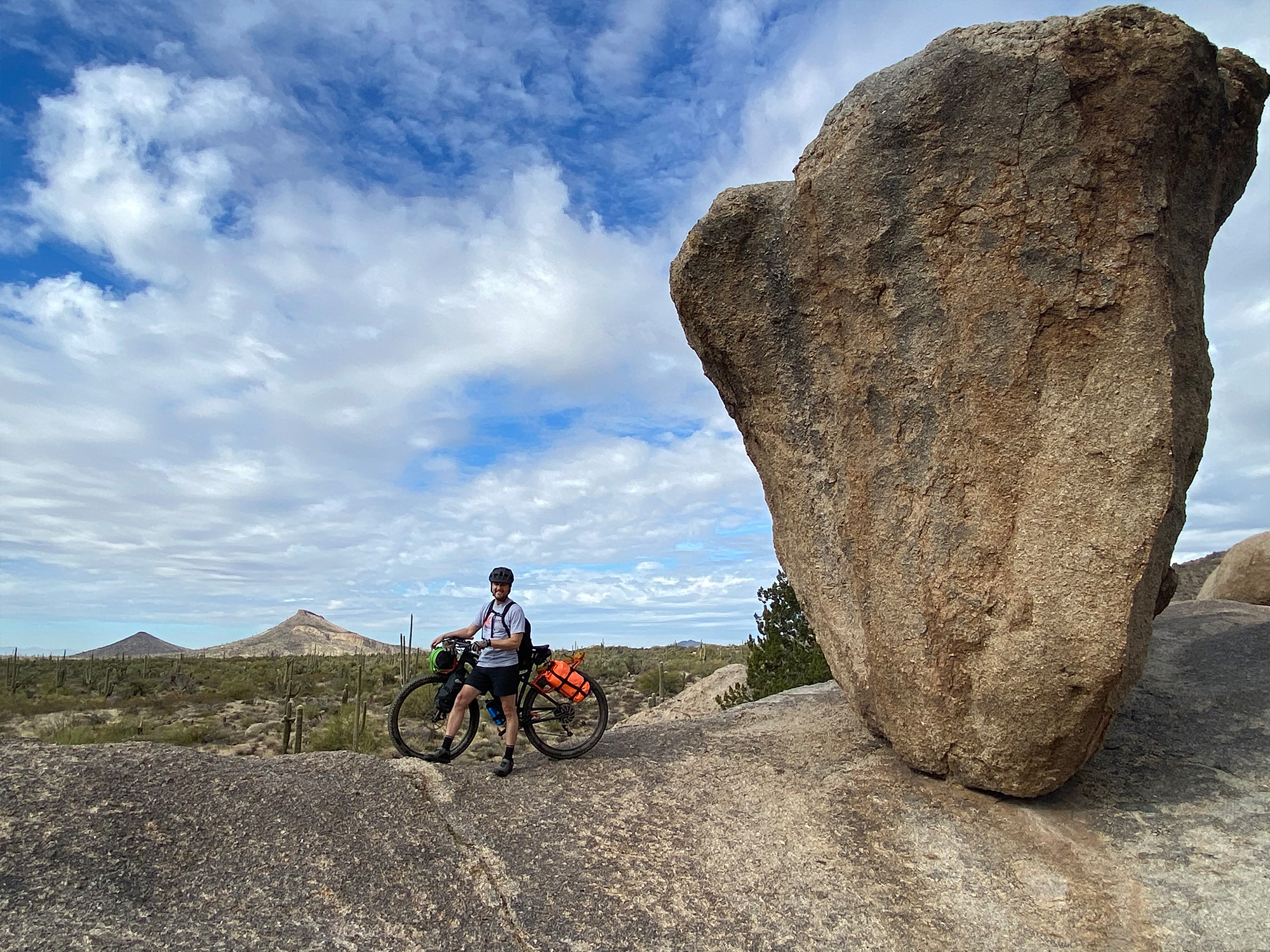 The 4XPEDITION Bikepacking mountain bike is provided by TREK and is an award-winning 29er bikepacking frame with accessories ideal for long-distance, multi-day, international off-road travel.
Bontrager Chupacabra 29 x 3.0 Tubless Tires
710 g (ex. bladder/water)

Only bicycling clothing is outlined here. Other clothing items can be found under the backpacking equipment list.

Dakine adjustable flex shorts
Specialized RIME 2.0 Mountain Bike Shoe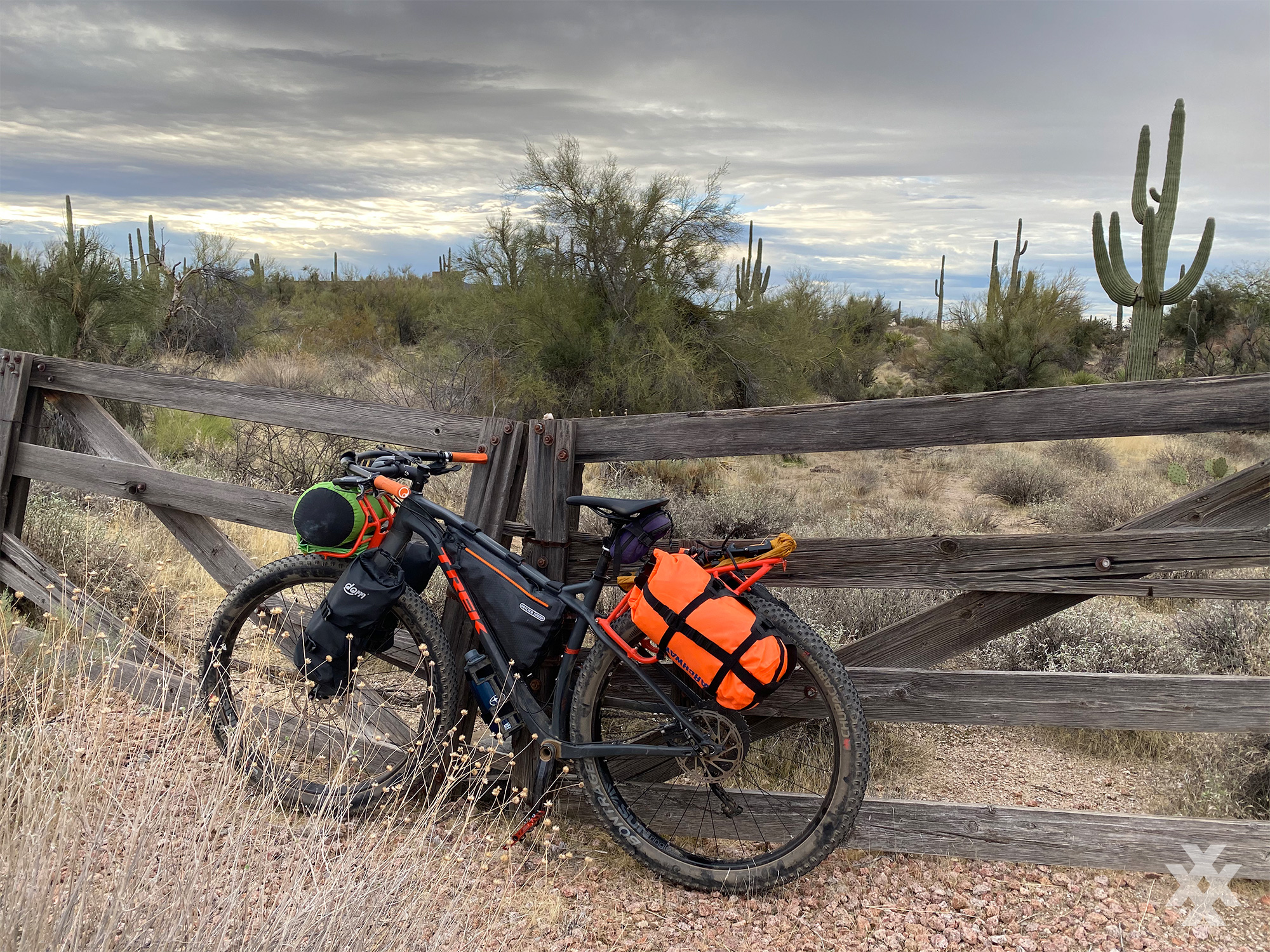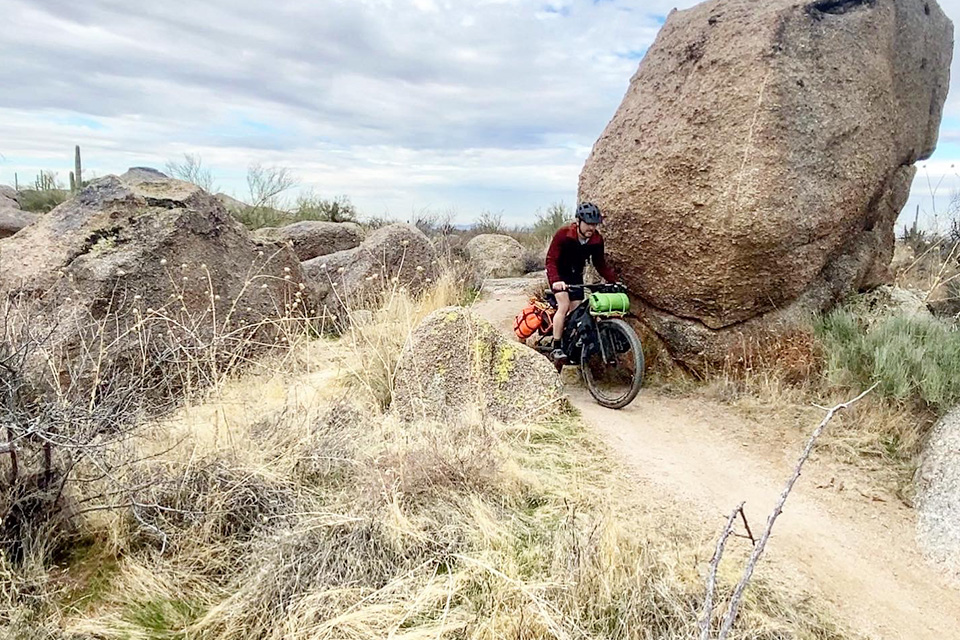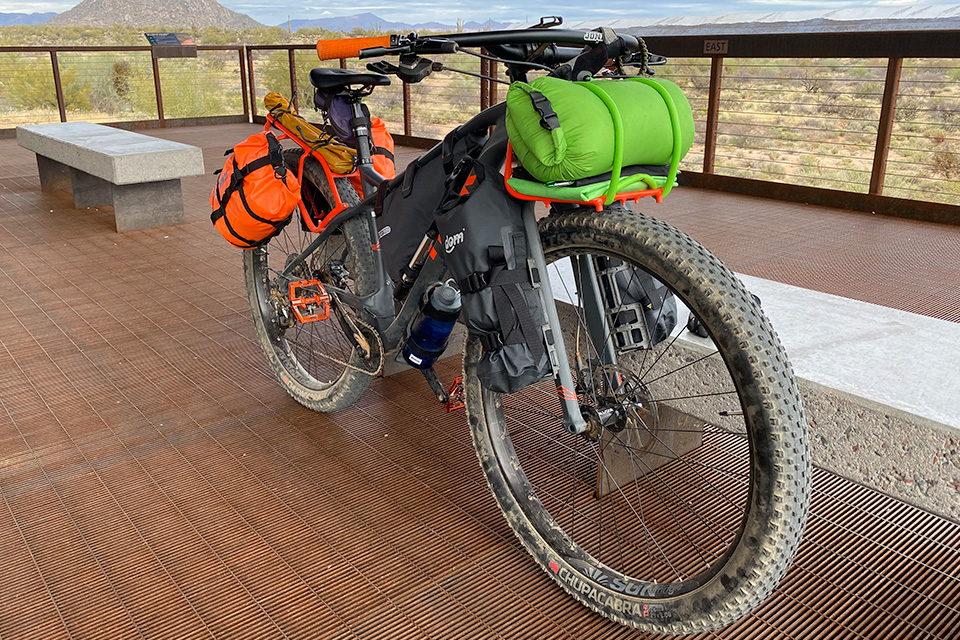 I have discovered that I am not fond of clip-in pedals and shoes when on single-track trips as I often am off my bike setting up camera angles and shooting footage for 4XPEDITION Adventurer. Clipping in tends to be a bit precarious on a narrow single-track lined on both sides with cacti. I may opt for clip-in on a long-range route that might include wide-open dirt roadways and so forth.
I have also discovered that I need to transport more water than I had expected and so I have replaced the lower clear plastic water bottle with a much larger metal canister. This will add a tremendous amount of weight to the bike but keeping it low to the ground should help the center of gravity and having water–especially when traversing the desert–is essential. Note, however, that I do generally bring a Sawyer Water Filtration System when I am planning to bikepack in regions where there may be running water.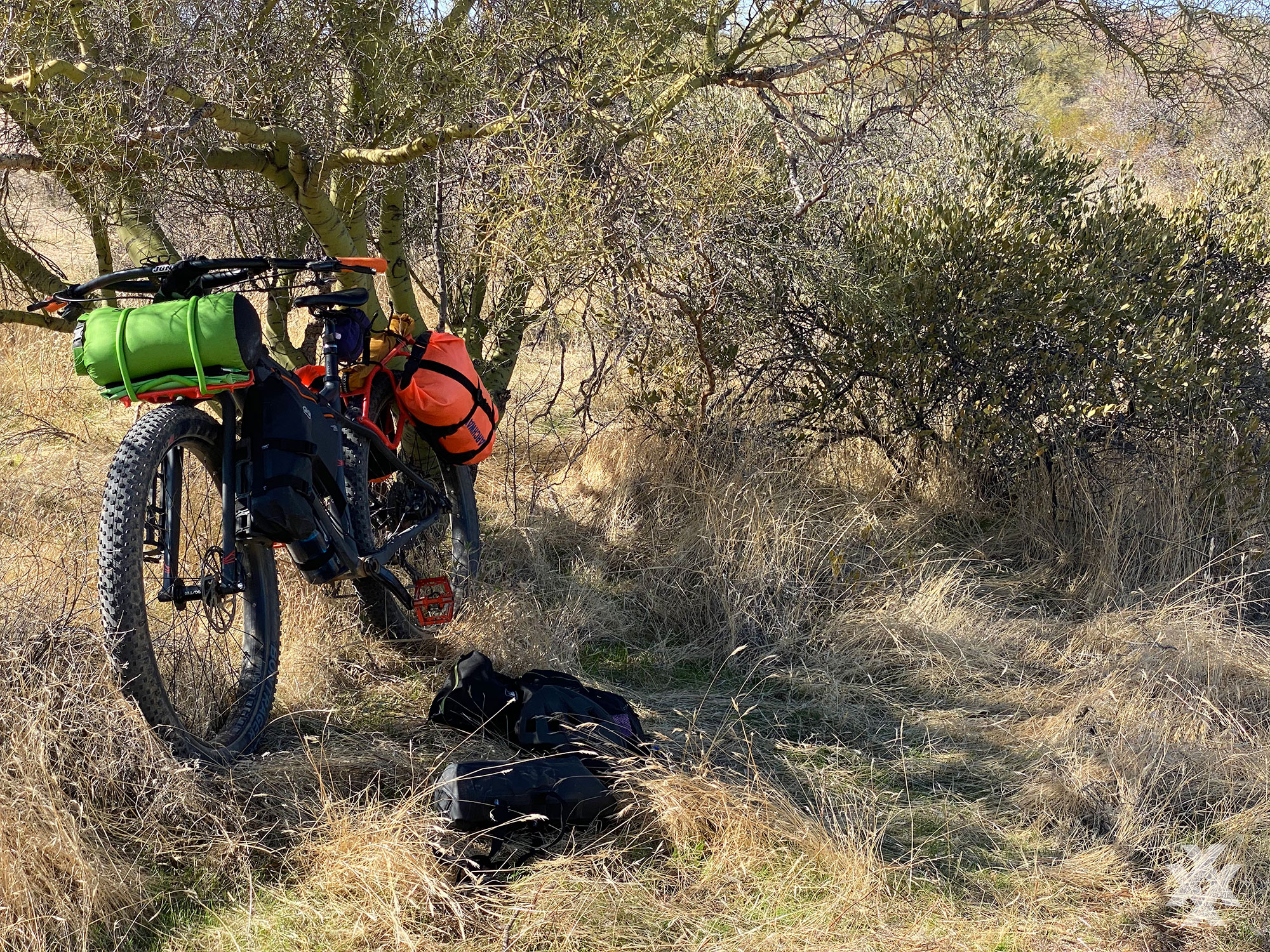 I was quite delighted to discover foam covered metal straps that have proven to be extremely durable and keep gear in place better than any other system I have found to date. Be sure to get yourself heavy-duty reusable foam coated twist ties. You can see them in action in the above photo. They are bright green. They do not stretch. In other words, they are not bungee chords. They are thick bendable twist ties.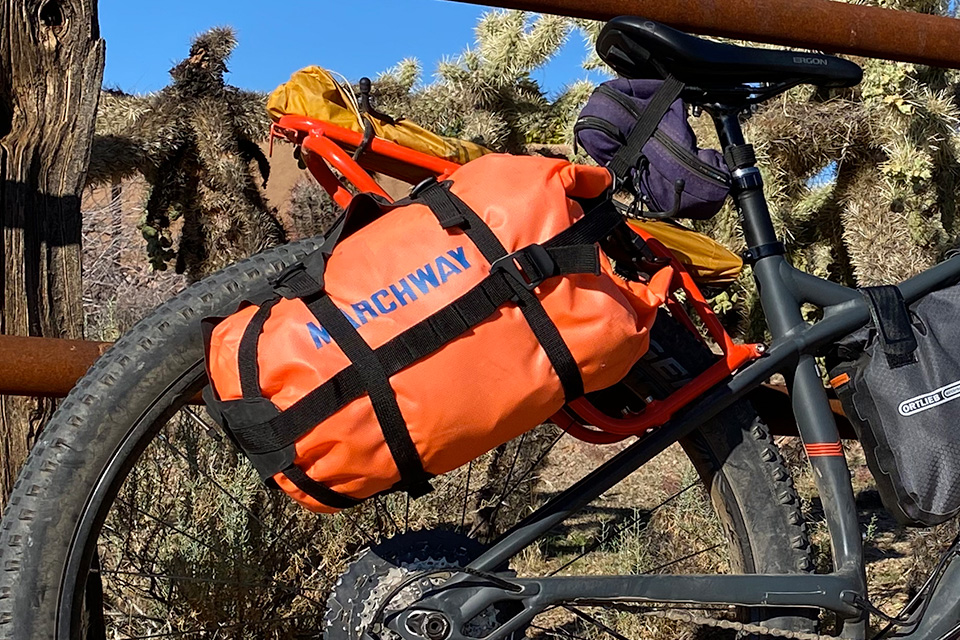 When I purchased the bike, it came with the two orange Marchway dry bags. They are quite roomy but the velcro that is used to attach them to the rack seems a bit under-engineered. On one occasion, I was bombing down a rough trail and one of the bags came off. If I had not noticed, I would have had to backtrack to find it. You will note that on top of the rack is a bag containing my tent poles. They are stored here because the poles are too long to fit inside the 5.5 L DOM dry bag where the rest of the tent is stored. They are secured there with thick rubber covered twist ties.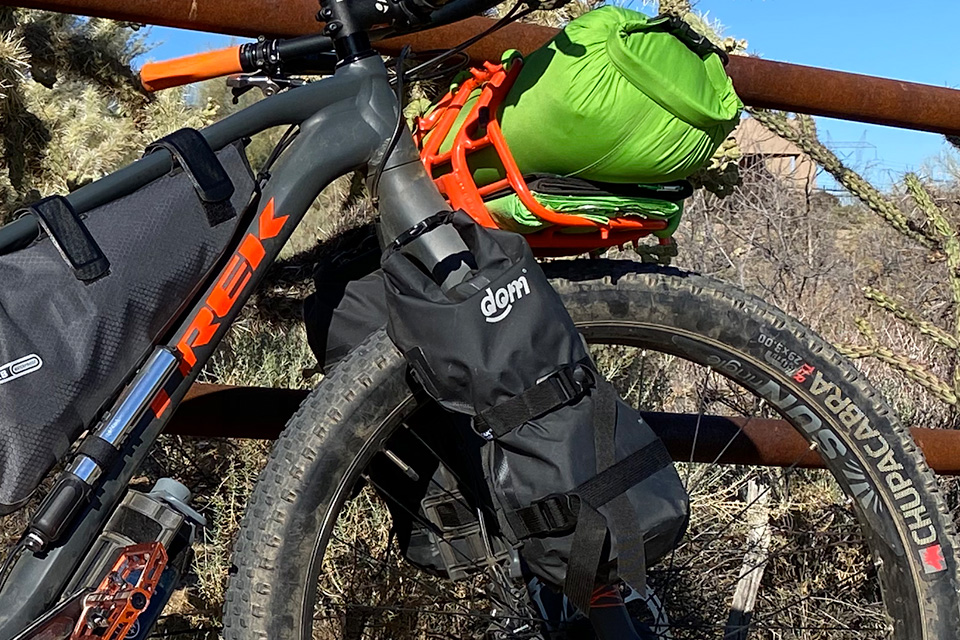 The front rack holds my sleeping bag inside a 8L Sea to Summit dry bag. Below that I store my solar panel and below that my green base tarp. These items are held down with the green foam-covered metal strapping mentioned earlier. After more than 60 miles of rough single-track, none of these items moved. That strapping is amazing. The DOM 5.5 L dry bags on the front hold my tent on one side and my kitchen and food on the other. These are held onto the bike using Topeak VersaCages mounted to the front fork.