The sport of overlanding has taken off in North America and with it a deluge of new products and vehicle builds.
From the iconic Land Rover Defenders of South Africa and the Toyota Land Cruisers of Australia came the world of Overlanding. Once a "gentleman's sport" for only the affluent, the activity has now taken shape in the United States and opened the door to adventurers of all kinds. The flurry of activity spawned from the likes of Overland Journal magazine and, the now well-known, Overland Expo which originated in Southern Arizona on a ranch near Amado and now showcases the sport in three locations around the USA.
Our own overland experience is fairly extensive including a 13,000 mile, 9-month overland traverse of North America in a lifted 2015 Jeep Rubicon JK, extensive backcountry excursions with a Horizon Adventure Trailer, excursions with off-road camper vans, and most recently the build of the internationally known 4XPEDITION Subaru Outback.
Our influence on the market has seen partnerships with some of the leading and cutting-edge manufacturers in the industry. Take a look at our overland equipment list below to learn more about these and other great products.
Watch our overland videos on 4XPEDITION Adventurer. >
Rooftop Tent (primary):
iKamper Skycamp Mini
Size: 2-person
Type: Hard shell
Weight: 125 lb
Rack: Prinsu Design Studio

The 4XPEDITION Subaru Outback 3.6R Overland Road Warrior is the foundational platform for our soft-road overland build. Featuring a whopping 35.5 feet of interior cargo space and significant roof surface area, the vehicle allows for plenty of gear, a sizable rooftop tent, and even enough room for four passengers. The zip in awning attaches directly to the tent doorway and significantly increases the living area protecting campers from rain.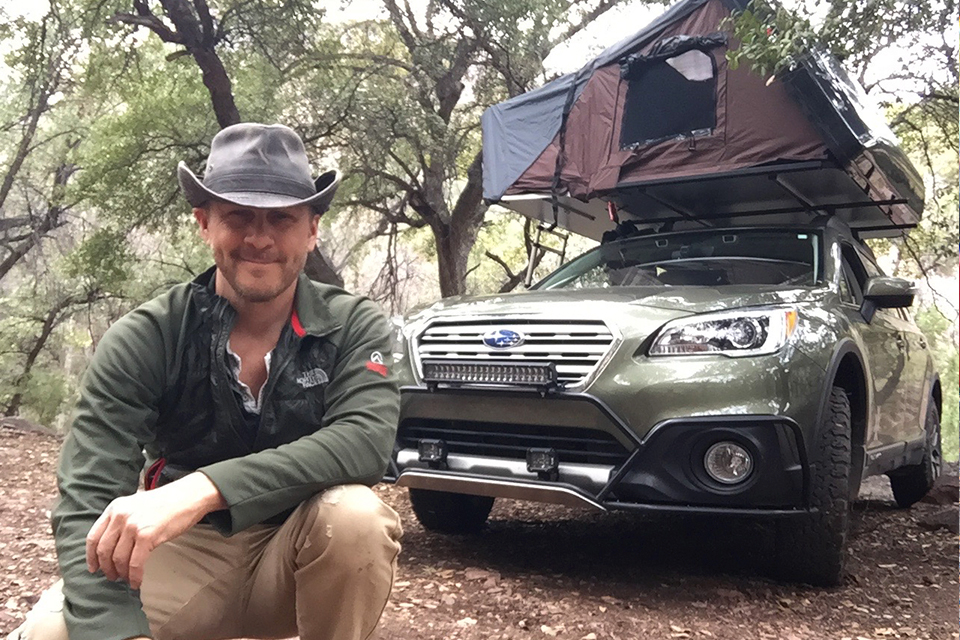 4XPEDITION Founder, Scott Leuthold, has over 25 years of experience exploring remote backcountry in 4×4 vehicles. "Form and function are key to a quality overland experience. Convenience and efficiency will help avoid frustration and keep you going time and time again." Says Scott. "There are best practices when it comes to Overlanding. It isn't necessarily about the vehicle nor is it about the amount you spend. It is about the mindset and passion you have for venturing out."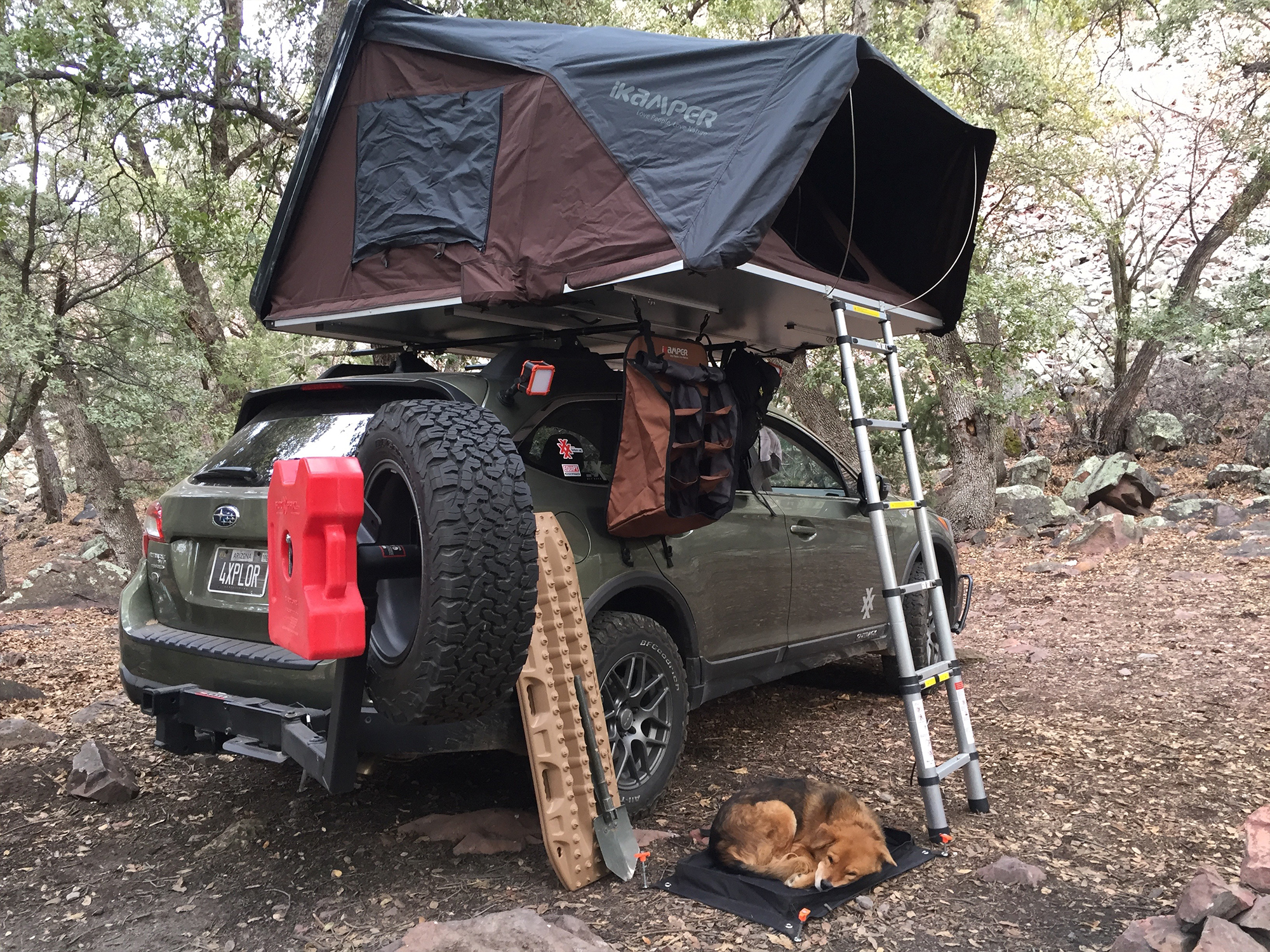 The 4XPEDITION Overland setup includes standard equipment that can be achieved with a few extra bucks over time. We didn't build a Unimog here. What we built is something anyone can talk their partner into converting the family wagon into.
OZTent Folding Camp Table
LunoLife Sleep System (for rear of vehicle)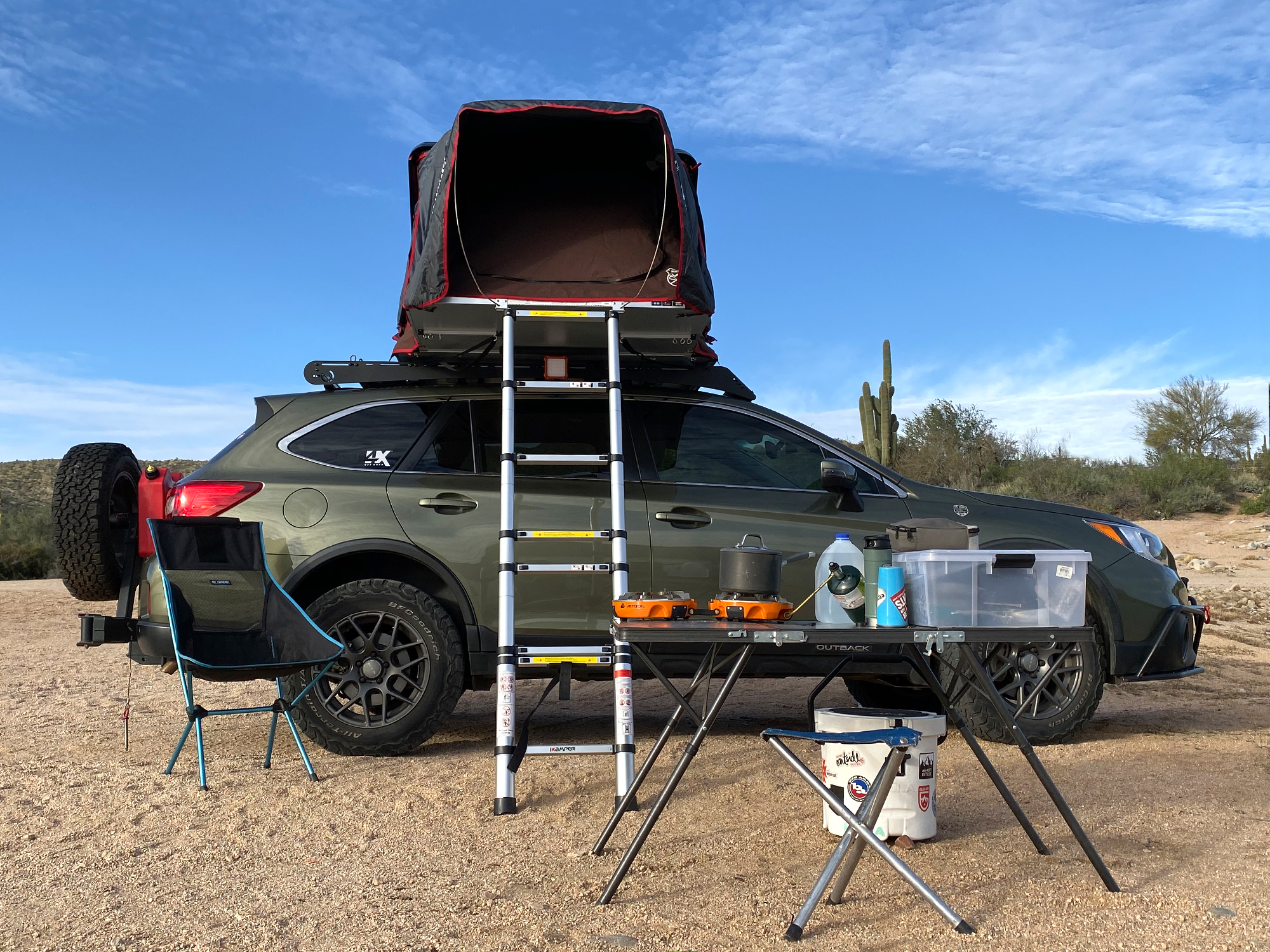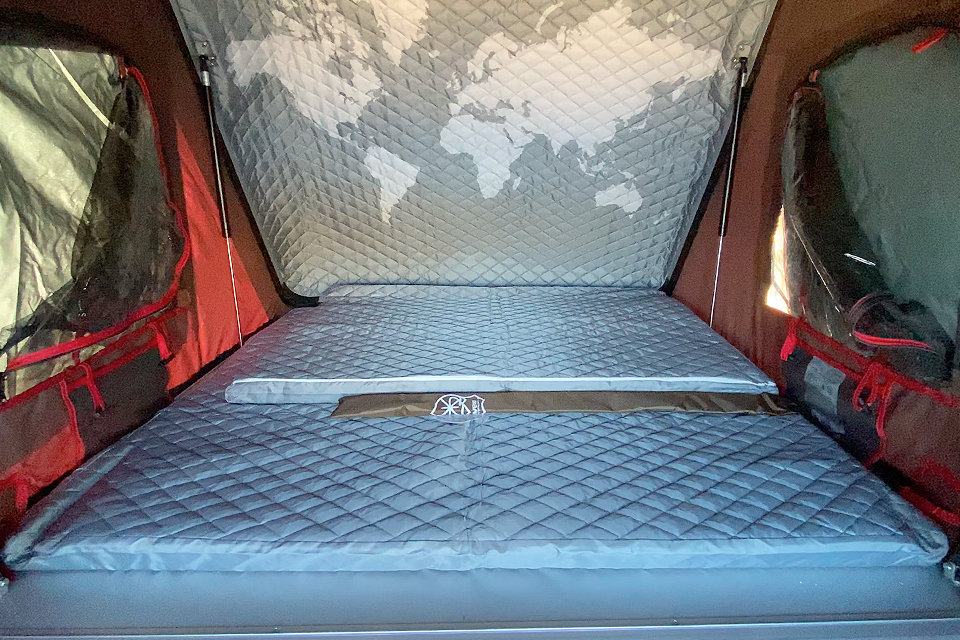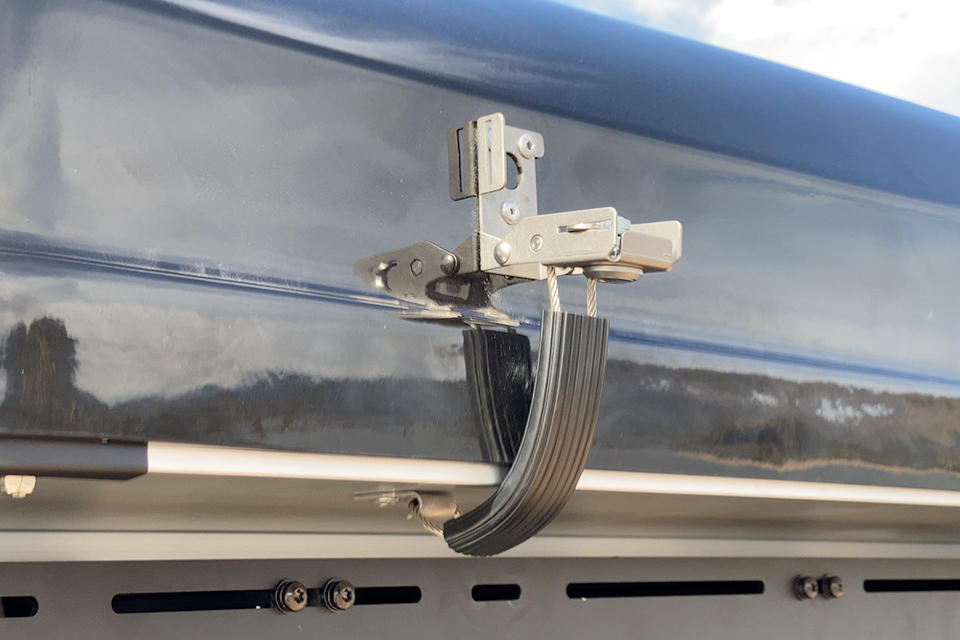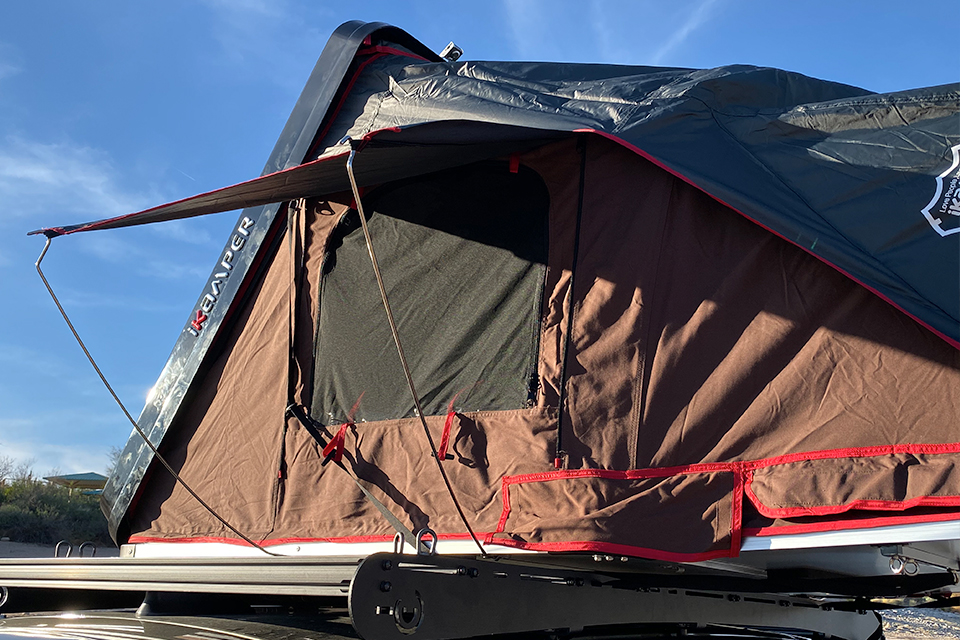 The 4XPEDITION Overland equipment includes both the iKamper Skycamp (4-person) and the iKamper Skycamp Mini (2-person) rooftop tents. These hard top clam-shell rooftop tents offer convenient accessories to make the overnight overland experience optimal. The taut canvas sides are durable in foul weather and the roof offers a zippable skylight for viewing the stars at night.
The telescoping ladder is conveniently stowed inside the tent and attached with hinges. The windows offer awnings for blocking the bright sun to the screened side windows. This tent has been tested in high winds and downpour rain and has held up well.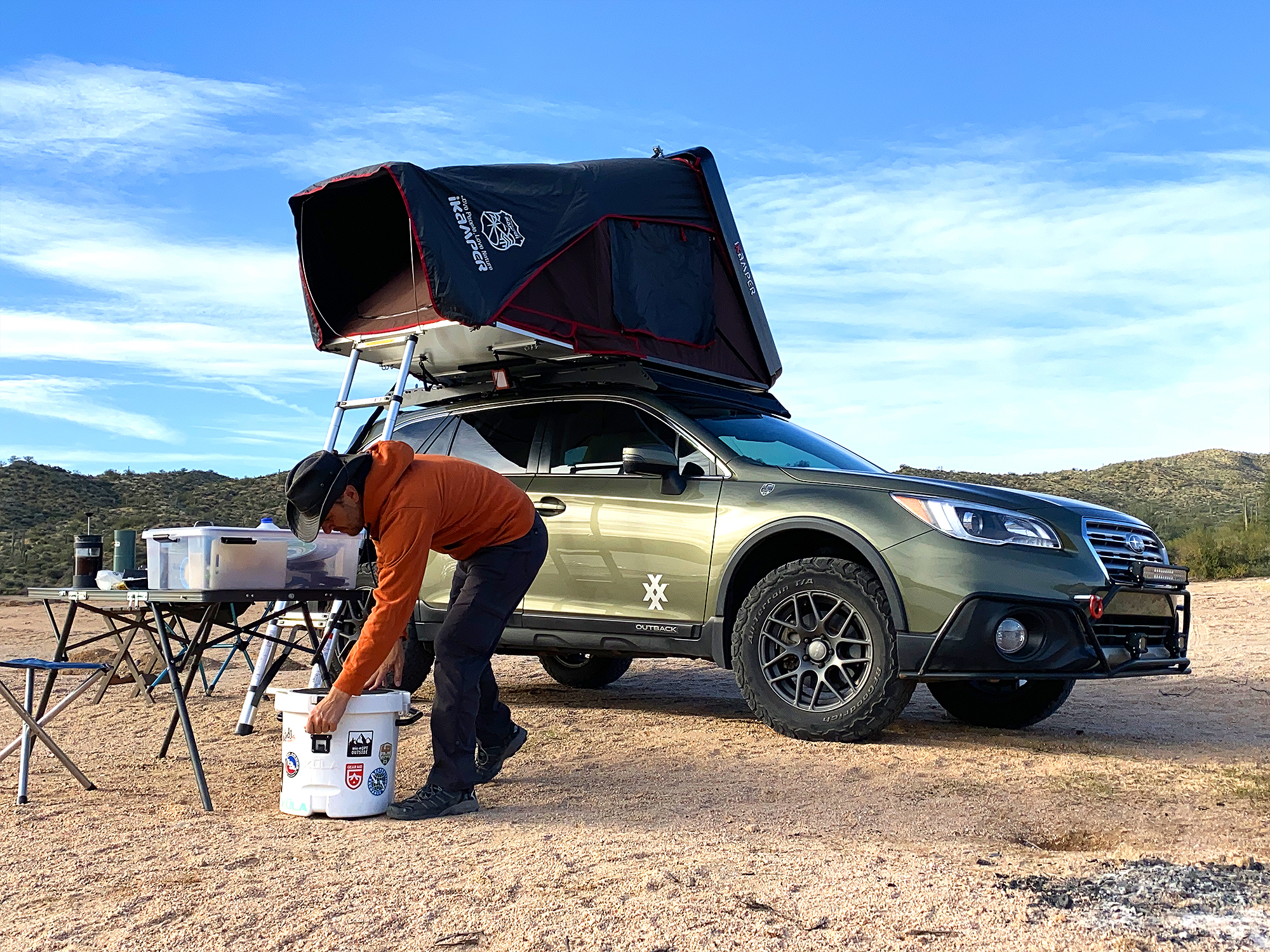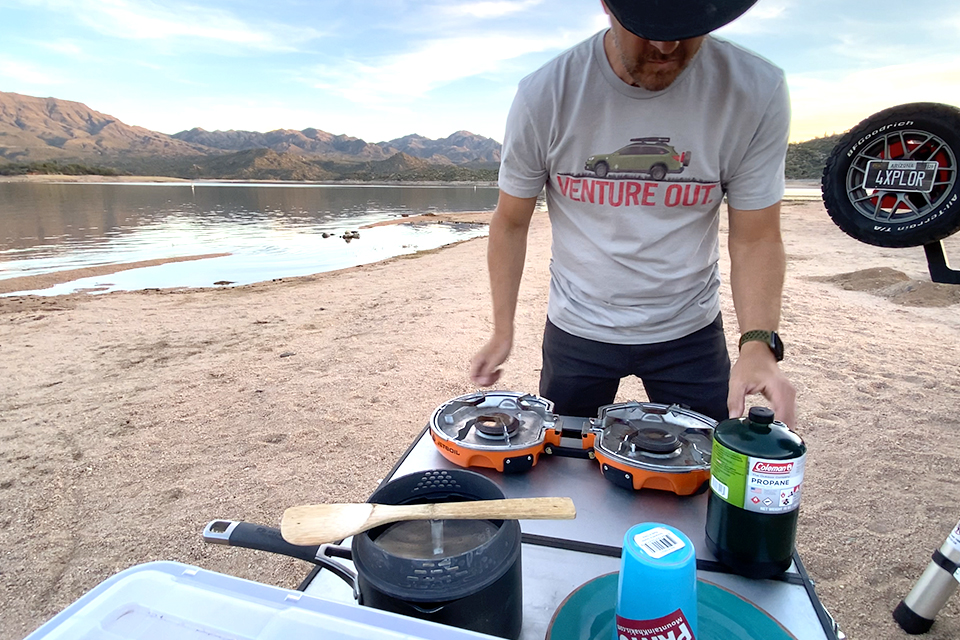 Though our Subaru Overland vehicle is not equipped with a stow-away kitchen, we have established a very quick and convenient kitchen setup that takes no more than about 5 minutes to set up and take down. At the center of the kitchen is the powerful Jet Boil Genesis two-burner propane cooktop which can be daisy-chained together with an additional burner.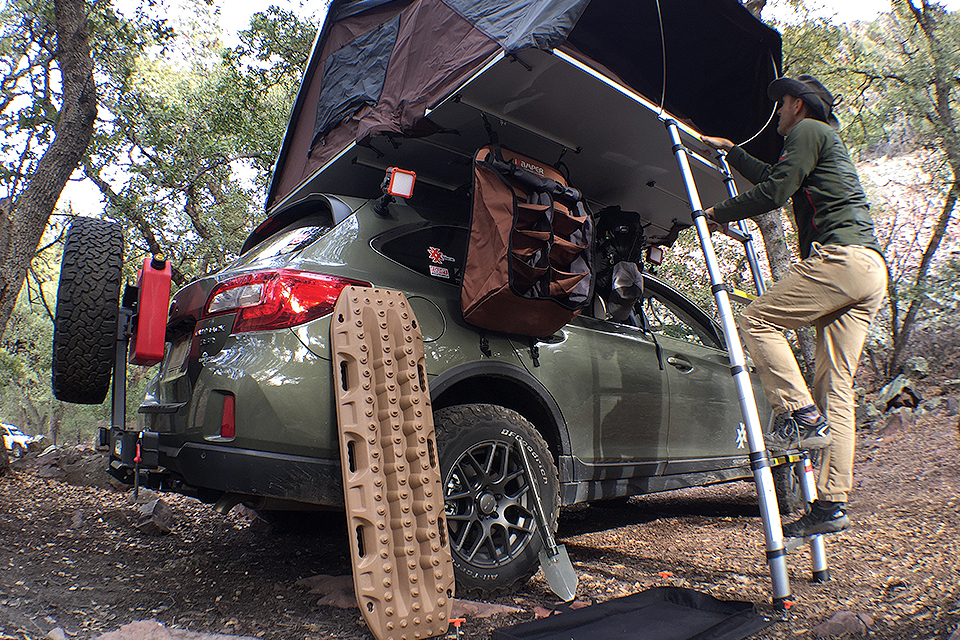 The above image shows the iKamper Skycamp (4-person) rooftop tent along with the shoe tote which conveniently attaches to metal rings attached to slide rails underneath the tent floor. These attachment points allow for hanging a variety of accessories. Note also the GearAid LED lighting and MaxTrax traction boards.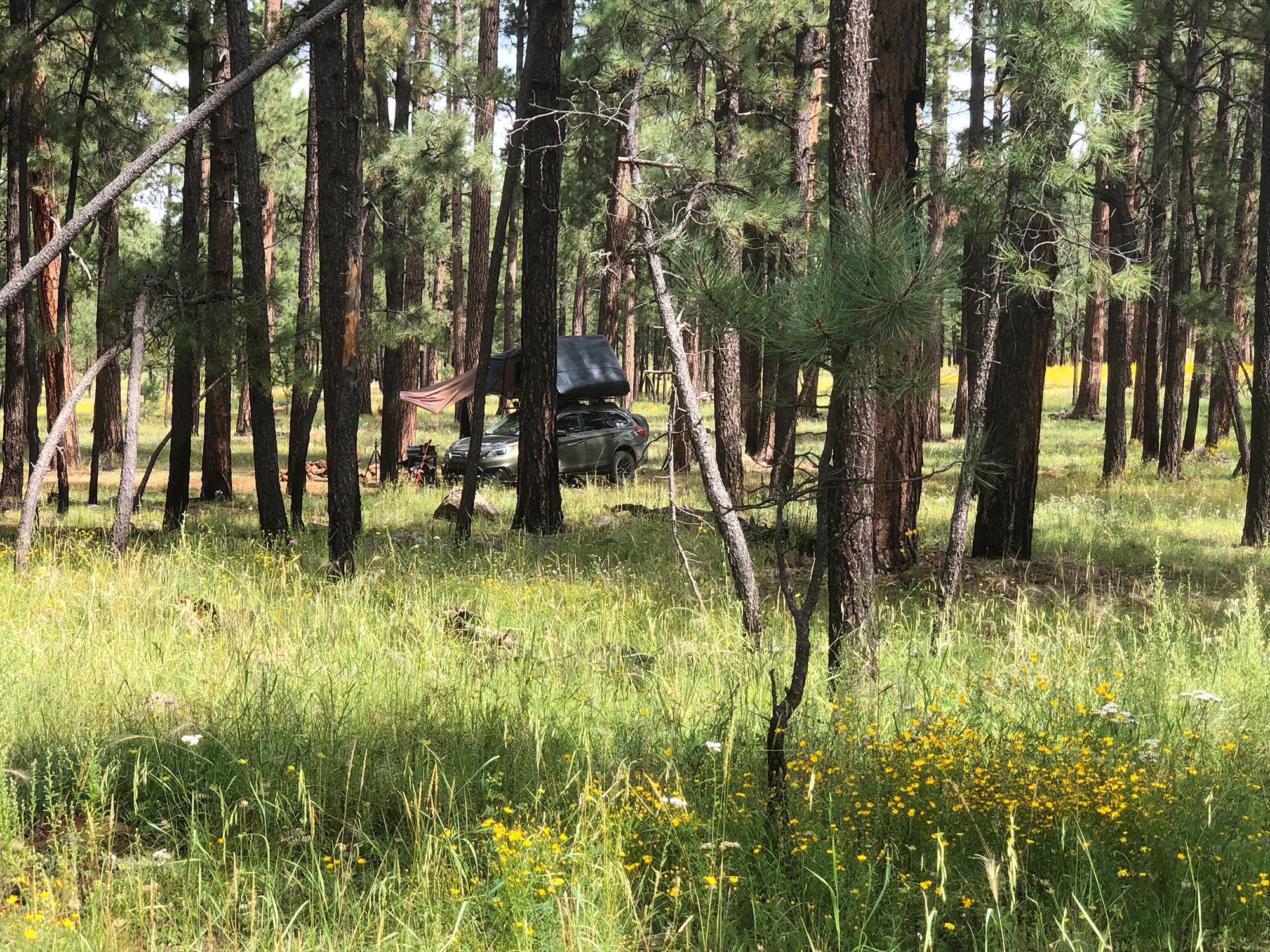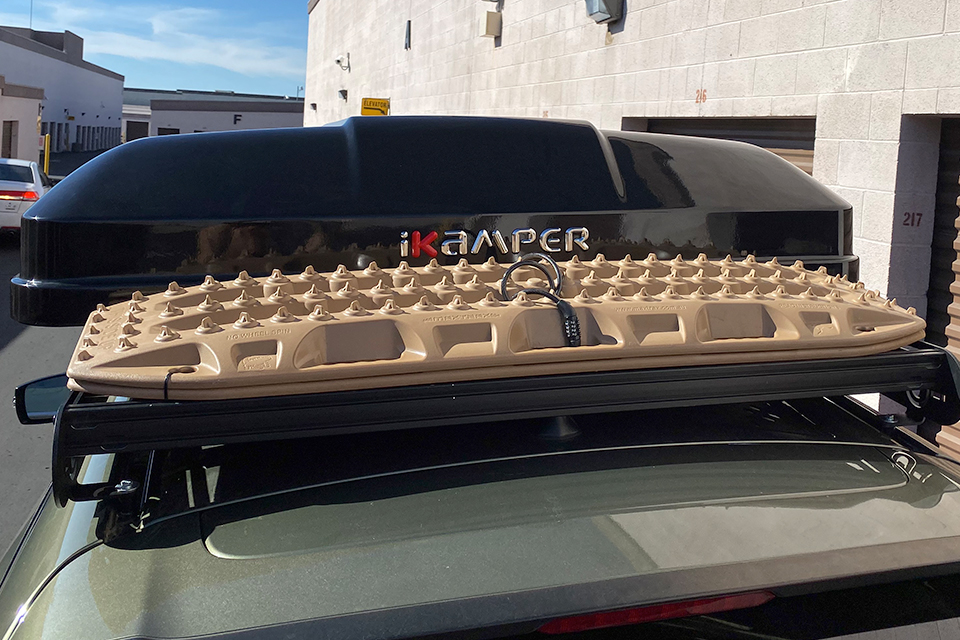 Every recovery kit should include a set of traction boards. We opt for the original, tried and true, Australian made MaxTrax. These boards are ideal for not only recovery in sand and snow but for crossing deep ruts in the road where some vehicles may bottom out. Our boards mount conveniently on the Prinsu Design Studio roof rack keeping all dirt and debris outside the vehicle.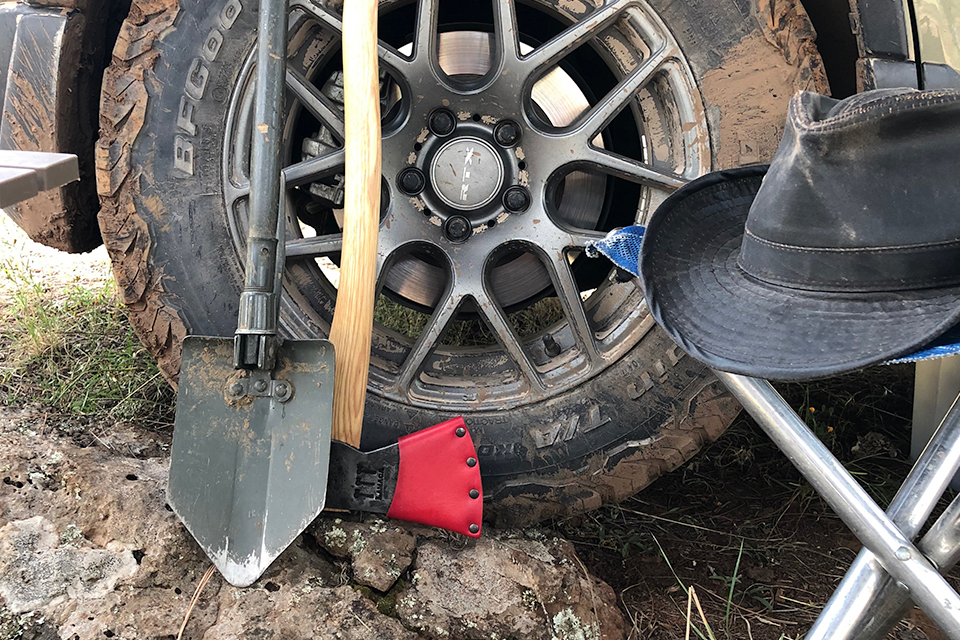 Required tools for backcountry adventure include a trusty shovel for digging out from a stuck position and a quality crafted axe, hatchet, and high-quality sun protection. In fact, any safety kit should include proper first aid, tow straps, a proper lift jack, air down kit, and air compressor jumper cables and more.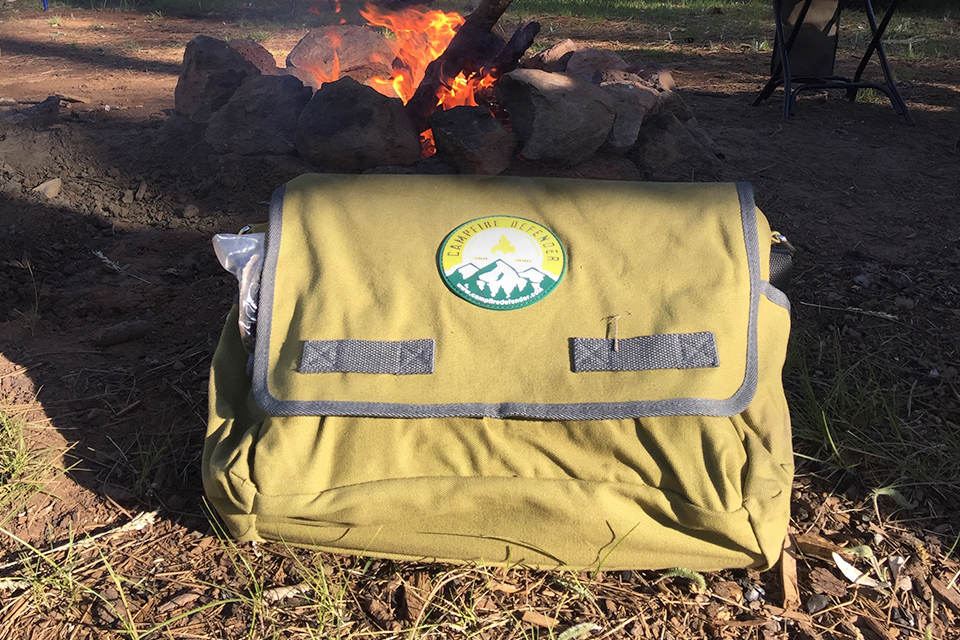 We all know how important it is to prevent forest fires. While you should always drown fires with water prior to departing your camp we have found that an ideal way to protect from wind gusts fanning a smoldering fire while you sleep or take a hike during the day is to cover your fire pit with a Campfire Defender fiberglass fire blanket. Covering your fire pit will give you peace-of-mind that nothing will happen while you sleep and will keep your coals warm for the morning.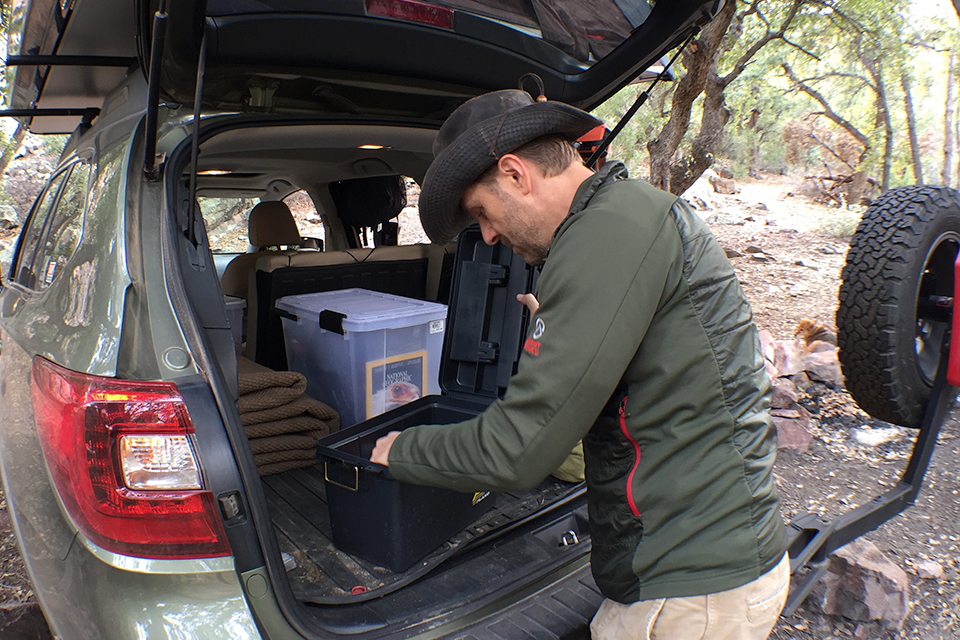 Every prepared adventurer keeps proper tools in the vehicle at all times. You never know when something could break leaving you possibly stranded or unable to prepare food or what have you. Get yourself a Plano case and put a dedicated set of tools into your vehicle. With our spare tire on the rear, we are able to stow tools and straps in the spare tire hold inside the cargo area.