Self-propelled watercraft have been used for centuries to move efficiently across regions via waterways.
It is widely known that canoeing has been a mode of choice with a long legacy throughout history. What is less known is the documented reports of SUP dating back more than 1,000 years.
Modern-day standup paddleboarding, also known simply as SUP, is a sport that found its origins in surfing on the sun-kissed shores of the Hawaiian Islands.
The act of propelling oneself on a floating platform with the help of a paddle or pole traces back to thousands of years and across many continents. In fact, the earliest documented record of standup paddleboarding was some 3,000 years ago. It is believed that SUP originated in Africa where hunters and warriors stood on their canoes and paddled forward in an attempt to initiate stealth attacks.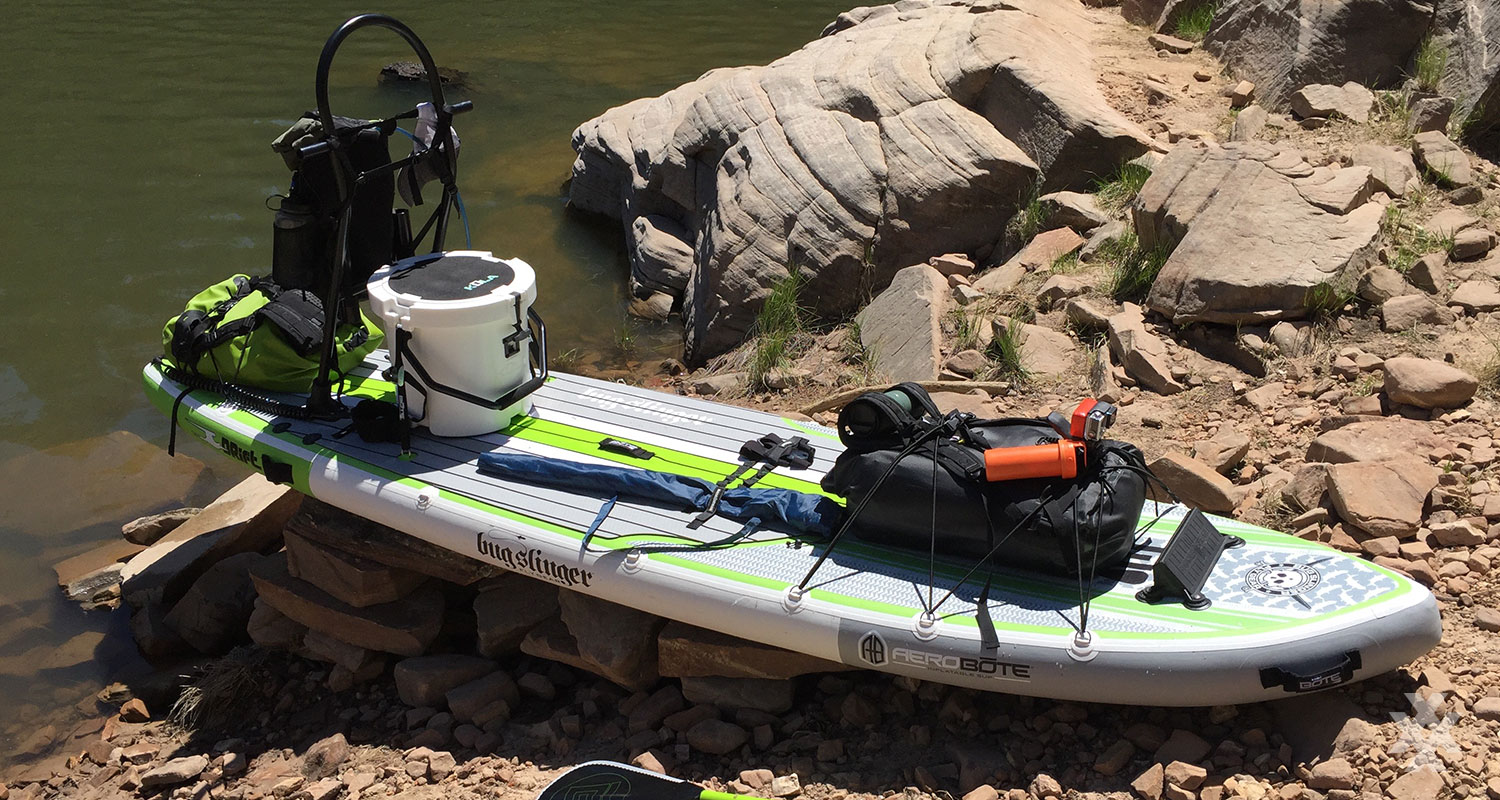 The 4XPEDITION Bote Aerobote Drift Bugslinger edition inflatable expedition SUP.
The current form and popularity, however, emerged in the early 1900s. The sport emerged from activities by a few Hawaiians such as surfing legends Duke Kahanamoku and Dave Kalama. In the 1990s SUP was taught at Hawaiian surf schools as an alternative way to surf. This practice became increasingly popular and SUP races became commonplace. The first magazine devoted to the sport, Standup Journal, was founded in June 2007.

One of the many benefits of SUP is the balance and core strength necessary to paddle forward. There is a proper stance when paddleboarding that requires most of your power to come from your gut, not your back and shoulders.
Eventually, flat-water paddleboarding started to take shape and with this surge in popularity, in 2008 the first touring boards hit the market. These new boards differed from the traditional SUP because they featured a displacement hull that allows the board to glide much like a kayak or canoe. As the touring paddleboard evolved, deck rigging became increasingly popular. With points added for securing gear, the concept for multi-day excursions emerged.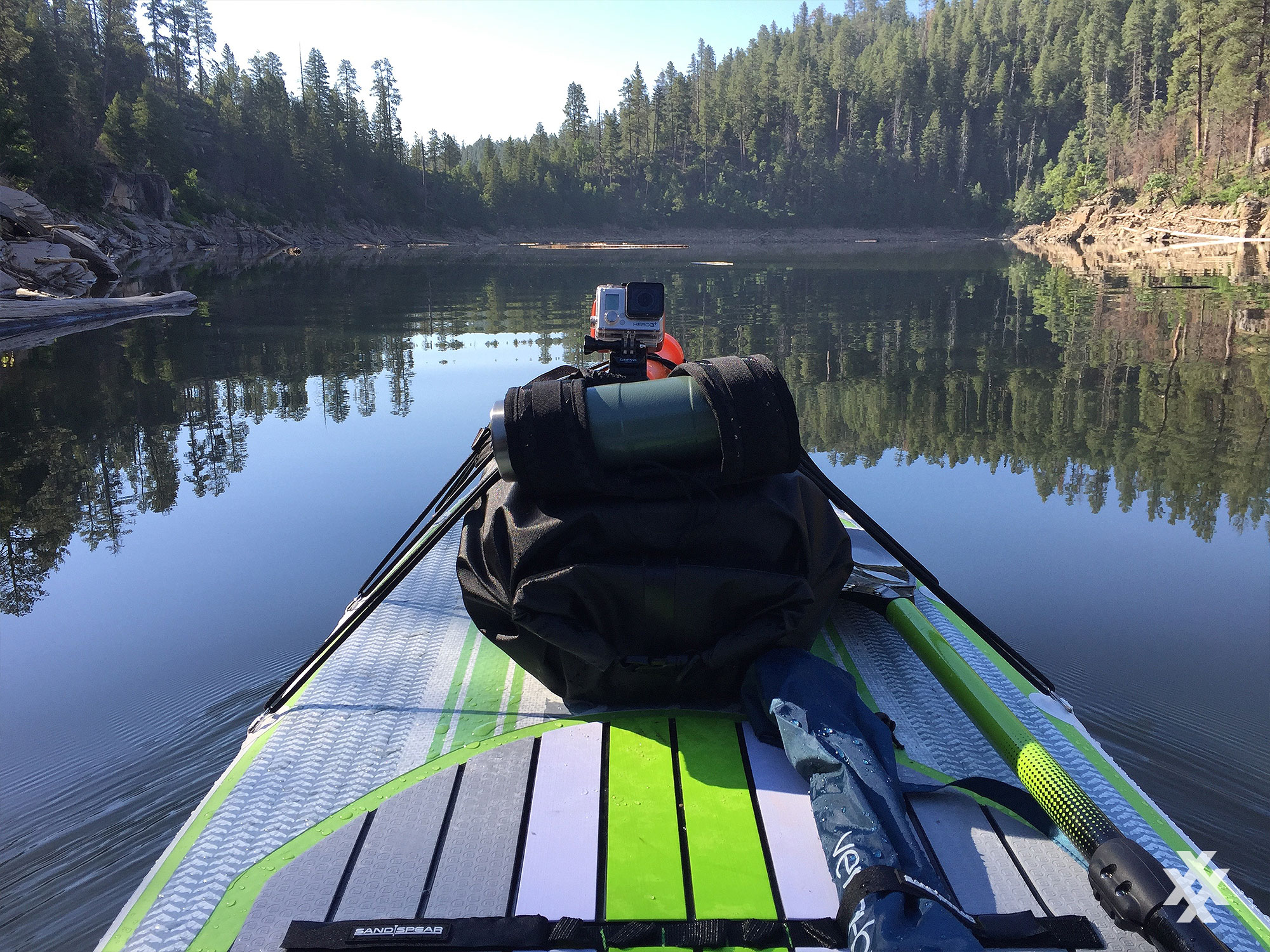 Paddling Blue Ridge Reservoir on the Mogollon Rim of northern Arizona.
Tour SUP became an exciting new way for adventure seekers to explore the wild places that may otherwise be difficult to access on foot or even in a canoe or kayak.
According to a 2015 special report by Outdoor Foundation, some 2.8 million Americans tried SUP the year before with the highest age group participation being ages 14-17.
Our Watercraft of Choice
At 4XPEDITION, our watercraft of choice is an inflatable expedition standup paddleboard by Bote. Inflatable paddleboards are made of PVC layers joined together by thousands of polyester threads, which give the board its shape and stiffness. This material is called dropstitch. (Wikipedia)
Inflatable boards are generally filled to a maximum of 15 psi and include a high efficiency air pump. Also included is a watertight container holding a patch kit. These items should always be brought along on your excursions to ensure you are able to contain and repair a puncture should one occur.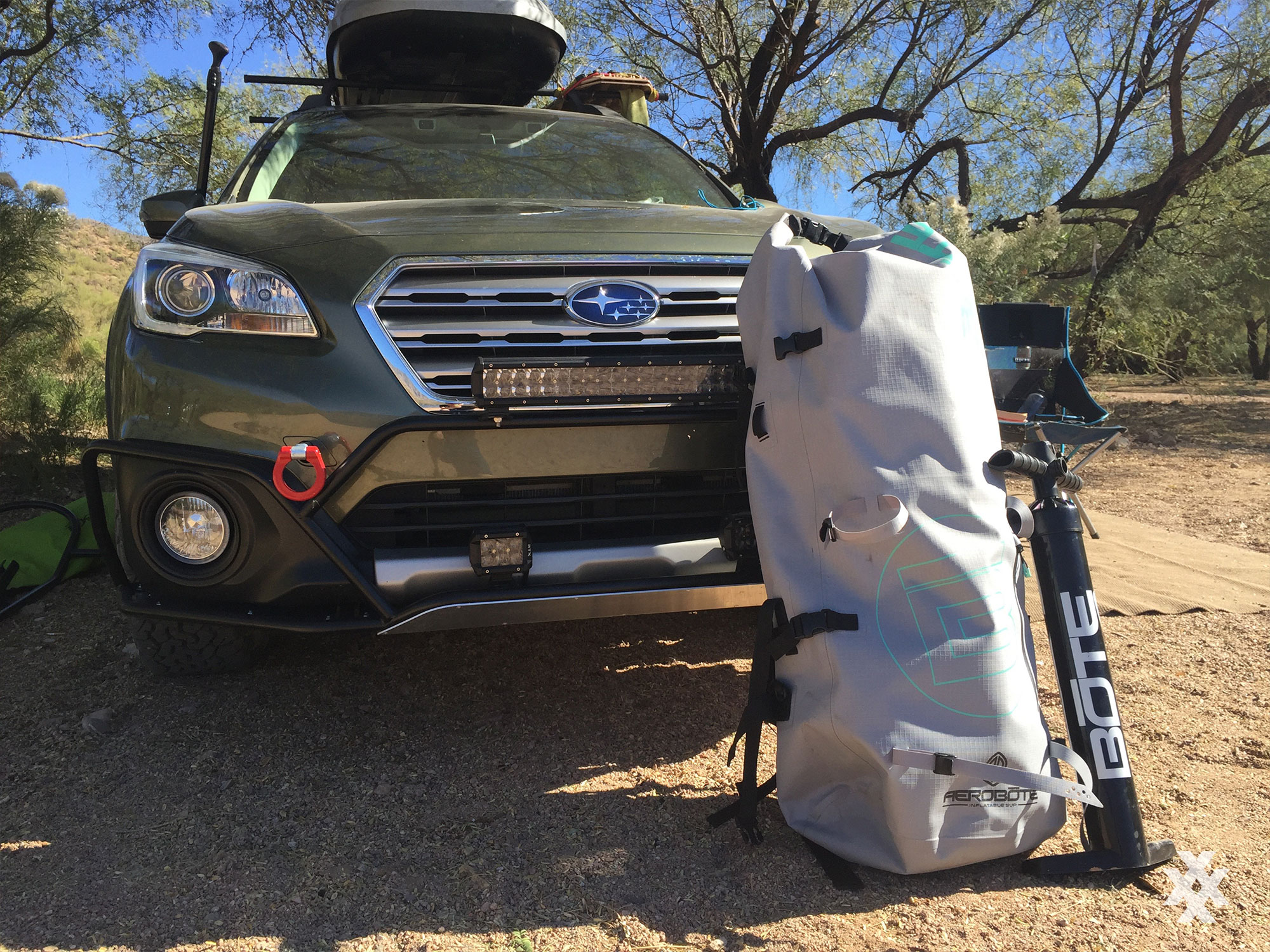 The Bote inflatable SUP comes with a convenient waterproof backpack and pump.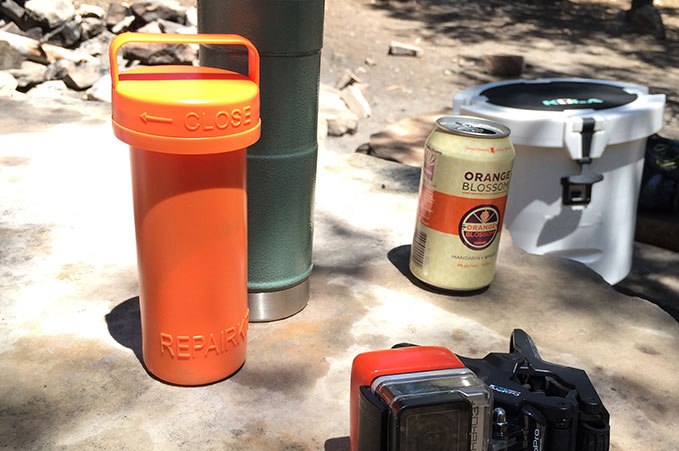 The included Bote patch kit.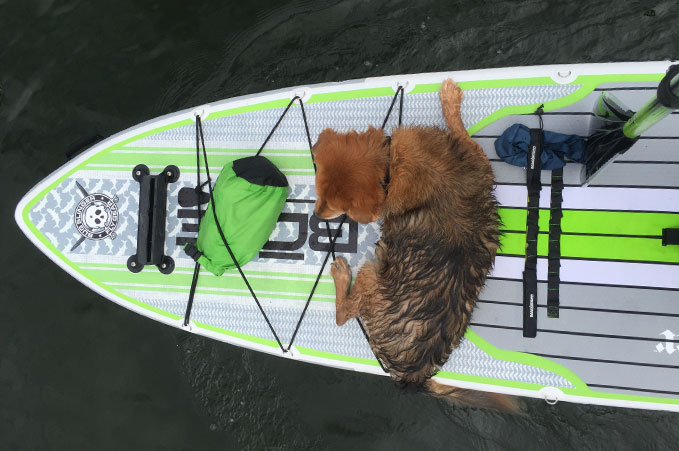 SUP with your pup. There's plenty of room.

In many areas of the United States, SUP surfing is considered to be similar to boogie boarding or body surfing. According to the U.S. Coast Guard, SUPs are classified as vessels similar to kayaks and canoes. Because so, SUP riders are required to wear a PFD when paddling in certain areas.
One of the many benefits of SUP is the balance and core strength necessary to paddle forward. There is a proper stance when paddleboarding that requires most of your power to come from your gut, not your back and shoulders. This makes for great exercise while also propelling oneself forward on an excursion to a destination.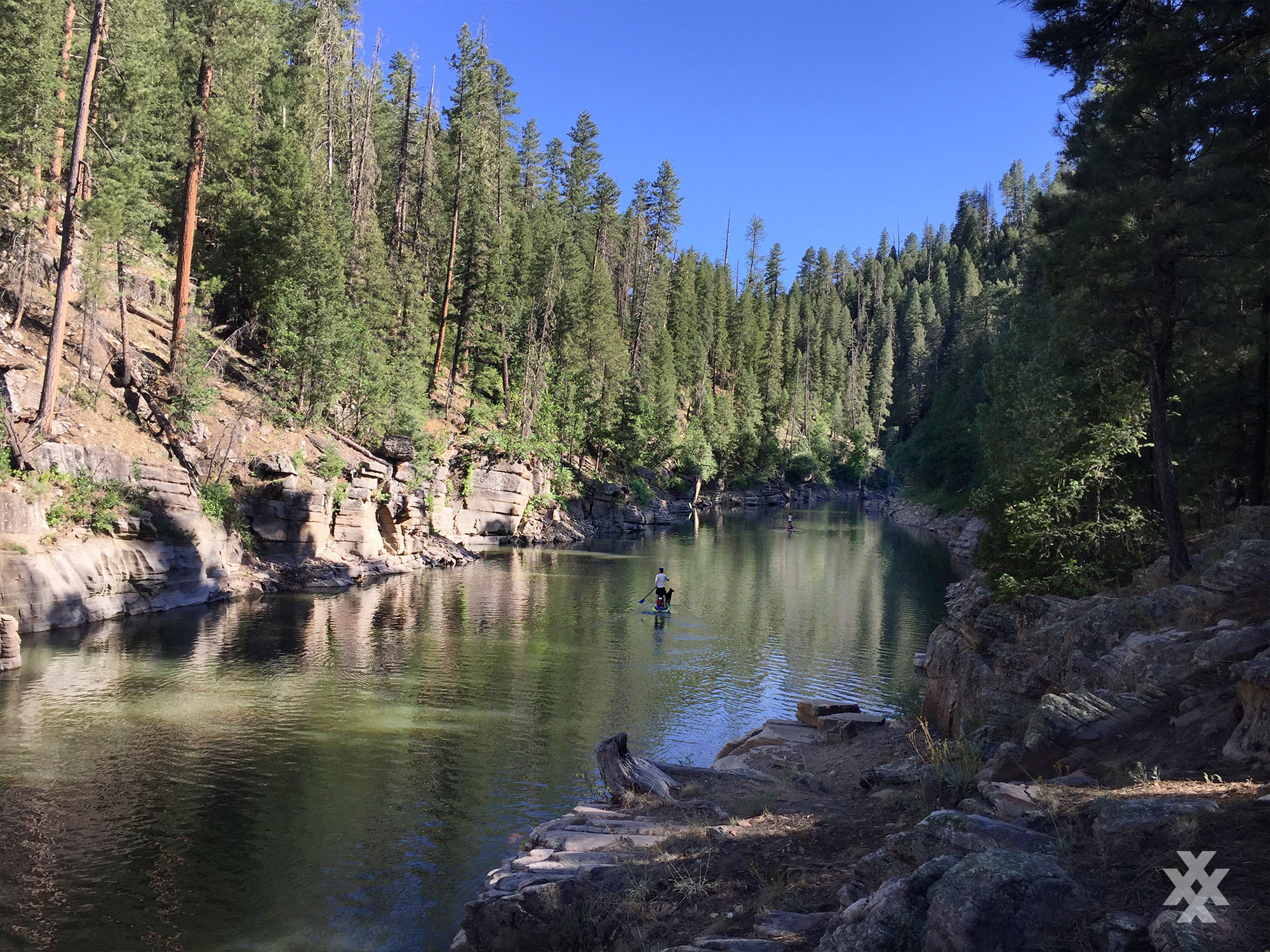 Headed toward camp on Blue Ridge Reservoir above the Mogollon Rim of Arizona.

Sup with Your Pup
Another great benefit to multi-day standup paddleboarding is the large surface area of the board, which can allow you to bring your favorite four-legged furry friend along. This can make for a great escape for you and your pet. And, as most dogs enjoy swimming in the water, it is a great platform for leaping from. If you would like to read more about SUP with your Pup, we have a great article written in the 4X Journal. Read it here >
Join the Fun
If you are interested in participating on a standup paddleboard multi-day excursion, from time to time we schedule trips and allow a small group of participants to join in. If you do not have your own gear, we can assist you with rentals in the local area where we embark. If you have a pet and would like to bring them, we require that your dog remain leashed at camp, has all of their vaccinations, and plays well with people and other dogs.
To find out more about our upcoming excursions click below.