There is no question that standup paddleboarding has taken off as it is a great and affordable way to get out on the water. There is SUP. Then there are SUP expeditions. The best, however, are SUP expeditions with your pup.
As a long-time water sports enthusiast and a history of working on the water, and joy for paddling and backpacking alike, it just made sense that I would take to standup paddleboarding [also known as SUP].
I grew up on the water. In my late teens and early twenties, I worked as a sailing and windsurfing trainer on Wisconsin's Door Penninsula which juts deep into the western shore of Lake Michigan. There I trained in rescue and manned a Boston Whaler — often solo. I also rented and rigged 16-foot centerboard sailboats,  rented canoes, and taught windsurfing. It was about as ideal of a summer job that anyone that age could ask for. On several occasions, I found myself working off the coast on Little Strawberry Island as the owner of the company I worked for also owned that island.
It wasn't until my mid-30s though, that I discovered SUP. I had been visiting my brother in Huntington Beach and, at the time, he was a big fan of paddling boarding.  I partook with him on a paddling excursion of the canals in the area lined with multi-million dollar homes. It was a great day on a SUP.
It wasn't for a few years later that I started to research watercraft for a multi-day expedition. I was looking for something compact that would fit inside of a camper van and had been considering an Oru Kayak since they are able to be folded up into a smaller case. Then, a friend suggested I consider a standup paddleboard. I had never considered a SUP for expeditions nor did I even know that you could get an inflatable SUP. My research turned up several options for inflatable expedition capable boards. I opted for the BOTE Aerobote Drift Bugslinger edition. This SUP was very durable yet deflated into a backpack weighing less than 40 pounds.

"Shay", as I call her, climbed right aboard and layed right down as if she had been on a board many times.
As it turns out I fell in love with SUP Expeditions. I have spent a great deal of time traversing the many lakes and rivers of Arizona and have rigged my watercraft with all the gear necessary for several days of camping.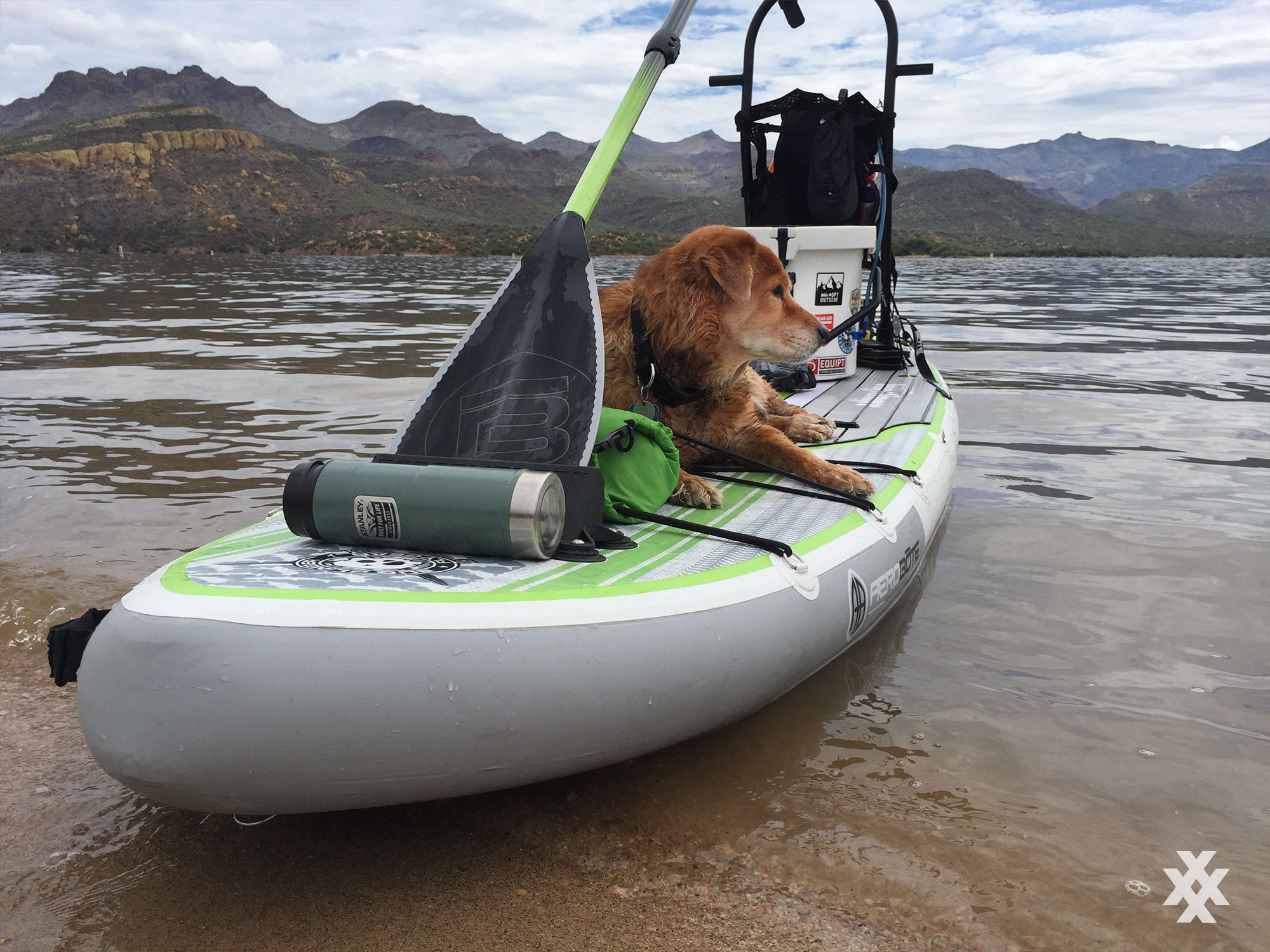 SUP With Your Pup
One of the first things I did when I received my standup paddleboard at my front door was to venture out to Bartlett Lake. The lake is located in the northeast corner of metropolitan Phoenix just outside of Scottsdale in the Tonto National Forest. That day I brought with me my sweet puppers, Xela [pronounced Shayla – which is the Mayan nickname for the city of Quetzaltenango which is a city in Guatemala's western highlands].
"Shay", as I call her, climbed right aboard and laid right down as if she had been on a board many times. It turned out that her laying position contributed very little to stability concerns while on the open water.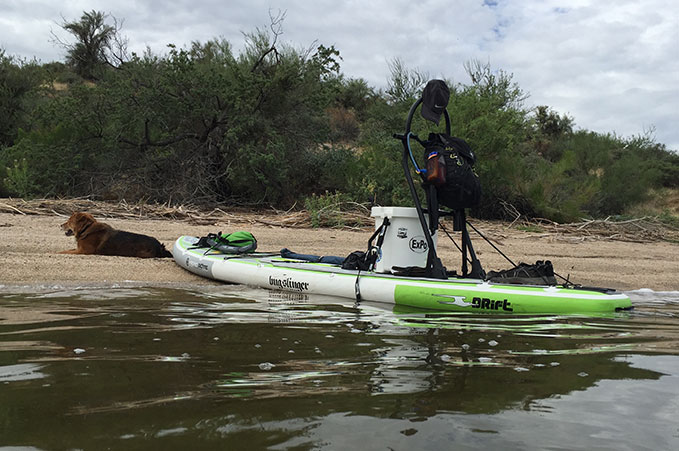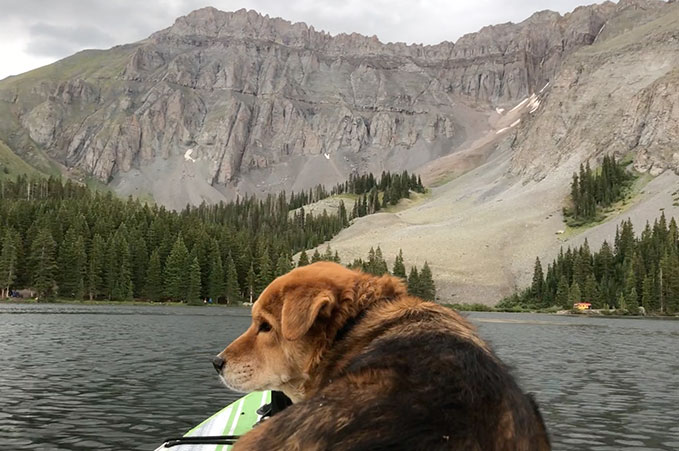 Over the next few weeks, I ordered the proper dry bags and accessories to make a multi-day expedition achievable. Shay and I headed out and the trip was just spectacular.
As Shay got older, I discovered that she just wasn't able to backpack with me anymore. Her stamina had depleted and she could only hike about a mile with me before she got too tired to continue. And, being a 40-pound dog, I couldn't risk having to carry her back to the car. But what I also discovered was that she could very easily climb aboard a SUP and still engage with me on adventures. This was such a great discovery.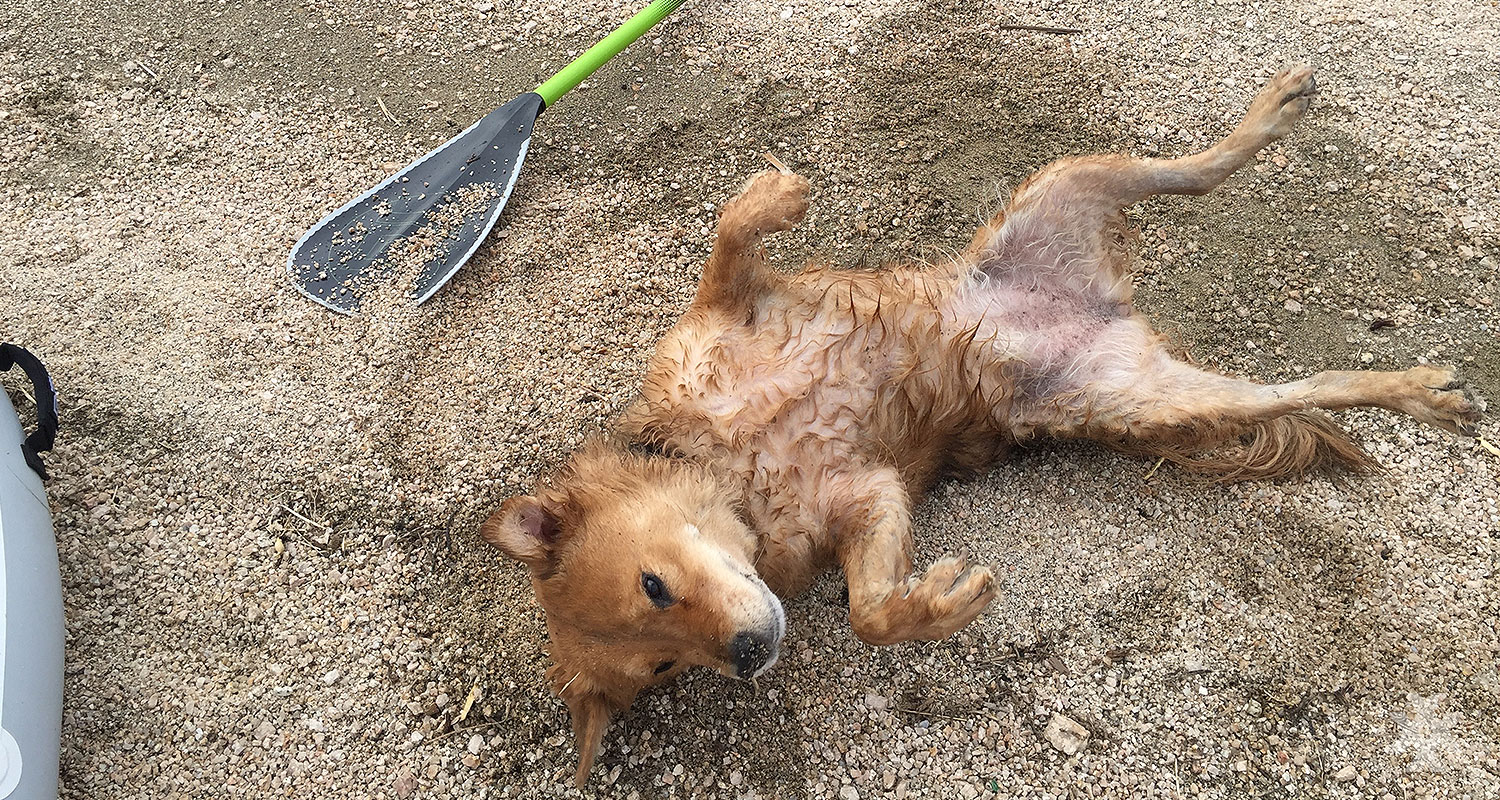 Many standup paddlers bring their furry four-legged friends along on their day trips. I know of only a few that take their pets with them on multi-day excursions. Most recently I was paddling a canoe in Black Canyon below Hoover Dam on the Colorado River and I came across a gent on a SUP. He had two large dogs and all of his gear on his SUP. I applaud people who make it all work and give their pets the rich experience of adventure.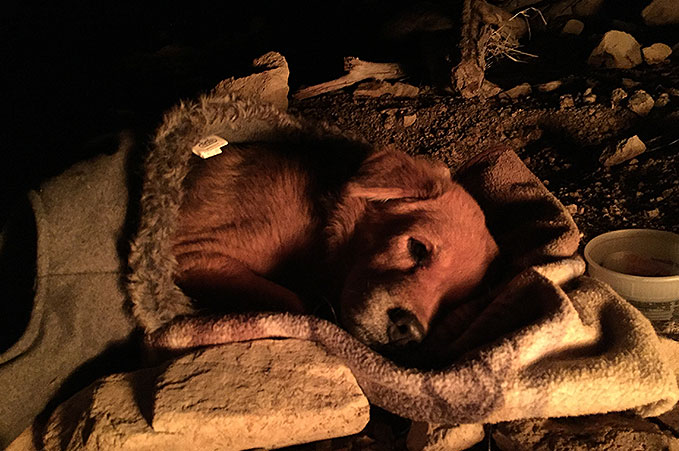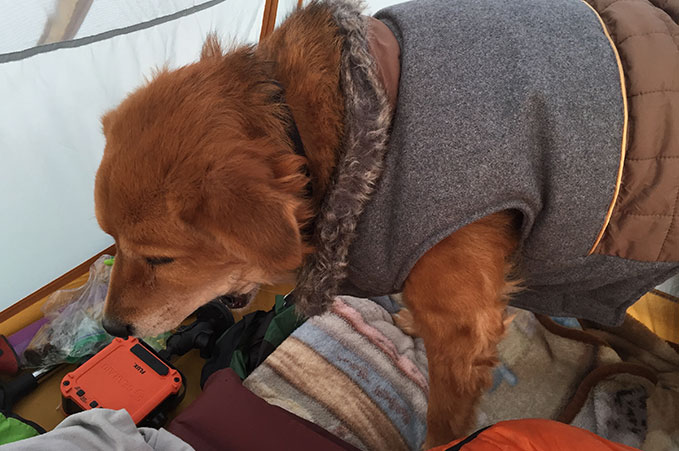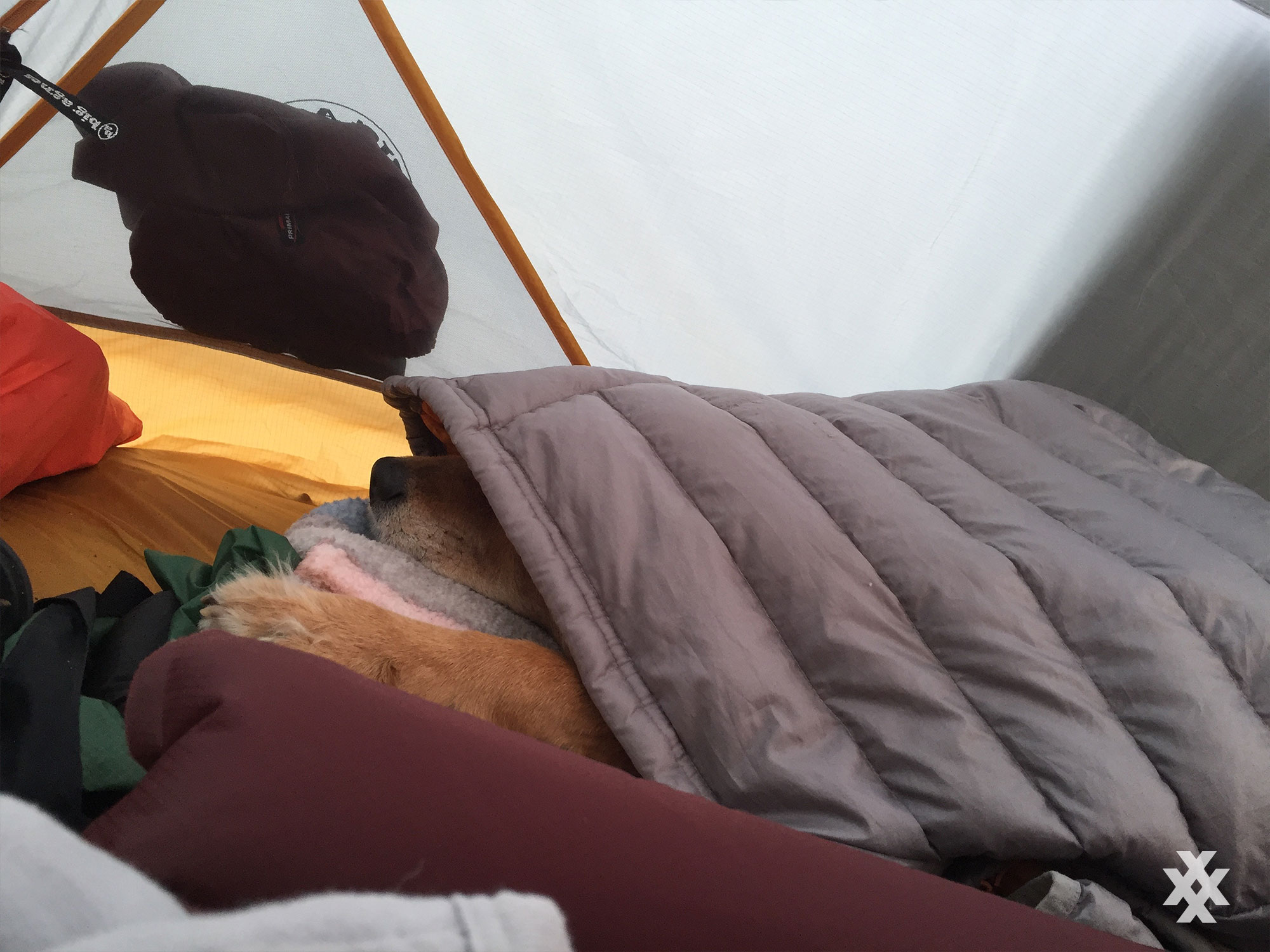 If you are looking for an activity that can work your core muscles, allow you to explore new places that you can often not get to even on foot and have the added benefit of being able to bring along your pup, then consider an overnight SUP adventure with your pet. It will be an experience you will never forget.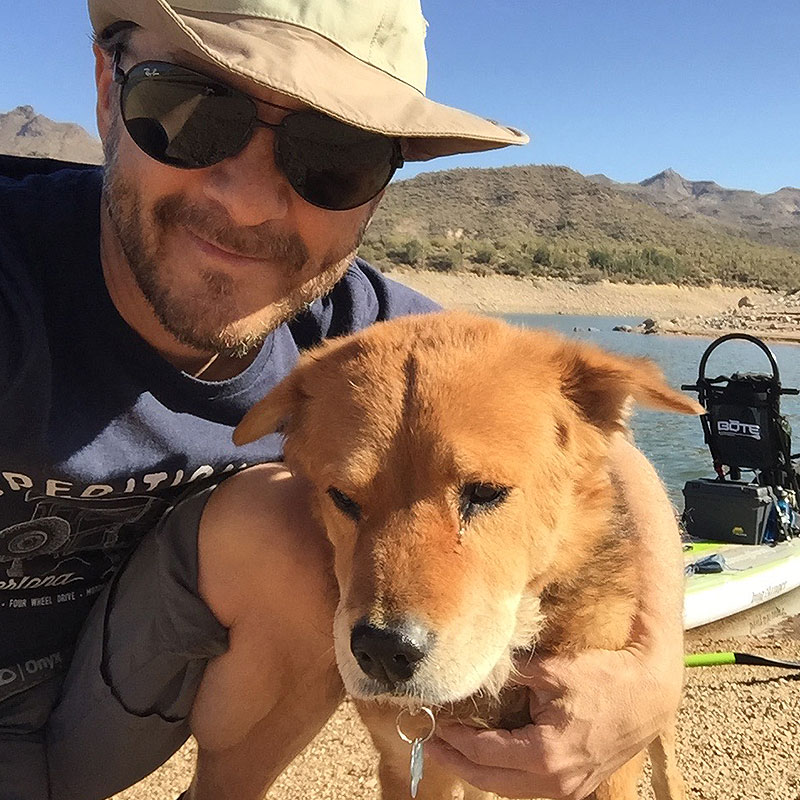 If you would like to learn more about multi-day standup paddleboard equipment, be sure to check out our page under the equipment section on this website that outlines a complete list of gear requirements for taking your first adventure.
To learn more about excursions on water we offer a great description of what we find so appealing about particularly standup paddleboard expeditions. To learn more click here.
If you are interested in participating on a standup paddleboard multi-day excursion, from time to time we schedule trips and allow a small group of participants to join in. If you do not have your own gear, we can assist you with rentals in the local area where we embark. If you have a pet and would like to bring them, we require that your dog remain leashed at camp, has all of their vaccinations, and plays well with people and other dogs. To find out more about our upcoming excursions, click here.