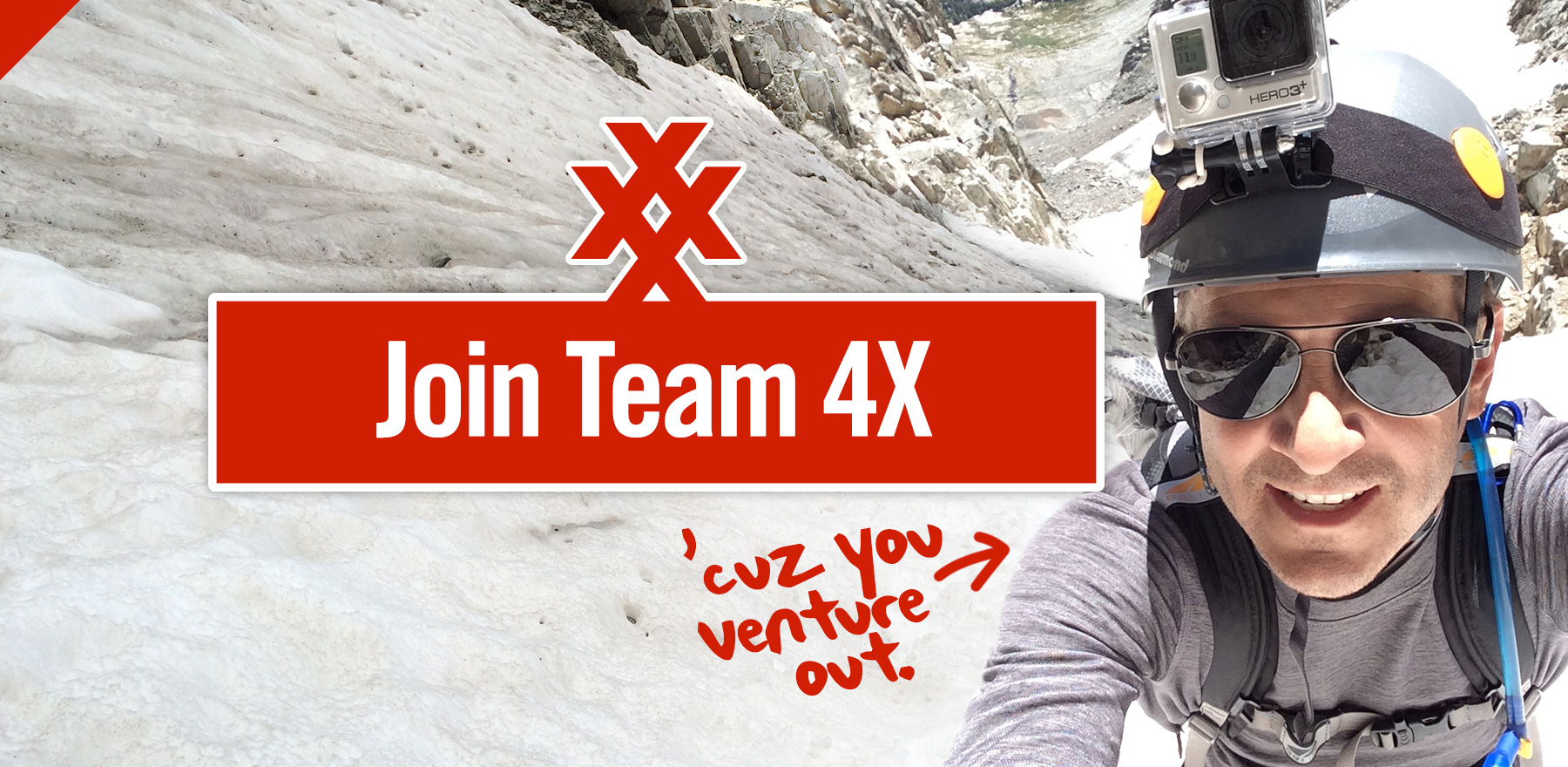 Become an official 4XPEDITION Adventurer and get way more than you bargain for.
Join TEAM 4X and be a part of our community of outdoor adventurers and get a ton of benefits! Below are some of the many benefits we are considering for the Membership Portal. Many will be available at launch. Others will be added as we get things built.
Scroll down to view TEAM 4X Member Portal Screenshots!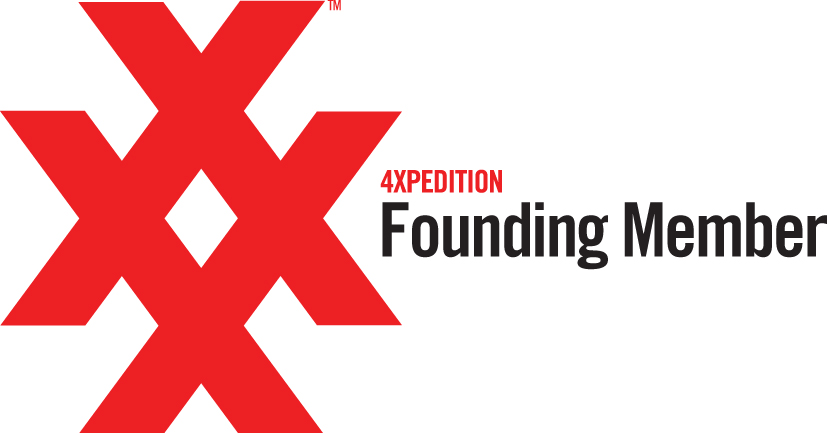 Special Offer!
Sign-up to be notified when the membership portal is launched. 10 people who request to be notified will be selected for the first year membership FREE! This includes custom limited edition merch, exclusive content, and all benefits!
The first 100 people who sign-up when the portal is launched will be designated Founding Members with special benefits. And, even more, the first 25 people who sign up will receive a big discount on membership. The next 250 members will be named Premier Members with special benefits. Standard membership which is chock full of features after that.

List of proposed member benefits:
Exclusive vehicle badging (Official 4XPEDITION vehicle)
Free member-only t-shirt, sticker, and patch design (annually)
Discounts on gear and services from 4XPEDITION partners
Monthly field-tested gear giveaways
Exclusive partner promotions and giveaways
Free downloadables such as:

Trip Itineraries
GPS locations of places I discover
Worksheets

Stop-ins to visit you if I am in your area
Member rig walk-arounds – channel videos
Group Live Chats
Local Contacts in places I visit to help you with your stay
Special Travel pricing (deals I put together for members)
One-on-one chats with me

Business and brand consults
Life direction consults
Rig build consults

Discounts on my courses
Opportunities to join me on adventures
Wrencher Network (in case of breakdowns)
Commercial free channel videos
Exclusive content (videos, articles, and Podcasts)
Member knowledge base
Discounts on 4X merch and services
Discounts on 4X meetup events
Team 4X event participation (adventures etc)
Content suggestion for YouTube content
Partnership Collaboration with your brand (if applicable)
Other to be determined…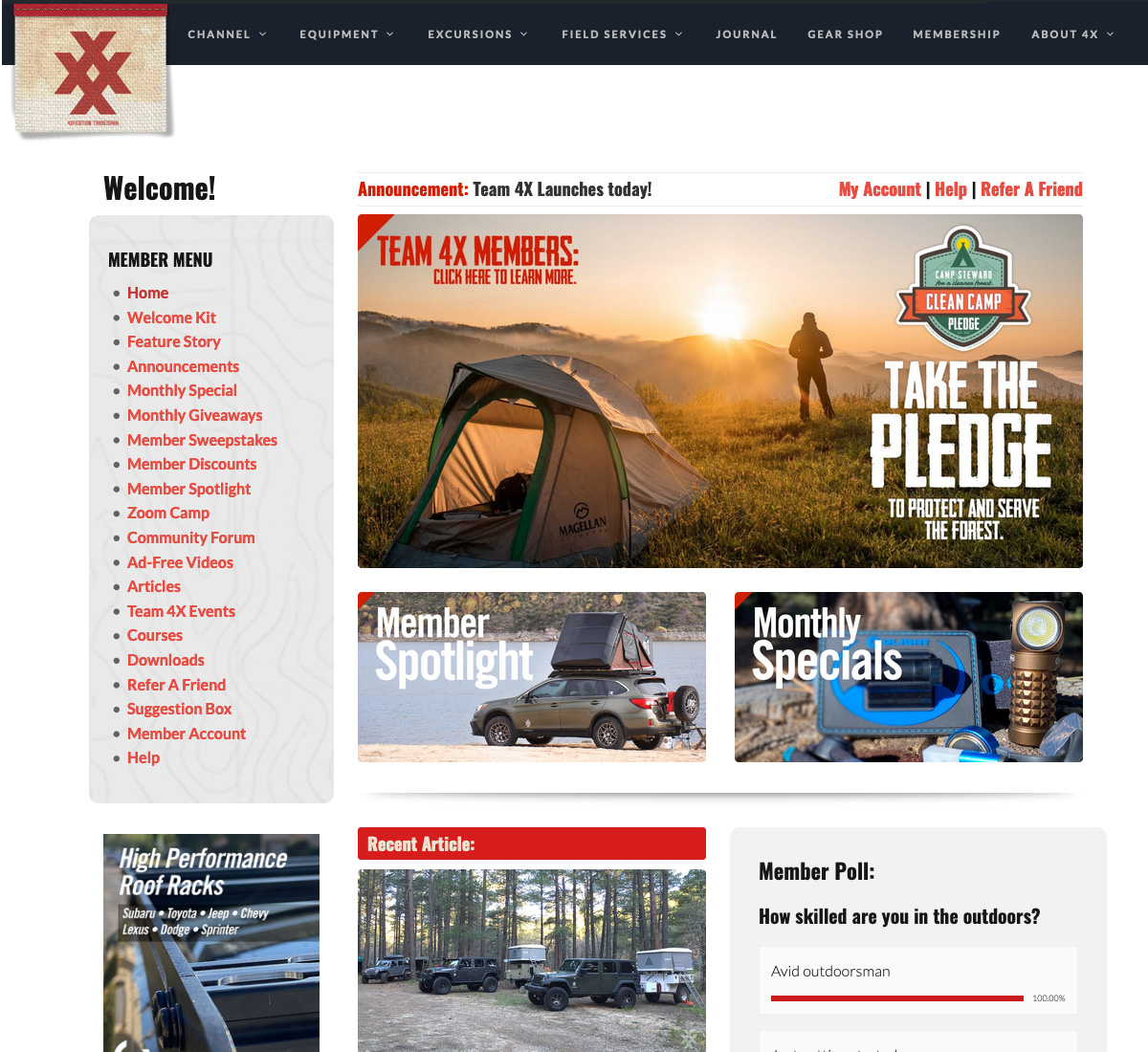 Welcome Page
Get an idea of the overall look, user experience, and initial features that will be available in the new TEAM 4X Membership Portal. This is just the beginning! More features will be added as time goes on.
We are hard at work building the new Member Portal for future TEAM 4X members to give you a unique community of like-minded outdoor adventurers who share a passion for the great outdoors. The system will be launched in January 2021. In the meantime, you have an opportunity to be entered into a drawing for a free one-year membership including all member gear and benefits.
Welcome Kit
Each new member receives a TEAM 4X official welcome kit in the mail valued at over $150.00. The kit includes two brushed nickel numbered vehicle badges with your member number engraved on them, a matching certificate of authenticity signed by Scott, a 4X icon velcro-backed tire patch, an exclusive stamped leather 4X icon two-toned trucker cap, official expedition vehicle stickers, die-cut TEAM 4X stickers, a TEAM 4X T-shirt and more!
EVERYTHING we do is with a detailed focus on quality.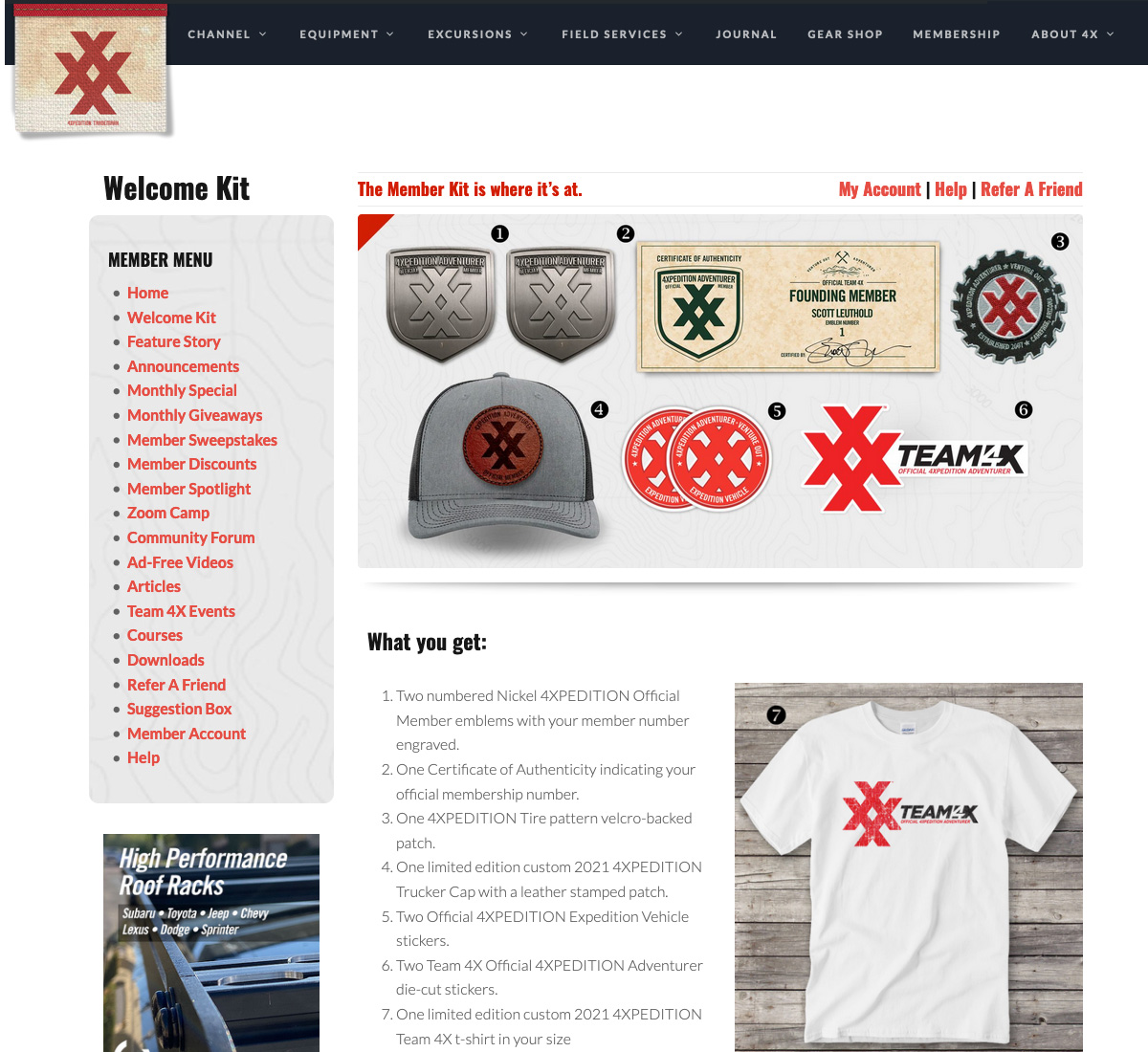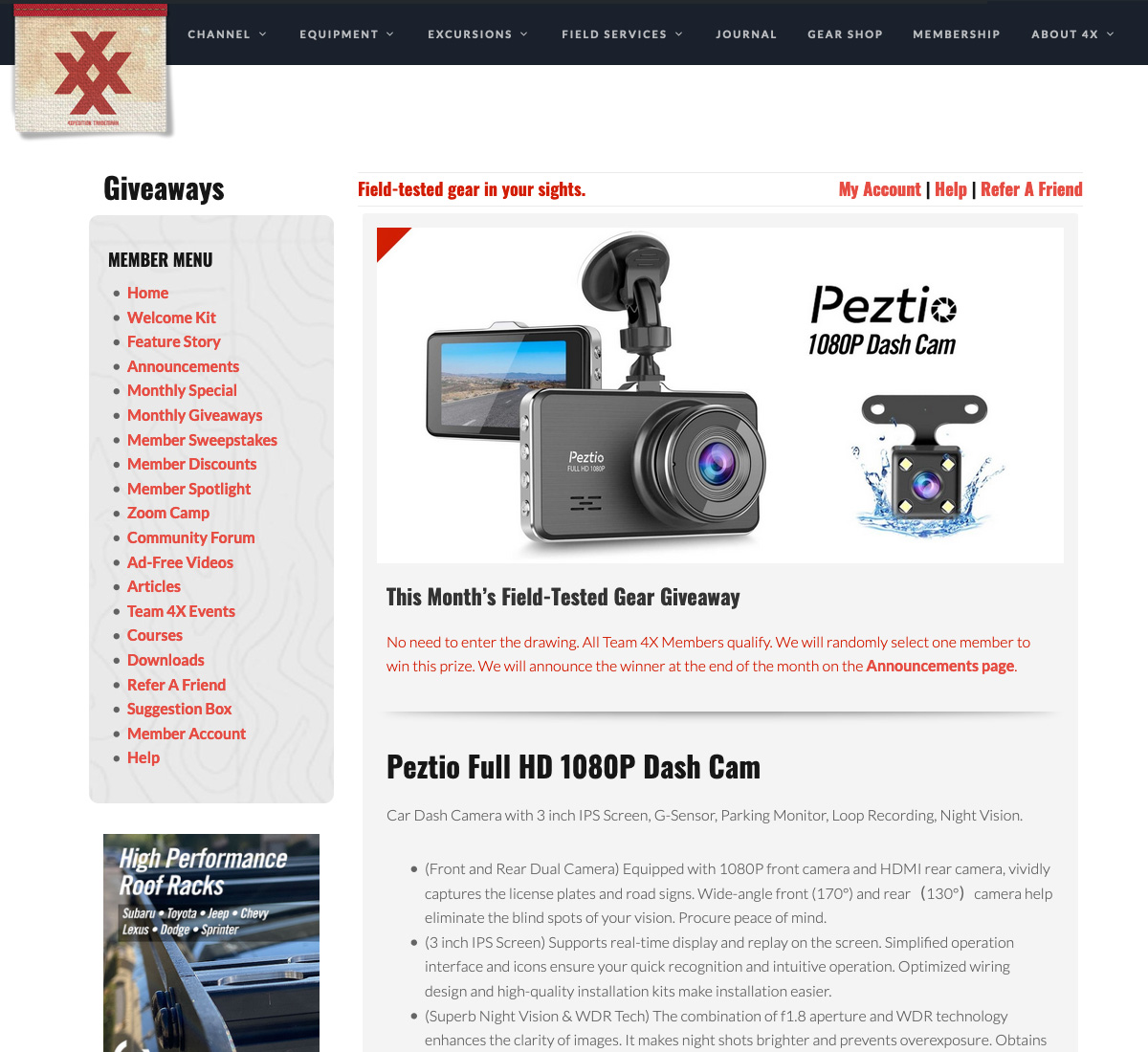 Monthly Giveaways
We will be conducting monthly drawings for, not only, gear we've tested but partner gear and equipment provided to us by our growing list of valued partners. One TEAM 4X member will win each month and members need not enter to win. Every member automatically qualifies. We will make monthly announcements of the winner and feature them on the Portal and mention the winner on the 4XPEDITION Adventurer YouTube channel
Don't miss out on this opportunity to win every month!
Featured Member
Every month we will showcase one member and their vehicle to give TEAM 4X members and opportunity to shine in the spotlight of our membership. Share about yourself, your rig, and your favorite gear and adventures. As this section evolves, we will likely also conduct vehicle walk-around videos on-location with members. This level of media investment will give members a greater sense of options for their make and model of vehicle with insights from members as to their reasoning behind decisions they've made along the way.
Only members qualify. Not in the USA? Not a problem. We can conduct online interviews with you and your vehicle.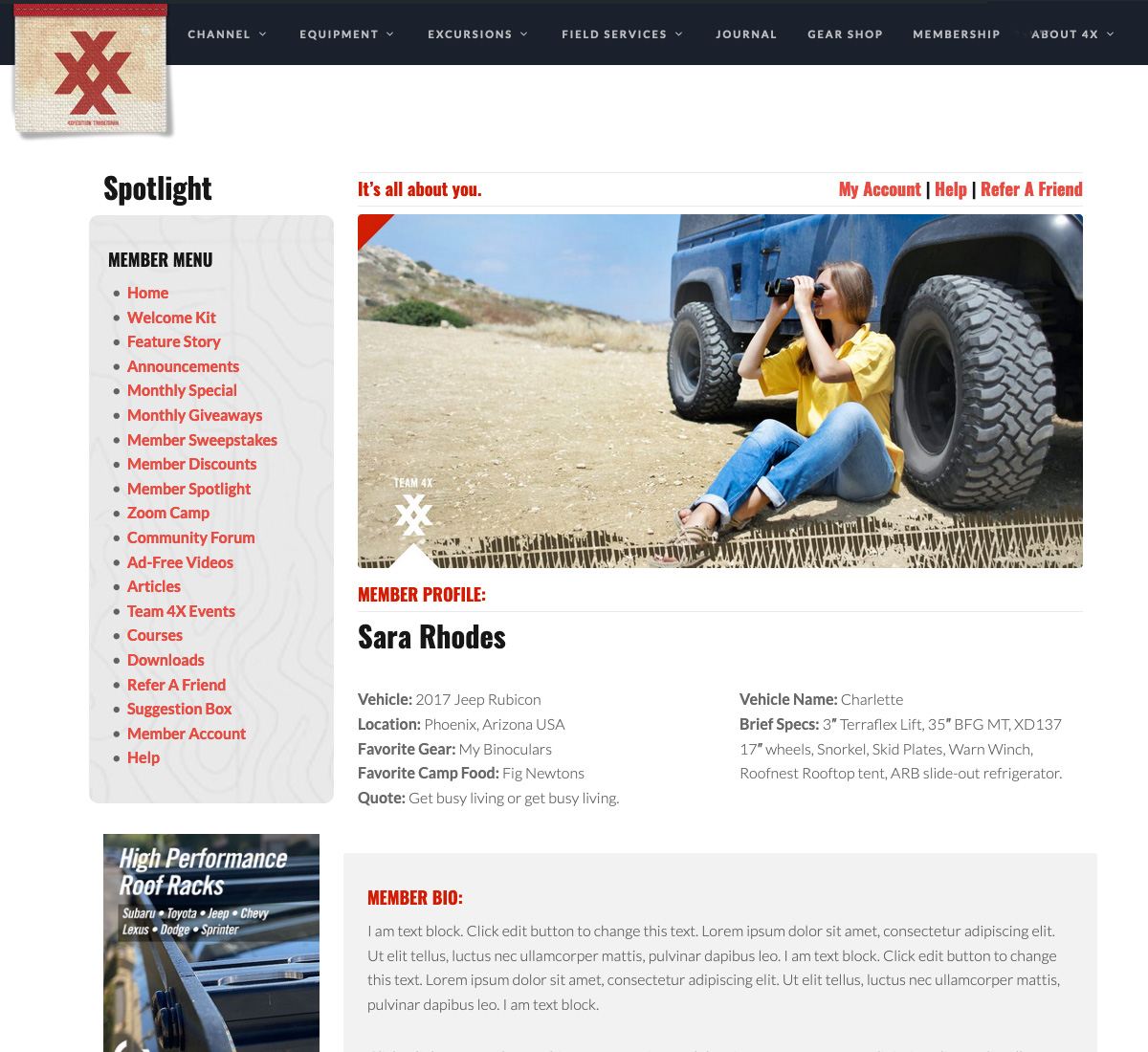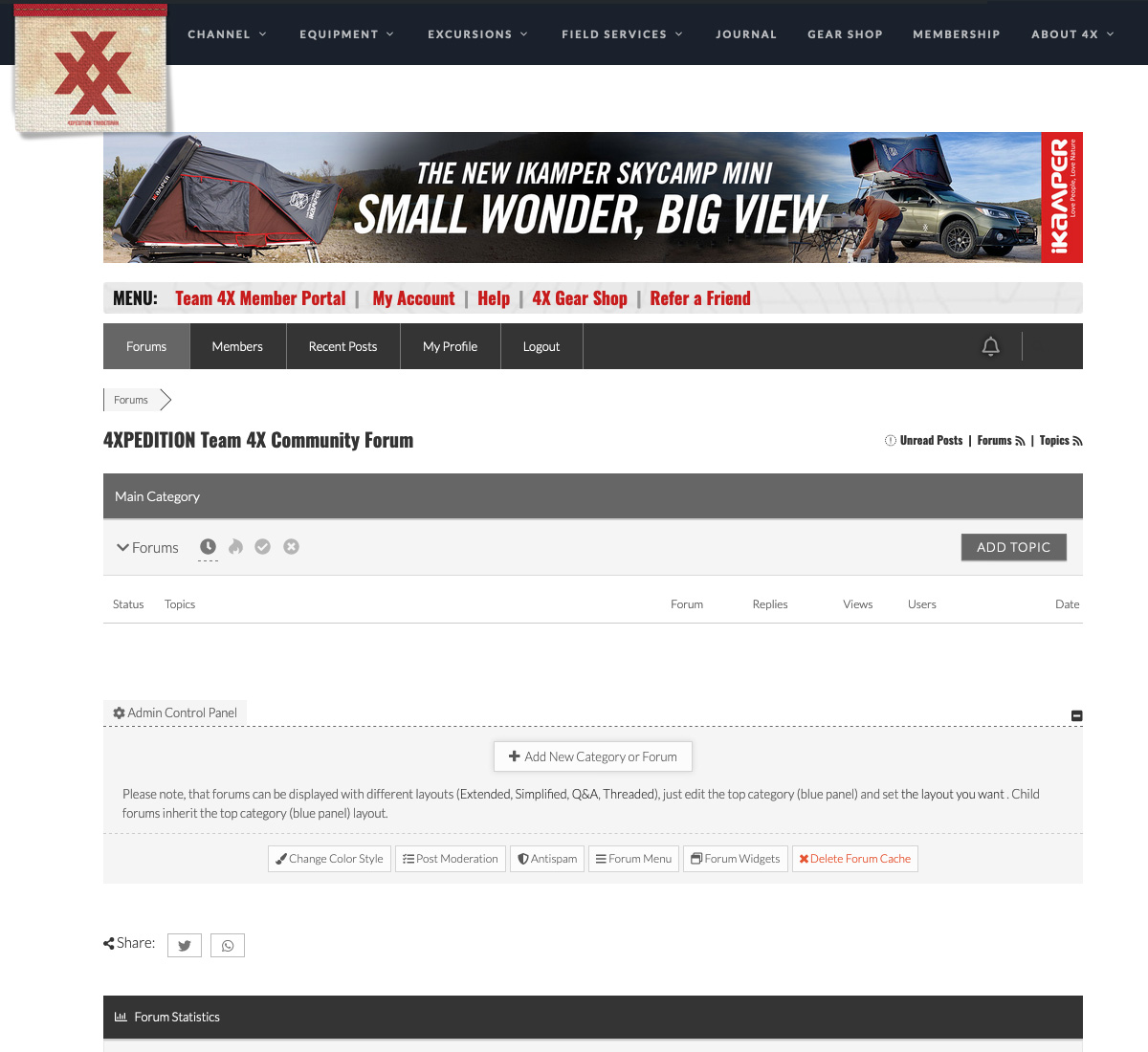 Online Community
You can't be a community without a place for members to communicate, collaborate and meet as friends. We've installed an easy to use forum system that members will be able to quickly navigate and will likely already know their way around. We will be looking for moderators and other assistance.
What will make our community different? If you are a regular viewer of the 4XPEDITION Adventurer YouTube channel you already know that my content is a bit more diverse. Yes, we will cover adventure, gear, equipment, how-tos, classifieds and vehicle mods. But, we will also cover more meaningful subjects like sustainability, community, nature centric and humanitarian causes and issues, revolutionary tech, and much more.
ZOOM Camp
Have you ever wanted to chat live with other adventurers from around the globe? Have an interest in talking live with Scott while out in the field? Maybe tunning in to hear a guest speaker or regional adventurer sharing insights about travel in a particular region? ZOOM Camp chats will start out monthly but will likely eventually become either bi-weekly or even weekly depending on popularity.
Expect ZOOM Camp to continually evolve. We may even see this feature become a regular live Podcast. This feature is just beginning to emerge.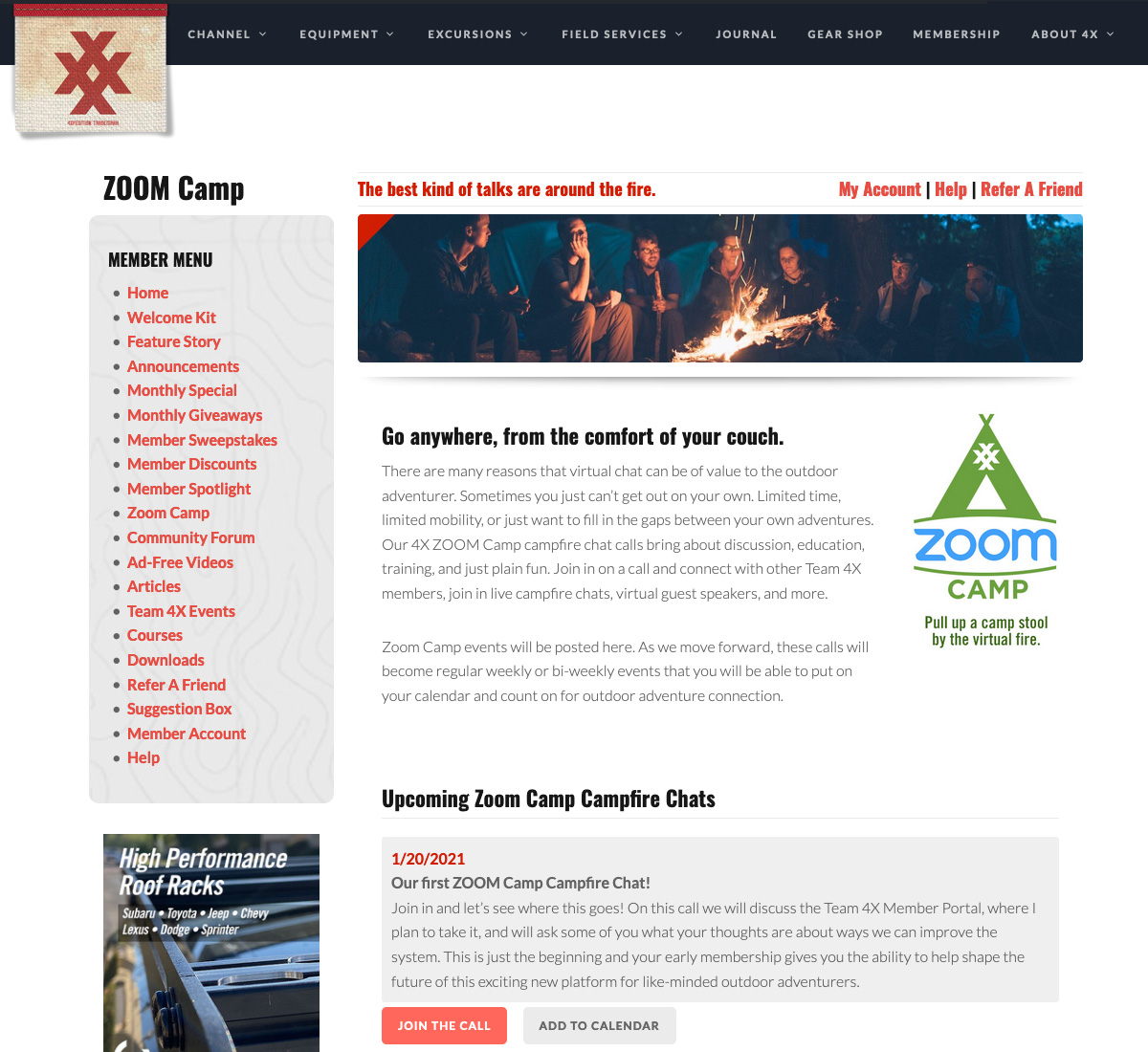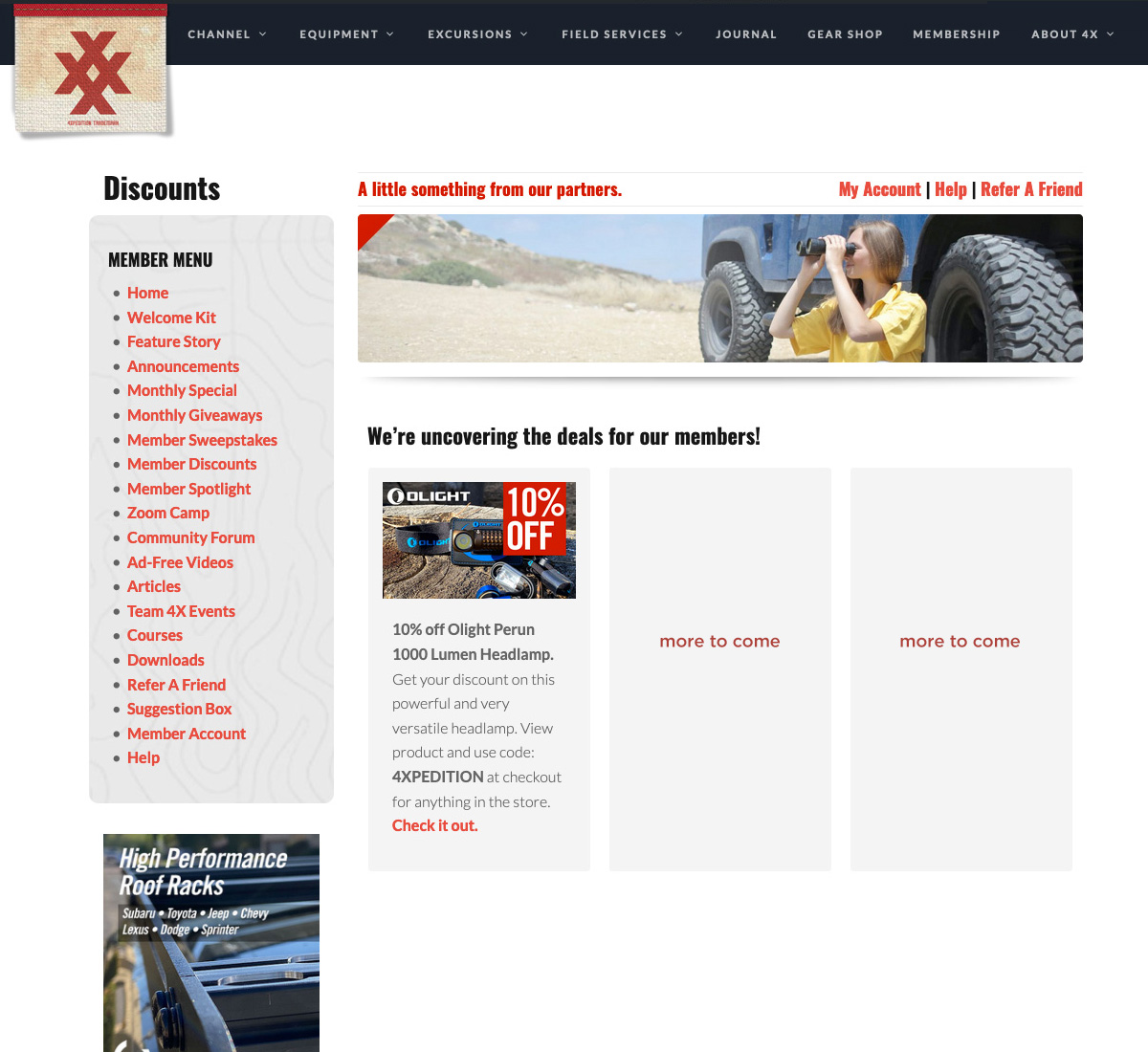 Partner Discounts
We will be sifting through and negotiating discount offers from a wide range of current and new partners to provide a group discount on gear, equipment, travel and more. Call it crowd sourcing. The truth is, large groups have power and influence. We will work together to make adventuring more affordable.
We will be seeking new partners like water in the desert to uncover great deals for you.
4XPEDITION Discounts
We will offer member discounts to TEAM 4X members to purchase gear and merch from the 4XPEDITION Gear Shop. In fact, we will be regularly creating new cool items for you to consider AND we will be looking for ideas from you in that process. Looking for a Subaru specific patch or Land Rover specific T-Shirt? We can create that! Your suggestions may very well make it to our store.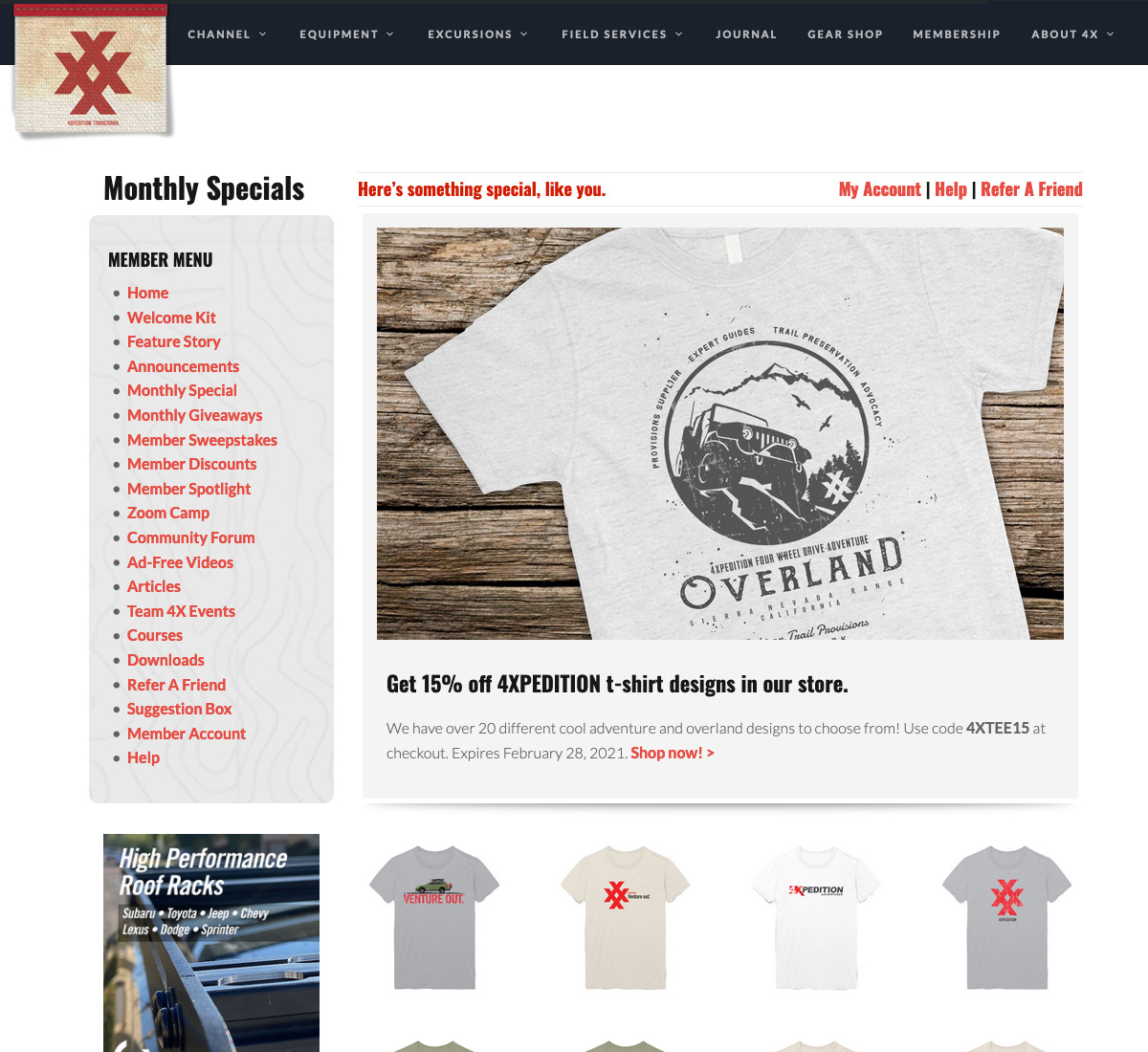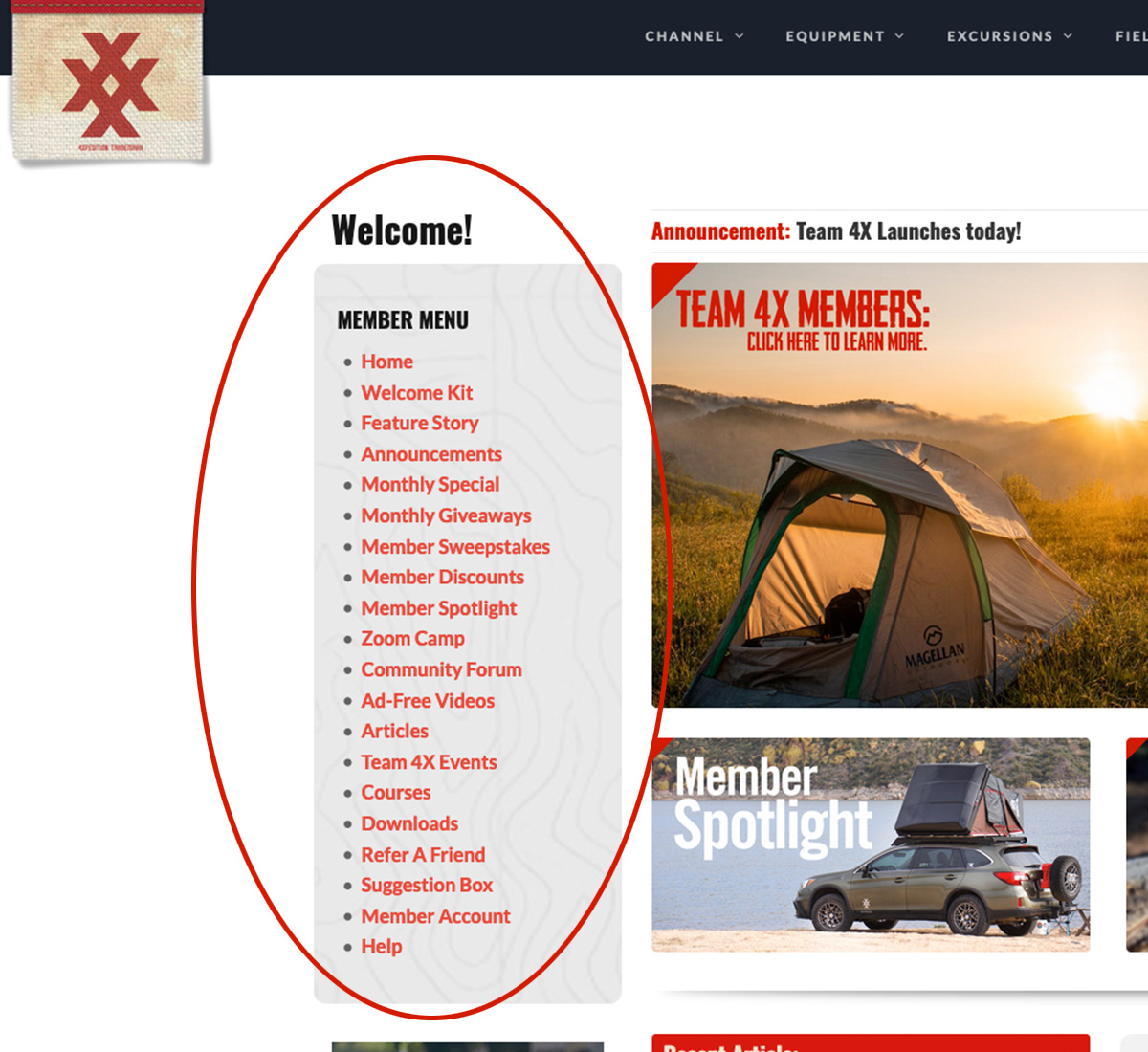 And much more…
These are just a few of the pages the new Portal already has built-in. As you can see on the navigation bar, we didn't cover everything here and as we said before, this is just the beginning. Be sure to sign up for notifications to be entered into the drawing for free membership. You will be added to our newsletter announcements about the portal and other projects we are either building or already managing.