A Moment In Wilderness celebrates the truly awe-inspiring moments we afford when we are bold enough to venture out.
I have experienced many profound, perspective-shifting, and truly inspiring moments alone in nature. I've often pondered the notion that while I was experiencing such moments, many others were, instead, sitting at home on their couches in front of a television. I've contemplated how I might be in a position to inspire others to take to their feet and explore the wilderness in pursuit of such moments.
As a result, I wrote a book that was designed to inspire such experiences. Following the publishing of that book, I released a 28-day supplemental e-course that was designed to move an individual to take action in small steps toward spending time alone in nature called "Small Steps to Venture Out, A meaningful guide to inspire a passion for nature experiences" which is a course offered here on this website. A Moment In Wilderness is the next step in the process.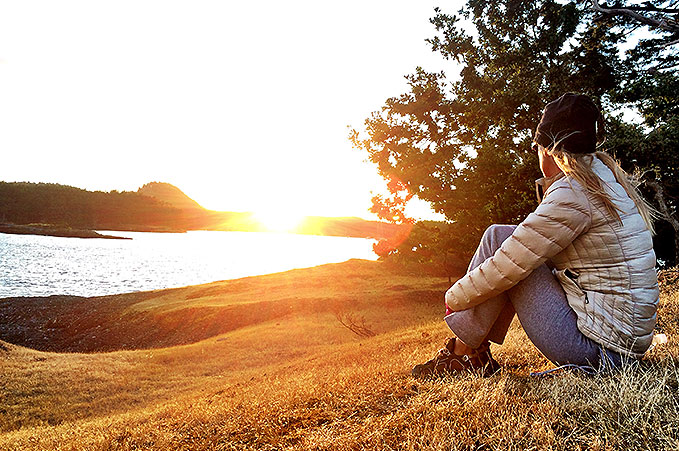 Itinerary:
This course is a two-day experience in nature hosted by Scott. You will arrive in Phoenix, Arizona on a Friday. The group of participants will join up for dinner followed by a campfire in the surrounding desert. Afterward, we will depart to our respective accomodations. The next morning we will meet and together, venture out to a remote location in the wilderness. I have selected a stunning canyon, unlike any place you've ever spent time before. Here we will hike in and find a peaceful escarpment along a creek. We will spread out along the creek each with our own peaceful space. You will be instructed to execute four exercises to inspire reflection, sharpen your observation of your surroundings, and experience solitude. I will check up on each of you twice, once halfway through the sit, and once at the end of the experience. We (you and I) will sit together and discuss your observations. After a few hours, we will join back together as a group and share our experiences and observations.
On Saturday afternoon, we will enjoy a healthy lunch, and either take a group hike to the summit of a local peak to experience stunning landscapes and photo opportunities or be free to do what you wish while visiting the area. Saturday evening we will join for dinner and a ceremony to celebrate our achievements, exchange contact information with new friends, and depart.
Note: This course is not yet available. Get notified when courses become available here.
Class Type:
On-location Group Course
Availability:
10 spaces total
Duration:
Approximately 30 hours
Per Person:
$1,800.00
Difficulty Rating: D2

Includes:
Round trip transportation from your hotel for all excursions, Saturday breakfast, and lunch, supplies for exercises, any passes, and fees for your access to locales.
Not Included:
Airfare and accommodations.