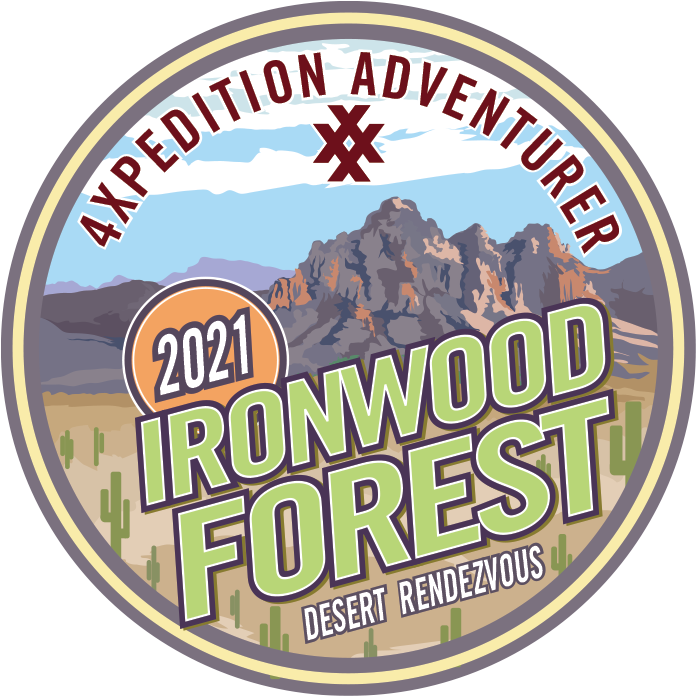 Ironwood Forest 2021

March 26-28, 2021

LIMITED SPACE AVAILABLE.

Location: Ironwood Forest Nat. Mon.
Jurisdiction: Bureau of Land Management
GPS: Provided after registration
Registration Required


Registration Fee: FREE
This is a child-friendly event. Children over 12 must be registered.
Excursion Details

Join us for a weekend get-away campout at the remote and beautiful Ironwood Forest National Monument.
We will meet at the group camp. Use your GPS coordinates to find the camp. Some people will arrive on Friday while others may arrive Saturday. Fill up your gas tank at the I-10 near Marana Road. Access the Silverbell Group Camp from the I-10 via Marana Road westbound which eventually turns into Trico Marana Road. Silverbell Road intersects. Turn right (northbound) on Silverbell Road. Follow Silverbell Road to the Group Camp.
Note that Silverbell eventually turns to graded dirt surface. When the pavement ends, you have approximately 8 additional miles of travel. The group camp will be on the left side of the road when traveling westbound.
Please also be aware that, though we will have members arriving on Friday afternoon to hold the spot, there is always a possibility that the group camp will already be occupied. If this happens, there will be a message left at the group camp directing you to the new location.
If you would like to travel with another vehicle, please message @Debaru in the community forum to coordinate meeting up with her on Friday or Scott to coordinate either a Friday or Saturday buddy travel system.
We will coordinate efforts prior to the event so watch for email notifications.
REGISTRATION REQUIRED
We will not accept participants the day of the event. All participants MUST be registered through our website, have agreed to our terms and conditions, and provided all required documentation in advance. All passengers are required to register.
Register below. Once you register, you will receive detailed information about the excursion including what to bring. You will also be required to provide details about your vehicle to ensure safe passage to and from Interstate 10. This can be a rough road to a remote destination. All vehicles will be required to have proper gear, clearance, tire wear, etc.
HEALTH NOTICE:
All participants must be in good health and we must be notified of any medical concerns prior to departure. All participants must agree to maintain a 6-foot distance apart and bring a mask.

SAFETY NOTICE:
Participants must agree to our terms and conditions as your involvement in the excursion is at your own risk. This is a Level D2 Difficulty Rated event. Learn more >