The smartest hire decision you'll make this year.
There are few people you will encounter on your great ascent that have as much value to offer
The Dyrt

as I do.
That's a very bold statement.
Let me explain.

Expand and read these key facts about me and my experience that illustrate my point.

I'm a powerhouse when I'm passionate about what I am doing.
When I'm driven by passion, I am unstoppable. So, in my pursuit to find the best place to invest my time, I researched companies that offered a product or service that I not only use but love to use.
I wish to work for an organization that has a broader reach than I do in order to fulfill my personal life purpose of inspiring more people to get outdoors and connect with nature for our sustainability. I decided to center on the outdoor industry, nature-based travel, digital tools for the outdoors, organizations that put nature first, and companies that shared my philosophy about society, people, the environment, and our future.
I researched CEOs to understand WHY they launched the business they did and to understand as best I could the path they've taken since that first day. I researched their corporate culture, business philosophy, and read the leadership team profiles. I did my due diligence.
Among the companies that sifted to the surface, The Dyrt stood out. I truly believe in the company philosophy. I feel I can relate to–and connect with–the people that are driving the business forward. I believe I can make a real difference to The Dyrt. I believe I have the ability to increase momentum and help the company reach new plateaus. And, I know I will do so with a big heart, good will, strong passion for my work, and a sharp focus to successfully execute. Why? Because what you do and why you do it aligns with my personal passions and motivation.
My Ask of the Executive Team
I would like to be considered for a leadership role in Marketing, Brand Management, Partnership Development, New Market Penetration, Capital Raising, and other like opportunities as you may deem appropriate. I know you have two open positions that I believe could be consolidated into one that I alone could handle. I'd like the ability to utilize ALL of my skills to achieve what I am assigned. I would like the opportunity to demonstrate what I am capable of and be a part of The Dyrt team that's moving mountains.

I believe my accomplishments represent almost limitless and proven capabilities, unstoppable and relentless drive, passion for business, marketing, branding, design, and my true love for nature and the great outdoors.
I believe that The Dyrt has an opportunity to explore and strategically penetrate new market segments. I believe I can help the company fine-tune market position and impression, expand into new markets, cross pollinate with other well-known brands and audiences, establish lucrative partnerships to promote across and harness the power of both the host and consumer sides of the system. I have strong capabilities in the realm of brand positioning and brand strategy and road mapping for the on-boarding of new, lucrative customers and revenue generation opportunities not yet tapped.
It is one thing to bring on more hosts and inspire new campers to use the app to book stays. It is an entirely monumental achievement to broaden the scope and shape it's use for new market channels and drive new, untapped revenue.
I have used, and even reviewed your product on my channel. I understand how the site and application work. I understand the strengths and weaknesses of the process. What more could The Dyrt ask for than to bring a new member to the team that offers such a broad set of strengths, has a strong understanding of the outdoor industry, and has the potential to bring new and potentially lucrative ideas to the table?


Proven capabilities that will add significant value to the marketing, branding, and corporate effort across multiple departments

Deep understanding of the start-up and growth environment having held key executive and team leadership roles and managing budgets

Strong leadership acumen and a reputation for building and inspiring champion teams that are driven with purpose and are proven to execute

Extensive insight into marketing and branding for the outdoor recreation products and services industry with proven ability to build key partnerships

A world-class expert in design and brand development having built multi-billion-dollar brands from the ground up.
Get to know me
Here are a few commentary videos that you can watch to get a better understanding of who I am and how I conduct my life.
What about 4XPEDITION?
You might be asking at this time what I intend to do with 4XPEDITION. Well, I do not plan to walk away from it. I will keep it moving forward in my free time as I have in the past. I will leverage my strong relationships with outdoor brands and outdoor online communities to propel my assigned initiatives with The Dyrt forward. I am militant about brand consistency and I will take great caution to maintain brand independence for The Dyrt.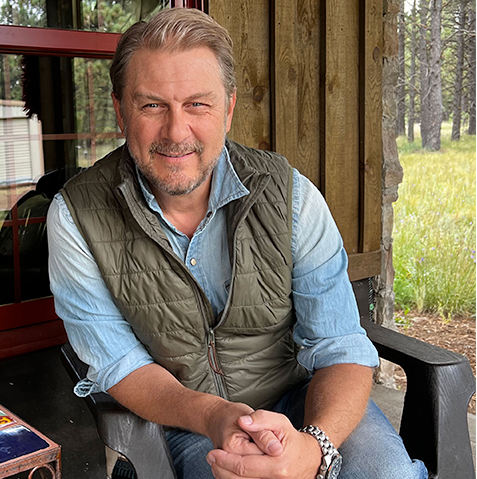 Please get in touch. I would like to schedule a Zoom call to further discuss how I can help elevate
The Dyrt

.

Mobile Phone Number:
602.321.8277
E-Mail Address:
sleuthold@4xpedition.com